Gionee has just given the Smartphone market its latest launch, Elife S5.5, which is being termed as the world's slimmest Android Smartphone. There is definitely a charm in the device that boasts of itself for style enthusiasts.
Appearance
The beautiful appearance of Gionee Elife S5.5 is its greatest asset. With impressive hardware features, this device looks sleek and attractive. With protective Gorilla Glass shields on the front and the back cover, this phone displays a striking design. Elife S5.5 gets its name from the fact that it is just 5.5-inch thick. It seems like you are holding a chocolate bar. However, it does not allow you to remove its battery. Elife S5.5 has a sensor array and camera (5 MP) on the front, with another camera (13 MP) placed safely on the back. All its keys and slots are also comfortably accessible.
Quality

Elife S5.5 is made of premium components and materials. The use of glass and magnesium alloy makes it look and feel solid. Its alloy frame further protects inserted antenna at the edge. The shiny and glossy design of this phone makes it look more expensive than it actually is. The quality of its color display and viewing angles are good. On the other hand, the phone's camera offers accurate detailing but lacks a little while giving a punch to pictures.
Performance
As compared to similar Smartphones in the market, Elife S5.5 lags a bit on the performance front. While users may expect this phone to come with the latest version of Android, they will have to compromise with Android 4.2 Jelly Bean. This device has a MediaTek MT6592 octa-core processor and 2GB RAM. It uses Gionee's Amigo 2.0 UI. However, its software aspect may make the performance sluggish. You may find it difficult to switch between apps and to launch them. Multimedia content browsing may also throw some problems. Additionally, this device can let you face heating issues during heavy gaming.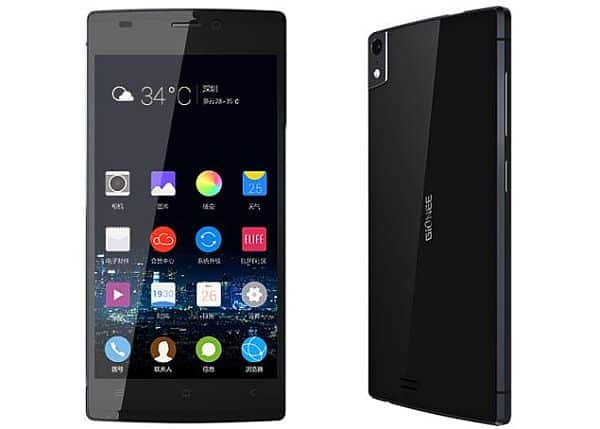 Ease of Use

As the phone is very thin and has a smooth glass back, it may be susceptible to falls and slips. However, the grip is made somewhat stronger by its tapered-off edges. Otherwise, it is easy to use and hardly holds on to smudges.
Value for money
If you require a good-looking and slim phone, then Elife S5.5 is a value device at $388 (Rs. 23,000). However, you may explore other options within the same price range, if you are looking for a high performance-oriented phone.