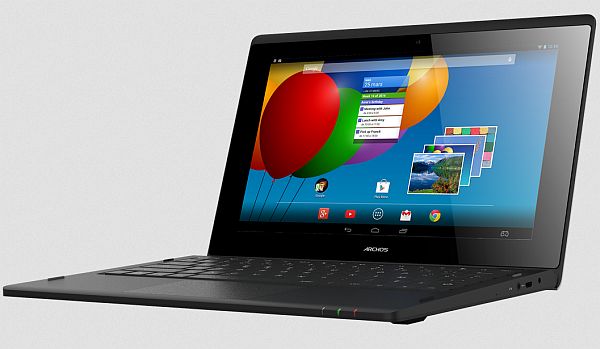 Quality
Your budget is not allowing you to splurge, and you are on a lookout for a dog cheap notebook, then probably Archos ArcBook 10.1 is something you should care for. Archos is a company that builds Android devices. Arcbook is the company's latest Android-based laptop. Archos has a name in the market for being the cheapest seller of high-end devices at rock bottom prices. You cannot get a notebook cheaper than this.
Appearance

Black body Archos Arcbook 10.1 has the flexibility of a tablet and efficiency of a netbook. The 10.1 inch, 1024×600 resolution multitouch screen makes it a nice tablet. It also has a keyboard and trackpad attached with Android navigation buttons. Arcbook runs Android 4.2 Jellybean, which is pretty updated. It is pre installed with Office Suite 6. Not to miss, there is also a front webcam.
Performance
Archos Arcbook 10.1 is a fairly good performer with a dual-core ARM Cortex A9 processor clocked at 1.2GHz, 8GB of storage along with a microSD card slot, 10.1-inch 1024×600 display and 1GB of RAM. The touch screen gives it a modern feature, whereas, the function buttons and a full on-screen keyboard are for the comfort of the users. Along with a USB 2.0 port, trackpad is also there that runs Android 4.2 Jelly bean and has an 8000mAh battery inside. Archos Arcbook 10.1 has a battery life of ten hours. The other features that enhance the performance of the device are the 3.5mm audio jack, front facing camera and inbuilt speakers and microphone.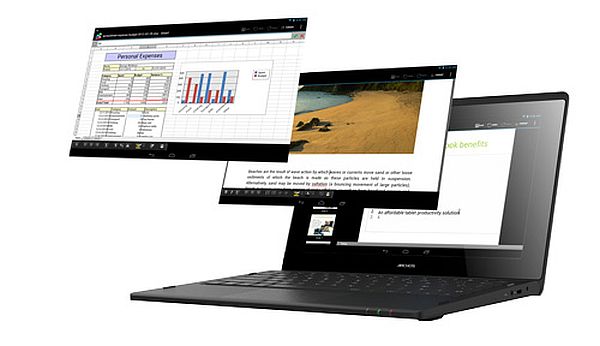 Ease of use
Unlike other netbooks, Arcbook is an easy to carry device. It measures 10.69 x 7.12 x 0.87-inches and weighs 2.8 pounds, which makes it super easy to carry around. It supports Wi-Fi connectivity that makes it ideal to be used anytime and anywhere. The multi ports like the USB port, audio jack, and card reader port makes it multifunctional. The ones who are comfortable using touch screen can use the touch screen option, and the ones who do not like touchscreen can use the keyboard. You can store as much as you want, as Arcbook has an internal storage of 8 GB, microSD card of 64 GB, and 15 GB of Google Drive cloud storage.
Value for money

Yes certainly, Archos Arcbook is a true value for money, as will come at a small amount of $169.99.