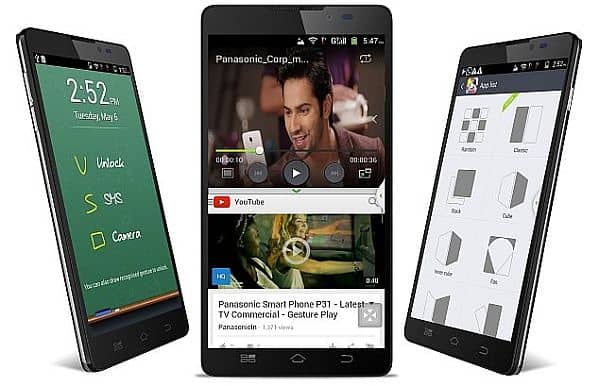 Design
Holding P81 in hand feels quite sturdy and the faux leather finish of the back cover gives you a nice grip. It is 7.9 mm thick. It is a dual SIM Smartphone. The flip cover is of high quality material with a glossy back and you can fit it without removing the original back. The 5.5-inch display is one of the biggest strengths of this Smartphone. You will not get to find many Smartphones of mid price range with big screen. The display is IPS LCD panel, which is average in terms of brightness and good in terms of colors. The viewing angles are wide, the pixel density is 267 ppi (average) and you get an option of auto brightness as well. The processor used is 1.7 GHz octa core unit backed by Mali 450 GPU and 1 GB RAM.
Software
Software that Panasonic has used in P81 is Android 4.2 Jelly Bean that is quite dated. You can turn on the Multiplay Feature from the notification center; it houses some pre-installed apps including SMS, camera, notes, etc. P81 has gesture support feature, as you can draw U to unlock, a rectangle to open the camera app and many more gestures you can use to command your Smartphone directly from the lock screen. This is one feature we liked the best in Panasonic P81. Battery has a rate of 2500 mAh, it is expected to give one full day life with a moderate usage.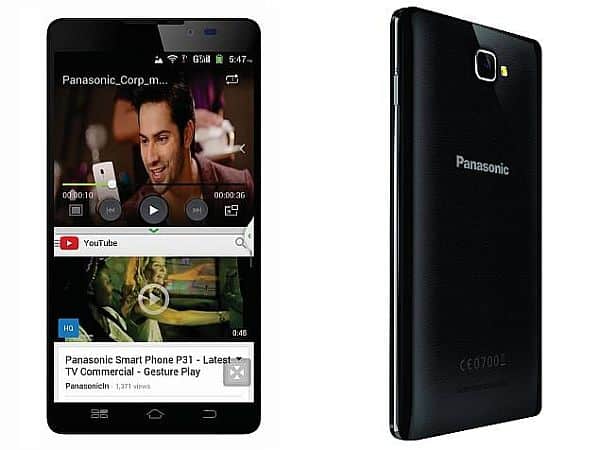 Usability
The camera and internal storage takes the usability level of P81 much higher. The camera at the rear has a 13 MP sensor and the results are above average. The 2 MP units at the front also serve good quality video chat. The rear camera can record 1080p full HD videos. You can expand the 8 GB internal storage by using a MicroSD card. Panasonic has also given an option in P81 to install apps on SD card.
Performance
It has dual SIM functionality. An Octa- Core processor powers it. The connectivity options include 3G, Wi-Fi, GPS and Bluetooth. The 13-megapixel autofocus camera and an LED flash in its rear give you clear pictures.