What is role of healthcare supply chain to overcome healthcare crises?- Dr Prem's Speech Excerpts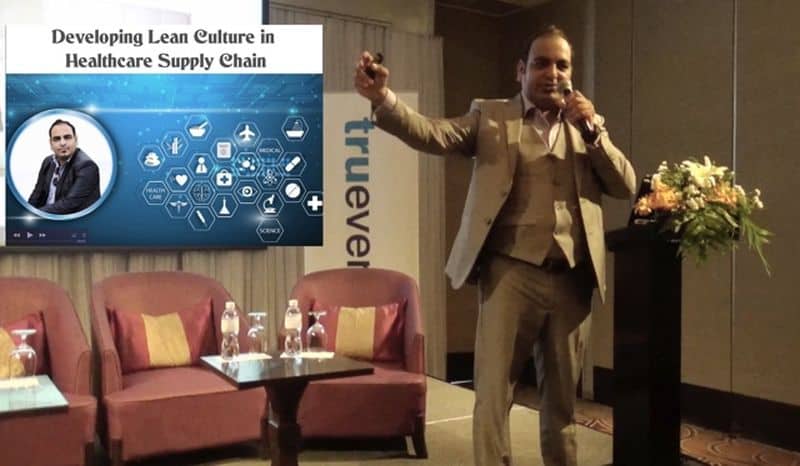 Recently Dr Prem Jagyasi was invited as chairman of Healthcare Supply Chain Conferences organized by Trueventus in Bangkok, Thailand. His speech was covered in Leading Middle Eastern Magazine The Arab Hospital. Here are excerpt of his speech and topic covered in magazine.
[youtube https://www.youtube.com/watch?v=re9fGYHnDxY]
Today's global population is on the brink of severe healthcare crisis. This is by and large driven by the steady rise of pandemics as well as the healthcare cost often extending beyond the affordability of commoners. The swelling global population and shortage of skilled and qualified healthcare professionals are further fuelling the crisis.
As per Global Healthcare Outlook 2017 released by Deloitte, global healthcare expenditure is projected to touch $8.7 trillion by 2020 from $7 trillion in 2015.
WHO (World Health Organization) declares the world is going to face an acute shortage of healthcare force of 12.9 million by 2035 from the current figure of 7.2 million.
The leading healthcare organizations are under the compulsion of rigid cost cutting and are seriously thinking of revamping the healthcare supply chain to add better service delivery to the patient at a controlled cost.
Hospital Supply Chain Excellence Conference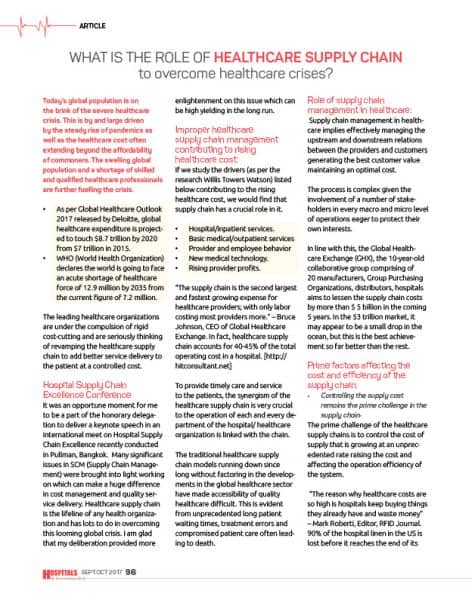 It was an opportune moment for me to be a part of the honorary delegation to deliver a keynote speech in an international meet on Hospital Supply Chain Excellence recently conducted in Pullman, Bangkok. Many significant issues in SCM (Supply Chain Management) were brought into light working on which can make a huge difference in cost management and quality service delivery.
Healthcare supply chain is the lifeline of any health organization and has lots to do in overcoming this looming global crisis. I am glad that my deliberation provided more enlightenment on this issue which can be highly yielding in the long run. 
Improper healthcare supply chain management contributing to rising healthcare cost: 
If we study the drivers (as per the research Willis Towers Watson) listed below contributing to the rising healthcare cost, we would find that supply chain has a crucial role in it.
Hospital/inpatient services
Basic medical/outpatient services
Provider and employee behavior
New medical technology
Rising provider profits
"The supply chain is the second largest and fastest growing expense for healthcare providers; with only labor costing most providers more." – Bruce Johnson, CEO of Global Healthcare Exchange.
In fact, healthcare supply chain accounts for 40-45% of the total operation cost in a hospital.
To provide timely care and service to the patients, the synergism of the healthcare supply chain is very crucial as the operation of each and every department of the hospital/ healthcare organization is linked with the chain. 
The traditional healthcare supply chain models running down since long without factoring in the developments in the global healthcare sector have made accessibility of quality healthcare difficult. This is evident from unprecedented long patient waiting times, treatment errors and compromised patient care often leading to death.
Role of supply chain management in Healthcare: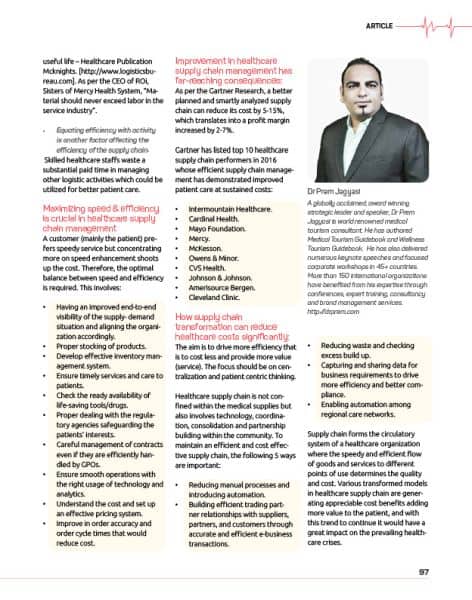 Supply chain management in healthcare implies effectively managing the upstream and downstream relations between the providers and customers generating the best customer value maintaining an optimal cost. The process is complex given the involvement of a number of stakeholders in every macro and micro level of operations eager to protect their own interests.
In line with this, the Global Healthcare Exchange (GHX), the10 year old collaborative group comprising of 20 manufacturers, Group Purchasing Organizations, distributors, hospitals aims to lessen the supply chain costs by more than $ 5 billion in the coming 5 years. In the $3 trillion market, it may appear to be a small drop in the ocean, but this is the best achievement so far better than the rest.
Prime factors affecting the cost and efficiency of supply chain:
Controlling the supply cost remains the prime challenge in supply chain:
The prime challenge of the healthcare supply chains is to control the cost of supply that is growing at an unprecedented rate raising the cost and affecting the operation efficiency of the system.
"The reason why healthcare costs are so high is hospitals keep buying things they already have and waste money" – Mark Roberti, Editor, RFID Journal
90% of the hospital linen in the US is lost before it reaches the end of its useful life – Healthcare Publication Mcknights. [http://www.logisticsbureau.com]
As per the CEO of ROi, Sisters of Mercy Health System, "Material should never exceed labor in the service industry".
Equating efficiency with activity is another factor affecting the efficiency of supply chain:
Skilled healthcare staffs waste a substantial paid time in managing other logistic activities which could be utilized for better patient care.
Maximizing speed and efficiency is crucial in healthcare supply chain management.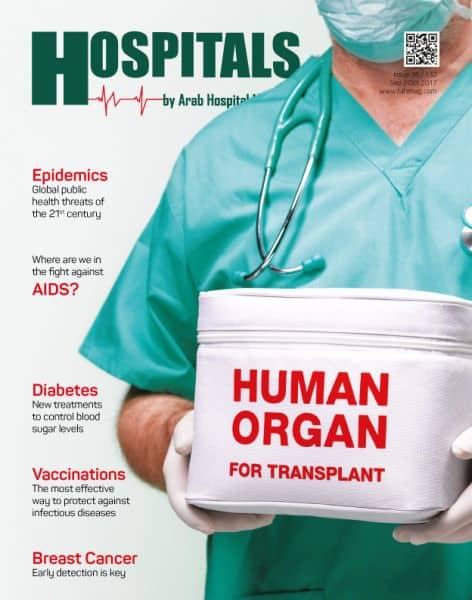 A customer (mainly the patient) prefers speedy service but concentrating more on speed enhancement shoots up the cost. Therefore, the optimal balance between speed and efficiency is required. This involves:
Having an improved end-to-end visibility of the supply- demand situation and aligning the organization accordingly
Proper stocking of products.
Develop effective inventory management system.
Ensure timely services and care to patients.
Check the ready availability of life saving tools/drugs.
Proper dealing with the regulatory agencies safeguarding the patients' interests.
Careful management of contracts even if they are efficiently handled by GPOs
Ensure smooth operations with the right usage of technology and analytics
Understand the cost and set up an effective pricing system
Improve in order accuracy and order cycle times that would reduce cost.
Improvement in healthcare supply chain management has far reaching consequences: 
As per the Gartner Research, a better planned and smartly analyzed supply chain can reduce its cost by 5-15%, which translates into a profit margin increase by 2-7%.
Gartner has listed top 10 healthcare supply chain performers in 2016 whose efficient supply chain management has demonstrated improved patient care at sustained costs:
Intermountain Healthcare
Cardinal Health
Mayo Foundation
Mercy
McKesson
Owens & Minor
CVS Health
Johnson & Johnson
Amerisource Bergen
Cleveland Clinic
How supply chain transformation can reduce healthcare costs significantly: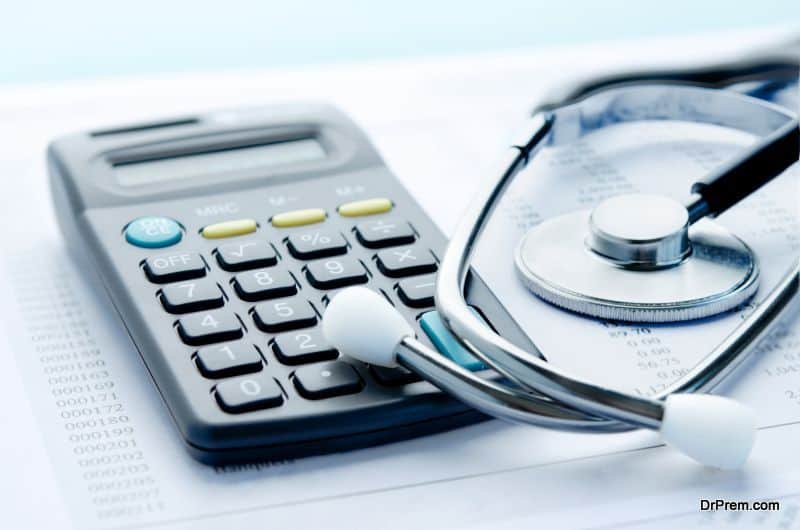 The aim is to drive in more efficiency that is to cost less and provide more value (service).The focus should be on centralization and patient centric thinking. Healthcare supply chain is not confined within the medical supplies but also involves technology, coordination, consolidation and partnership building within the community. To maintain an efficient and cost effective supply chain, the following 5 ways are important:
Reducing manual processes and introducing automation
Building efficient trading partner relationships with suppliers, partners and customers through accurate and efficient e-business transactions.
Reducing waste and checking excess build up.
Capturing and sharing data for business requirements to drive more efficiency and better compliance.
Enabling automation among regional care networks.
Supply chain forms the circulatory system of a healthcare organization where the speedy and efficient flow of goods and services to different points of use determines the quality and cost. Various transformed models in healthcare supply chain aregenerating appreciable cost benefits adding more value to the patient, and with this trend to continue it would have a great impact on the prevailing healthcare crises.
Also Watch https://www.youtube.com/watch?v=re9fGYHnDxY