Quick low carb breakfast ideas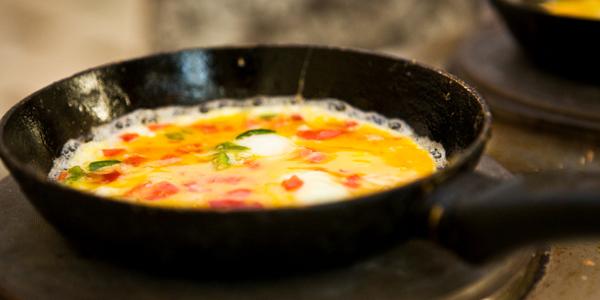 A proper breakfast is indeed the toughest target to achieve. You have to work late at night, which keeps you awake for long time and it takes its own toll on your health. It takes quite a bit of time to adjust with the new day. You keep on hitting the snooze button until you realize you are too late. You get up, get fresh and finally leap towards your office skipping the breakfast. Have you ever wondered how to reach the work in time yet eating a proper breakfast? If yes, then you should follow these tips to get a quick low carb breakfast.
1. The leftovers
You can always use the yesterday's dinner leftovers. These leftovers often comprises of protein rich low carb foods, as people do not store the cheap carbohydrates overnight. These leftovers need little bit of time in your microwave to get ready for breakfast.
2. Make some breakfast from before
You can also prepare some breakfast material overnight. You can prepare some roasted meat or meat cakes the previous night. You can use them to make protein rich sandwiches, which will take hardly 5 or 6 minutes to prepare.
3. Ready things for your breakfast
If you are into protein shakes, then you can measure the protein shake and other ingredient and keep it dry over night. All you have to do is warm them with milk or water to have your protein shake.
4. Use eggs
Eggs are working people's delight. You can make poached egg or an omelet within five minutes. You can boil your eggs when you are doing your morning choirs. You can make French toast with bread and eggs. All kind of egg preparation need hardly 5 to 6 minutes. You can also use the night leftovers to make Frittatas. Frittatas are very easy to prepare. You can use some leftover chicken or sausage pieces and mix them with eggs. Fry them with a little oil or you can try baking them in oven. They taste better in both forms. The fried version is quite an exclusive modification, which I often use for myself. All these preparations are rich in protein and low in fats and carbohydrates.
5. Pancakes
You can prepare a large batch of whole cereal based pancakes and store them in your refrigerator. You can always eat them with some previously made or packaged pancake sauce. You can also team up an egg with a pancake to make a new recipe.
6. Fruit salads
You can cut some fresh fruits and have them as salad. You just need to sprinkle some salt, pepper and cheese to enhance the taste. You will just require few minutes to cut your fruits into pieces.
7. Vegetable salads
You can also make some vegetable salads. You can eat them raw or you can bake them for 5 to 10 minutes in your oven to enrich their taste. You can add some fresh mint or herbs to enhance the taste of your salad.
8. Make a flax bread or a muffin
You can make a toast and melt some cheese on them to prepare your flax bread. You can also prepare a low-carb muffin before hand and munch them while you leave for your office.
9. Cook faster
If you know how to cook then it is hardly a matter of half an hour to prepare healthy breakfast. You can arrange things needed to cook beforehand. Most of the time, it takes time to decide the recipe. Therefore, deciding and preparing things overnight will save a lot of time.
10. Ready to eat meals
There is always the option to have some packaged low carb ready-to-eat meals. All you have to do is heat them for few minutes and they are ready.
11. Foods not requiring any cooking
You can also opt for dairy-based product that you can eat even cold. You can have cheese spread, yogurt or even cottage cheese with your spoons. Just sprinkle some salt or sugar and your breakfast is ready.
12. Ask for it
You can always hire a house cleaner to do your cooking. Hire someone to cook for you in the morning while you do your morning choirs. You can instruct them to cook whatever food you want to eat. You can also try ordering home-delivered breakfast from your local restaurant.