Latest advancements in treatment of gum disease discussed at Lebanon symposium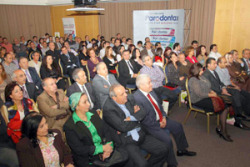 GlaxoSmithKline (GSK) Consumer Healthcare's Parodontax oral care brand yesterday (Friday, November 26, 2010) organised a special dental lecture titled 'Dentists Scientific Bridge' at the Le Royal Hotel, Dbayeh, Lebanon. Dr. Elie Maalouf (DCD, CES, DOS), Chairman of Periodontology Department at the Lebanese University, served as the main speaker at the event, which aimed to highlight latest advances in the treatment of gum diseases, specifically gingival and periodontal diseases. The event, which was attended by nearly 150 dentists, also was a platform for dental experts to share best practices, in addition to serving as a forum to discuss pertinent issues and solutions.
"Certain dental conditions such as bleeding gums are often ignored as people presume this to be a harmless problem. What they do not realise is that these seemingly risk-free conditions could be a sign of gum disease and if left untreated could lead to more serious chronic inflammatory diseases. One of the objectives of organising this lecture was to find ways to make people realise the importance of treating gum problems, especially given today's advancements in dental technology and medical sciences," said Dr. Elie Maalouf.
GSK Consumer Healthcare offers clinically-proven toothpaste – Parodontax – to treat gum disease. As daily toothpaste containing mineral salts and six natural herbs extracts, Parodontax helps stop bleeding gums, strengthen gum tissue, and fights plaque and tooth decay.
GSK Consumer Healthcare also revealed that the dental lectures it has been organising in the recent months is part of a broader campaign to turn the spot light on gum diseases across the Middle East, North Africa and Levant regions.