Healthy thanksgiving staples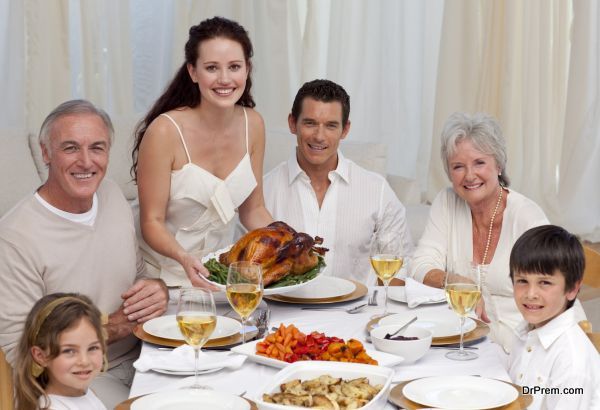 We all wait for thanksgiving, for all those mouth-watering foods that are certainly delicious but are also one of the many ways that let us put on weight. Yes, those thanksgiving staples that many enjoy are loaded with fats and calories, and this is why after having such foods people experience the after guilt. Well, not anymore, because there are a number of thanksgiving staples that are super tempting and healthy at the same time. If you do not know what such foods are, the read further to find out:
Four-Cheese stuffed mushrooms
These stuffed mushrooms look totally corrupt because of their cheesy look but surprisingly they are healthy. Mushroom is a super food, as it offers a wide assortment of benefits. Mushrooms contain vitamin D in abundance, which you do not find in any other vegetable or for that matter in any fruit as well. The other benefits include the presence of zinc, and the properties that help human fight against viral diseases, cancer, cholesterol, and high blood pressure. Take some garlic, onions, fat free ricotta and cream cheese to make this super healthy thanksgiving staple and give your guests a chance to taste this superb tasting and healthy dish.
Pumpkin Pie
Desserts are the most targeted foodstuffs that happen to get out of the list of consumption when it comes to dieting, and it is the most difficult part to avoid those sweet sugary pals. Now you can have a transformed sugar pie as a healthy thanksgiving staple that will not give you after eating regret. In this recipe, you are supposed to use not the condensed milk that is too high on fats and sugar but the low fat milk, and do not use sugar but stevia in place of it. Rest of the steps you can copy from any pumpkin pie recipe and in the end you have to put the mixture into a low fat crust.
Herb-stuffed turkey breast
The usual turkey dishes people serve on thanksgiving are no doubt too mouth watering but at the same time they are too fattening as well. You need not worry, as you no longer require enjoying your feast with a heavy and a guilty heart, as this recipe is both healthy and tempting. You require taking comparatively small sized turkey breast and filling it with all herbs that will give it a lot new taste and make it healthier.
Summary
Thanksgiving is all about merrymaking, and feasts but it does not have to be a fattening feast. You can swap some of the fattening ingredients with the healthy and low fat ingredients to make it a guilt-free thanksgiving dish.