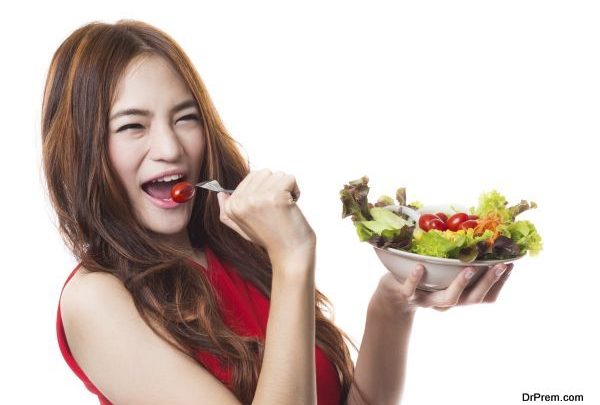 Have you heard about Alkaline Diet Foods? If not, then it's time for you to gain information about something highly valuable. 70% of the present generation suffers from heartburn and acidity due to work pressure, maintaining professional & personal relations, home making and unhealthy eating habits.
People with gastric problem, acid reflux and indigestion are no more a rarity. This is where Alkaline Diet comes in handy.
The diet is a complete solution to all these health problems. Alkaline Diet helps in creating easy digestion, increased alertness, improved resistance, vibrant temperament and strong bones and teeth.
Top 10 Alkaline Diet Foods
Spinach and Greens – It contains maximum health benefits and has highly alkaline content. You can consume it raw or cooked. Leafy green vegetables like lettuce, basil, fenugreek leaves, etc. are extremely good to eat.
Cucumber – It is not only a 0calorie vegetable, in fact it is highly alkaline when you consume it raw. Cucumber contains a stream of nutritional benefits. It improves digestion and keeps skin glowing. It has alkaline water which helps in washing out unwanted wastes from body.
Banana – It is considered a whole food because it has numerous dietary advantages. Banana delivers instant energy. It is hugely alkaline. If you have been suffering from acidic problems then banana diet can do wonders by reducing indigestion and burning sensation remarkably.
Celery – It is another good alkaline food which can help immensely in keeping pH levels in a normal range. When it is half-cooked, it provides maximum nutritional value. You can eat it fresh as salad.
Broccoli – It is one of the best alkaline and nutritious foods. Broccoli has proved itself time and time again. It is easy to digest and rich in valuable minerals like carotene and calcium.
Avocado – It is also known as the wonder fruit. Avocado is rich source of alkaline. It improves hemoglobin content.
Capsicum – It is also called bell pepper. Capsicum is rich in antioxidants. It can be useful if eaten cooked or raw. Capsicum is high in alkaline and nutrition. Dishes can be prepared with addition of capsicum for enhancing flavor.
Potato Skin – Although potato is known to be acidic but potato skin is high in alkaline. Juice of raw potato is useful in reducing acidic content in stomach.
Soy beans – Soy milk and soy beans are rich sources of alkaline. They are known to be best alkaline nutritional foods.
Cold Milk – It is known to possess high alkaline. Cold milk is recommended to patients suffering from combat heartburn or acid reflux disorders.
Essential Tips on Alkaline Diet
Drink at least 8 to 10 glasses of water. It will keep your body hydrated.
Your body tries to maintain balance between alkaline and acidic content. You must not indulge yourself in a habit to drink carbonated drinks.
Don't include artificially colored and preserved foods in your diet.
Artificial sweeteners don't supply body with adequate amount of fat content.