5 Green tea recipes to ward off health problems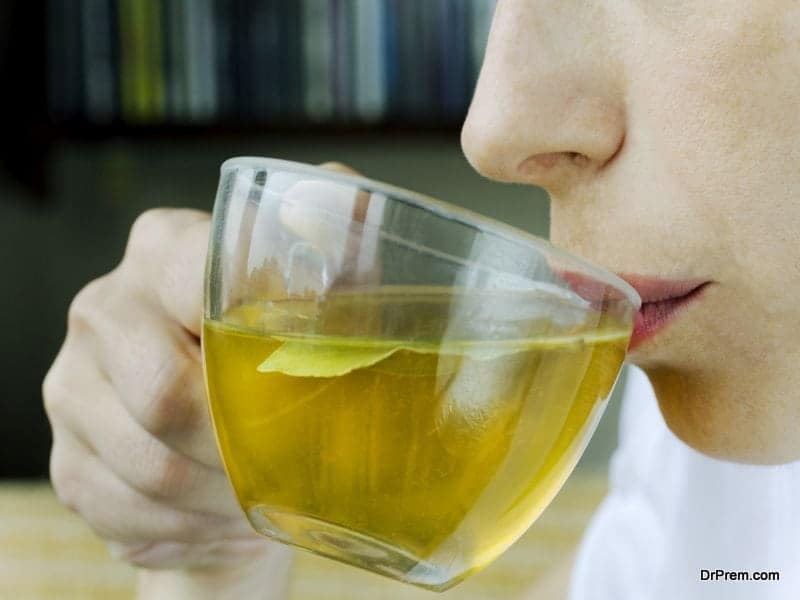 Green tea just might be man's best discovery since aloe vera. Green tea contains countless disease fighting minerals and nutrients like vitamin C, zinc, EGCG, saponins to name a few. Drinking two to three cups of green tea regularly boosts immunity, regulates metabolism and blood pressure. Green tea is used by many fitness enthusiasts because it aids weight loss. Green tea has also been proven to be great for your skin. Green tea can both be used internally and externally. Here is a list of the top 5 green tea recipes to help you with many health problems and to show you how omnipotent green tea really is.
1. Green tea brew for cold and flu
How it works
As mentioned before, green tea helps to aid cold and flu by boosting your immunity. To make it work faster, you make a green tea brew with some lemon and honey, to boost the strength of the brew. Honey also helps in relieving sore throat. And with the added vitamin C of lemon, the brew will be an instant relief from cold and flu.
Recipe
Ingredients
Water – as per number of servings
Green tea – 2 teaspoonful per cup/serving
Lemon juice – 1 wedge juiced for each serving
Honey – 1 tablespoon (for both taste and health)
Brandy(optional) – 1 shot or 30 ml per serving
Preparation
1. Boil the water and pour the green tea after turning off heat..
2. Let it steep for about 4-5 mins.
3. Filter out the tea leaves and pour lemon juice after 10-15 seconds.
4. Add the honey and stir smoothly and gently.
5. Add the brandy(optional) as you stir continuously.
6. Your instant cold and flu relief formula is ready.
How to use
Brandy is optional for adults, but it works really well if you have cough. That is the reason most cough expectorants contain alcohol. Drink this tea 2-3 times a day.
2. Green tea sorbet for weight loss
How it works
Japanese researchers have found that, drinking 4-5 cups of green tea everyday helps to lose 70-80 calories extra by thermogenesis or the process of heat production in living organisms. The sorbet tastes great with some added lime and lemon juice and a hint of ginger.
Recipe
Ingredients
1. Water – 1 cup
2. One green tea bag
3. Ginger – chopped, about 2 tablespoon
4. Orange juice – 1 cup
5. Lemon juice – 1/2 cup
6. Honey – 1/4 cup
7. Fresh mint – sniped, for garnishing
Preparation
1. Add the water and ginger in a saucepan. Bring to boil. Turn off heat.
2. Put the tea bag in the hot water, cover lid and let it steep for 3 minutes.
3. Filter out the tea bag and ginger. Let the liquid cool for 30 minutes.
4. Add the lemon juice, lime juice and honey.
5. Freeze for 3-4 hours and then take out and break the semi-solid mixture with a wooden spoon. Break into chunks.
6. Put it in a mixing bowl and mix using a mixer.
7. Put the mixer back into the freezer, chill for 2 hours and then serve with mint topping.
How to use
This sorbet contains only 68 calories per serving. Use this sorbet before or after a workout or just drink it often or replace a meal with it.
3. Green tea hair cleanser
How it works
Green tea contains many antioxidants and has the ability to soothe itching scalp, clear hair of dandruff, psoriasis and other scalp irritations. A little added apple cider vinegar will also work as an antibiotic and antibacterial.
Recipe
Ingredients
1. Organic Green Tea
2. Raw Apple Cider Vinegar
3. Raw Honey
4. Water
5. Spray Bottle
Preparation
1. Steep one green tea bag or 2 teaspoons of green tea leaves in 2-3 cups of hot water for 30-45 minutes.
2. Add about 2-3 tablespoons of apple cider vinegar and 1 tablespoon of honey.
3. Mix it thoroughly and make a smooth mixture.
4. Let it cool and then pour it into a spray bottle.
How to use
Wash hair and expose your scalp as much possible by parting hair. The spray the green tea solution on your scalp using the spray bottle. Gently massage scalp so it absorbs the solution. Leave on for 5-10 minutes and then wash off.
4. Green tea bags to reduce eye puffiness
How it works
Caffeine and lemon can help reduce dark circles under eyes and puffiness. Green tea has the goodness of both caffeine and lemon. It can help to reduce swelling, soothe irritation and redness.
Ingredients
1. 2 green tea bags
2. Water
Preparation
1. Steep the tea bags in hot water for about 3-5 minutes.
2. Take out and let the tea bags cool for a while.
How to use
When the tea bags are at a comfortable temperature, put them over your eyes(closed). Cover with a piece of cloth and lie down for a few minutes. You can also freeze the tea bags to use during summer time for a refreshing and cool experience.
5. Green tea face mask for acne and zits
How it works
Green tea is beneficial for your skin as well, whether taken orally or applied externally. The antioxidants is green tea help to rejuvenate skin cells and also help cure sunburns, acne and zits.
Recipe
Ingredients
1. Fullers earth – 5 tablespoons
2. Green tea
3. 1 teaspoonful honey
4. Water – 1/4 cup
Preparation
1. Boil the water and steep the green tea. The amount of green tea should be more and it should be steeped longer to make a strong brew.
2. Remove the brew and mix the other ingredients together to make a smooth and creamy paste.
3. Let it cool 30 minutes.
How to use
Apply all over face, concentrating on affected areas. Apply using a cosmetic brush or cotton wool pad. Leave i on for 20-30 minutes and then rinse off thoroughly with lukewarm water.