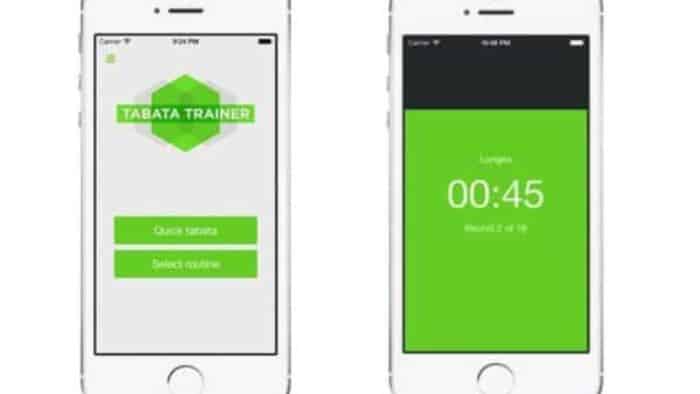 Developed by Rodrigo Vives, Tabata Trainer is a health and fitness app that helps a user in performing interval training. The app helps in building your body through a training schedule based on the Tabata method.
Appearance

The Tabata Trainer app is a virtual assistant for interval training. This app has a simple user interface that appears to be fantastic. It comes loaded with different types of workout routines based on the Tabata method. There are options that help you customize your workout routine and exercises.
This is a helpful feature for users who require flexibility in their fitness routines. The app also keeps a log of your completed routines. It additionally allows you to share your completed sessions with your friends on Facebook. To mark rest and exercise intervals, Tabata Trainer has features of visual cues, as well as voice feedback.
Performance

This fitness app is compatible with all Apple devices that run iOS 7.0 or later. You may use the app on your iPad and iPhone, as well as iPod Touch. Tabata Trainer is optimized for iPhone 5. The app runs smoothly and efficiently on all devices. It does not create problems even while other apps are running simultaneously. The sound design for this app is also quite effective. The recent update to this app has enriched its library further.
Ease of use

Tabata Trainer is a user-friendly app that is easy to download and use. You may workout per your convenience and make quick changes to your schedule. It is also very easy to view the entire history of your workout activities, as well as select your routine on a single tap of a button.
Usefulness
Tabata Trainer is beneficial for users who are seeking to perform fast and effective interval training. This app offers eight standard workout cycles under the Tabata method that can be completed within four minutes. Users perform 20 seconds of intense exercise that is followed by 10 seconds of rest in each cycle.
A user can choose the type of exercise. They may go for lunges, squats or pushups. The app also offers nine bonus routines for extended workout. The major benefit of this app is that you may perform exercises anytime and anywhere, without spending on expensive equipment or a gym.
Value for money

The Tabata Trainer app is not a bad deal at a price of $1.99. It is valuable for all users who are dedicated to perform interval training.