Pets are more than just pets – they're family and of course, our best friends. They give us unconditional love, and are there for us always. Pet lovers are therefore always on the lookout for great products which can help in taking better care of them. The Petcube remote Wi-Fi pet camera  is one such interactive device which allows you to watch, talk and play with your pet when you're not at home. This camera is a boon for those pet lovers who hate to leave their pets alone at home. And you can keep a watch on your home too, with Petcube Play. Check out the cool features of this amazing camera:
Peace of mind 
When you're away from home, you're concerned about your pet and your home. With Petcube Play, you can allay your fears about both, as when you switch on the camera to interact with your pet, you're able to see and hear what's going on in your house too. You can also zoom in to see your home/pet up close.
With current stats showing that a burglary happens every 27.5 seconds in the US alone, it's equally important to safeguard your pets along with your immovable assets.
Many studies have revealed that pets undergo depression when they have no one to interact with for long hours at a time. With Petcube Play, you can play and interact with your dog from your smartphone itself, and soothe your pet's anxiety and boredom. 
What are they up to – check with the 2 way audio 
Sometimes, more than pets, it's pet lovers who miss their pets more. Petcube Play lets pet owners to talk or check in on their beloved pets anytime they want to, from wherever they are. You can talk to your pet/s and they can respond to you; and sometimes, it would be fun just to watch what your pets are up to when you're not at home. You'd also know if any intruder approaches your home.
Sound and motion detection
The camera settings can be changed to notify you about movements and sound, which let you know if your pet is awake or asleep. And if anyone attempts to enter your home, you can alert the authorities immediately. 
Night vision lets you check in at low light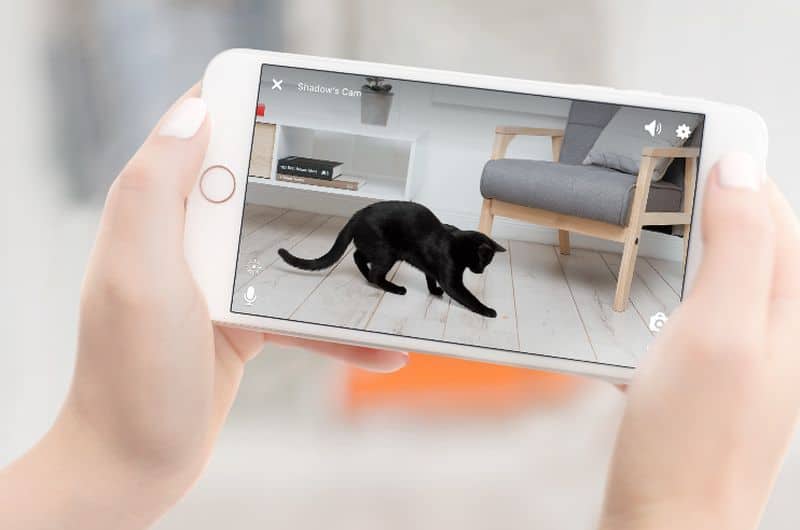 The Petcube Play is not restricted to daytime use only. You can see your pet in color during the day; but, at night or if there is low light in the room, Petcube works just as well using infra red sensors. So you have home security for low light / night and can be sure about your pet / home night and day.
Play with your pet with Laser Play
Talking is fine but the best thing about this camera, which your pets will love, is that you can play with them with the Laser Play feature. You just have to slide your finger over your smartphone's screen and control where in the room you want to place the red dot and watch your pet chase it around! The Petcube Play's Auto-play function also makes the dot move according to the movements of your pet. 
Compact size and attractive colors 
It's only 3"x3"x3" in size and can fit anywhere. The colors available are rose gold, matte silver and carbon black which can match easily with your home's color scheme. 
Video recording 
You can access video cloud recordings with Petcube Care with 10-30 days history. Enjoy the high quality video at 1080p HD and 138 degrees wide angle view. 
The camera is compatible with both iOS (8+) and Android (4.3+). So, in all its likelihood, the Petcube Play is one of the best high tech gadgets for your beloved pet  without question.
Article Submitted By Community Writer