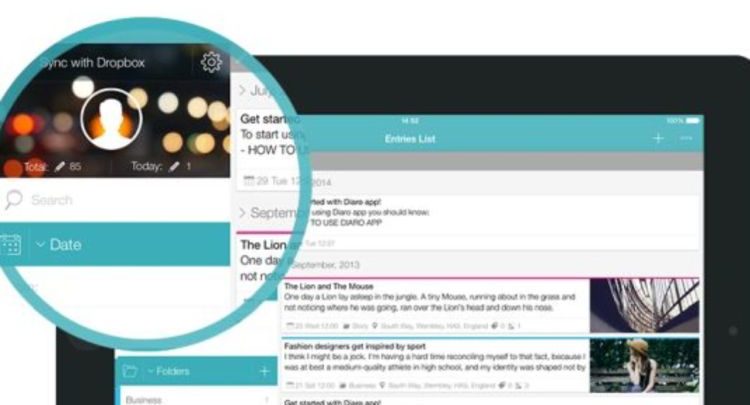 Pixel Crater has recently come up with a journal app called Diaro. As the name suggests, this app is much more than a simple diary to keep your notes. Check out what this lifestyle app brings forth to you.
Appearance –

Diaro is a simple-looking app with nicely organized features. It has a great user interface that has nothing complex for the user to handle. The app allows you to write and record anything, ranging from your life moments to your innovative ideas. It has a structured listing process that can be quickly searched and personalized. Overall, the appearance of the app is simple yet quite appealing.
Performance —

The Diaro app is compatible with all your mobiles devices. You can even use it online on your desktop by opening it in any Web browser. While the working of this app is superb and efficient on your mobile devices, it is also effective when you synchronize it between your mobile devices and Diaro Online using Dropbox. Thus, there are hardly any performance issues with the Diaro app.
Ease of use —

As this app has a simple and plain-looking user interface, there is no issue using it in a convenient manner. Almost all users would find Diaro among the easiest-to-use apps. It is available in more than 30 languages to support a wide user base.
Usefulness —

Diaro is a friendly app that helps you in cherishing your past moments anytime, anywhere. This app organizes all types of diary entries you make. Whether you write a short note or a long entry, this journal app makes you find your entries conveniently at any point in time. Its search options let you find stored items by date, folder or tags. You may even find an entry by a specific location. Use this app on any of your mobile or computing machines and it offers effective synchronization of your data. You may access and edit your entries whenever you like. The app additionally creates amazing PDFs of your journal, if required. It does not let you forget important things in a busy life schedule.
Value for money –

Diaro is complete value for money, as it is available for free. There is absolutely no risk in using this app. If you like it, then you may later switch to a $4 paid version that will help you in getting rid of ads.