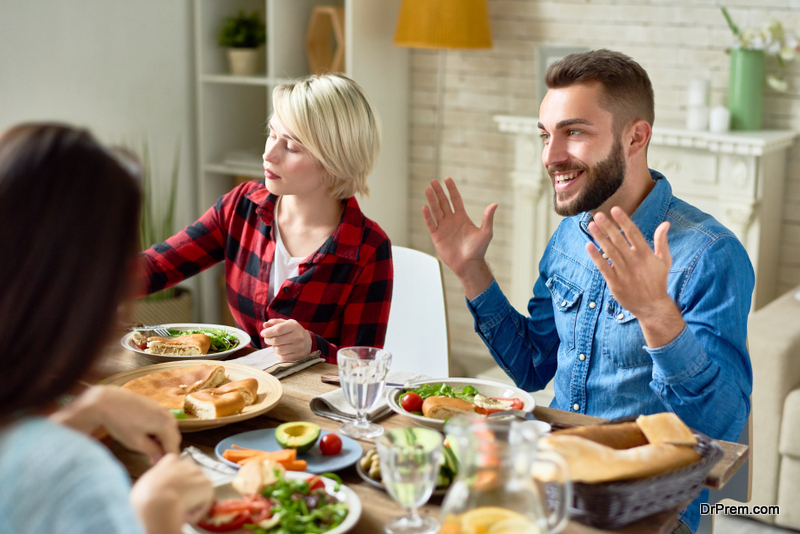 As the life grows more and more stressful we are all on the lookout for occasions to celebrate. Any occasion is a celebration to take your minds off work and thus the dressing up for it also becomes fairly important. You are looking to be at your best looking self in front of your friends and family and rightly so. With Thanksgiving coming up and the much awaited dinner of the year about to take place it is time to get your dressing on point. Precisely for this purpose we come to you with this article with some tips on the things that you should stay away from and also some information on what to wear on Thanksgiving 2018.
Some things to avoid wearing this Thanksgiving 2018
Feathery clothes:

There is a saying that when you are in Rome, do what Romans do. We say that when you are human dress like one. Adding feathers to your clothing thus is not the most attractive styling tips to have. You may have a very bird like ambience in the party but there is already a turkey on the table and count on us when we say that the people do not care for more bird like things.

Frills:

The frills on the clothing used to be popular and in style but that was a long time ago. Now when someone asks what to wear, you do not go around telling him or her to wear frills in their clothing. So on this happy occasion of Thanksgiving 2018, stay away from outdated and funky style.

The pants that are not stretchable:


This is about a grand dinner so you can be certain that you will have a lot to eat. Keeping this in mind it is a given that you should not go for pants which are not stretchable. Your stomach is going to experience a significant increase and it is comfortable and relaxing if your pants have some give.

Strappy and unstable stilettos:

This may form an integral part of the style tips provided by many. But while these are quite stylish it is also true that they are uncomfortable to walk in. Certainly after a good drink you will find it extremely difficult to walk steadily in your stilettos. In such a festive mood the last thing you want is a bad fall.

Veils:

You may find it to be elegant and fashionable but we will not recommend it for Thanksgiving 2018. This is more about eating a lot and the last thing you want is an inconvenience while eating or worse still, stuffing the veil with food when you were careless. So avoid veils and opt for different styles.

Oversized turtlenecks:

When people attend some event such as the thanksgiving it is a possibility for them to be in an inebriated state. Thus we advice against picking these as your clothes on the Thanksgiving day because you may accidently drop some food in there which would be fairly uncomfortable to get rid of.

Bandage dress:

In an event when the comfort features higher on the list than the mere looks, bandage dresses are a misfit. For instance it would be extremely uncomfortable and uneasy to pull off one and it is best to not even try.

A hard clutch:

While this is more of an accessory we still have to feature it in the worst things to wear on the occasion of Thanksgiving. Mostly because it looks out of place. Also because it is not always going to serve you any functions such as carrying some of the leftovers.

Big necklaces:

Necklaces are important to wear and on such occasions you do feel like wearing one. But if you overdo it, then you might face problems at the dining table. For instance there will be a great chance of you dipping the necklace in your food accidentally.
What to wear on Thanksgiving 2018
Formals:

While dressing type somewhat depends on the people you are dining with, if you are planning a dinner with your parents we suggest that you go the conventional way and wear formal shirts with a collar.

Bright colors and bold designs:

In this thanksgiving 2018, if you have the courage then flaunt it. Go for the bright patterns and designs and also do not hold back when it comes to the colors. Bright colors are perfectly fine if you are comfortable sporting them.

Polo Ralph Lauren herringbone tweed topcoat:

Image Source : cdna.lystit.com
This is an important lesson in all the style tips that there is nothing like a retro yet elegant outfit. This topcoat is one such item that has the right retro looks and the perfect design which can be paired with a lot of clothing giving you the flexibility.

Visvim denim jacket:

Denim jackets are a fabulous addition to your thanksgiving fashion. You can easily pair it up with jeans or cotton pants and sport a casual yet trendy look. This is among the tried and tested methods of styling up for Thanksgiving dinner.

Valentino sweater:

Image Source : cdnd.lystit.com
We already spoke about sporting a funky look to try out later. This can be an interesting option with the funky design of the sweater and also the eye catching quotes used by them. You can try them out as a option for your thanksgiving dinner.

crew striped Oxford Shirt:

This is more of a formal look but can also be styled as casual attire. So you can be all stylish this thanksgiving with this fine shirt.
Final words
It is important to have a plan for the things that you intend to wear. For this purpose we hope that our article will come in handy and you will be at your fashionable best by using out style tips. Now that you know about the worst things to wear just stay away from those and get yourself one of these fashionable products that we just discussed. Maybe after you rock the look at the party, this thanksgiving 2018 you will be thankful for our article.