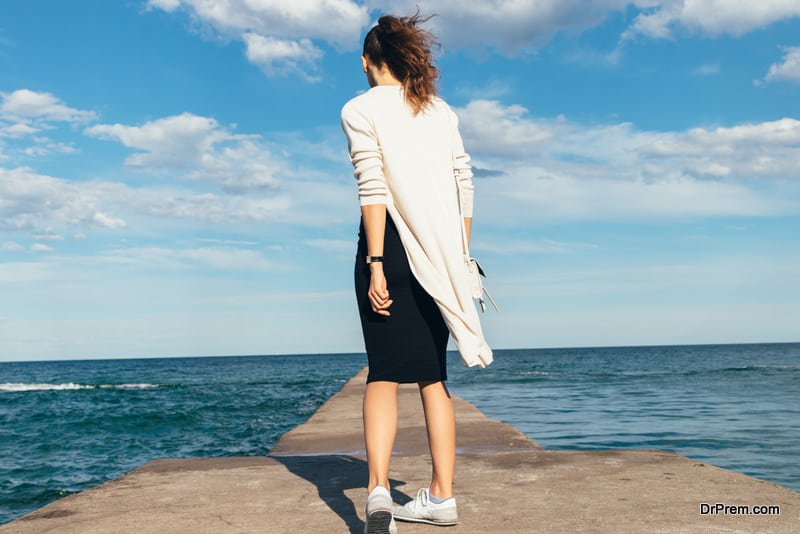 Sneakers give out a perfect combo of style and comfort and make you appear fabulous in whatever you wear. You could literally find a sneaker for every occasion. Even the celebrities are spotted many times wearing stylish sneakers. The trend of sneakers is growing day and night and there is no chance of slowing. Here is a perfect guide to wearing sneakers in style: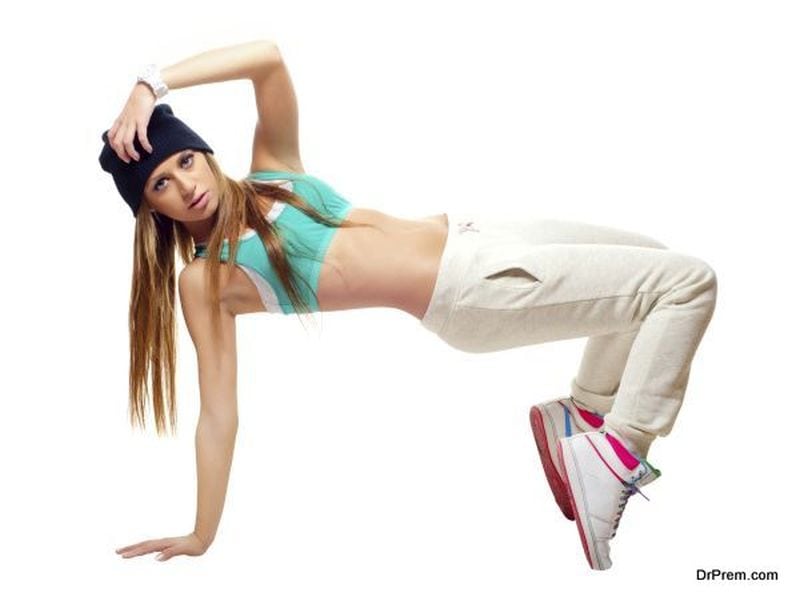 It is now socially acceptable that we could wear sneakers outside sport or a gym and it is quite amazing as they are very comfortable. Earlier there were only a certain outfits to wear with athletic shoes.  Slip- on sneakers are no doubt perfect, but if you want some more funny and sporty look to be added, switch to regular sneakers such as New balance, Adidas and Nike. Comfiest fashion trends are very advantageous. Get a pair of sneakers that could go well with almost anything you wear.
Micro minis, breezy maxis and sexy sheaths are some new outfits to wear with athletic shoes if paired properly. By doing so you will not only be able to earn some major styling points for thinking beyond the box but also your feet will be comfy and will thank you for the same. Check for the best dress combination and styling tricks and rock up your trendy look.
Basic sneaker rules: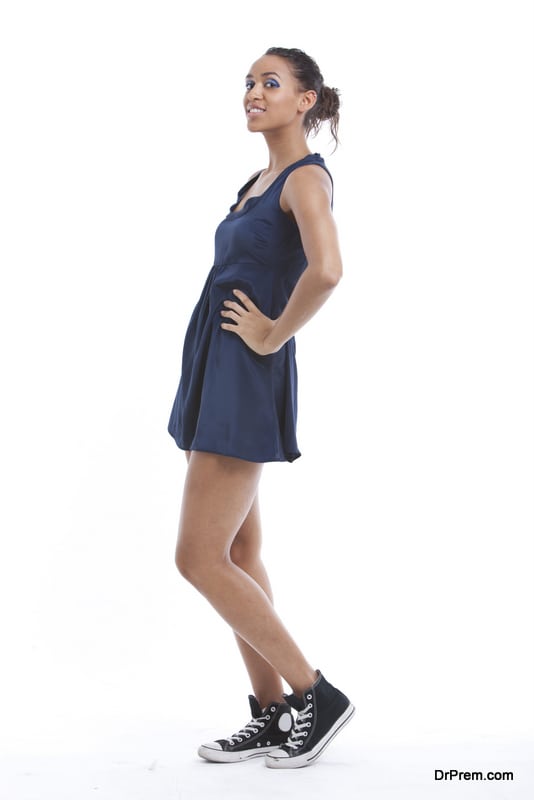 Buy the sneakers that would go with your current wardrobe: don't just hoe over the train of trend unless it complements your style. Guide to wearing sneakers suggest to never go for such shoes for which you need to repurchase the entire wardrobe.
Wear at the right occasion: sneakers are versatile in all respect but they can be used as a substitute over dress shoes. Sneakers may work well at any casual, off- duty or unstructured outfit, but not to be won in every occasion like weddings etc.
Keeping them clean: no matter how cool your sneakers are, they won't give the desired effect if not spicked and spanned. Proper maintenance of sneaker includes eliminating colours, washing the laces, brushing outsoles and using sneaker shields and shoe trees.
Guide to wearing sneakers perfectly: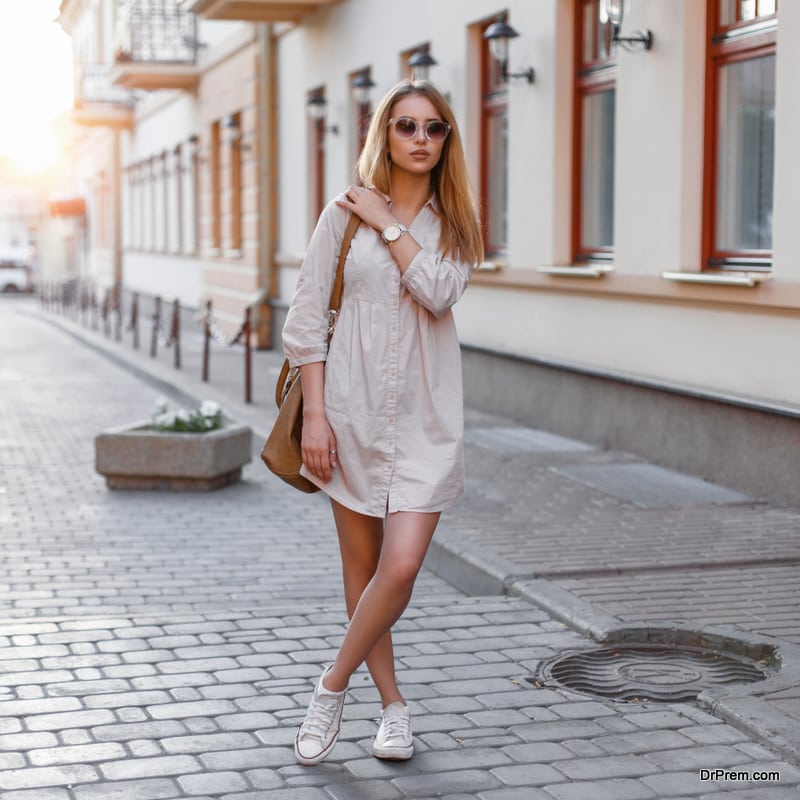 On a casual date: to look like a cool girl appealing casually, take an approach to style your outfit with sneakers making your appearance even more interesting than ever before and that too without trying hard.
To get a classy style base and best dress combination, carry a handbag along with denim and a sexy tank or T top. For more attuning wear a sparking skirt or any printed blouse and pair the up with beautiful accessories.
Style them up with skirts and dresses: there is a plain little dress in every closet, so it's time to achieve and play the chic look by wearing sneakers having metallic, rose gold or gold tones. The guide to wearing sneakers says that carrying some interesting pieces of jewellery and a funky handbag will give you a sophisticated and polished look. A perfect outfit for a night out comes in a little package.
Glitter sneakers can also be used as a perfect day and night accessory and will make a difference in your look from just ordinary to outstanding and fabulous.
While you are travelling: sneakers are undoubtedly the most essential thing to carry while you are packing your luggage for a holiday travel. Pair such sneakers with T- shirt and Skinnies along with your travelling accessories.
Also you may add a few pieces of jewellery and put a scarf around, add on a jacket so that you may remain calm. This will give an ultimate and polished look. Sneakers can be paired with everything like short dresses, at leisure wear, trousers, skirts and jeans. Sneaks are perfect in doing all the touristy things like shopping, grabbing dinner and carrying luggage.
Wear at the work place: when we talk about sneaker trend, it seems that the smart and casual world has blown out the bank. A sophisticated element should be added to the tailored suit via a playful twist of high edge sneaker choice. This trend is growing as it is a perfect medium of demonstrating the fun personality in this conservative corporate society.
Though sneakers may not work in every institution where there could be work wear which is more conservative, but you may look classy and polished with the clothing as well. To add more sophistication, add handbags, belts and elegant jewellery pieces to your tailored suit. Guide to wearing sneakers suggest that keeping the colour of your jacket and skirt or trouser same will present a refined look. This trend is highly embraced by the women using playful and edgy sneakers.
Weekend Erands: be simply stylish by wearing skinnies and blouse and a pair of your favourite sneakers. Experiment your look with a long trophy style jacket with funky handbags along with those high edged sneakers.
You just have to combine different textures, styles and prints together that go well with each other and allow a true personality to be expressed.
Slim sneakers with palazzo pants: wide legged and cropped pants are in the great trend this summer and can definitely be styled using sneakers. To balance out the volume and short hem of such breezy bottoms, go for low tops that do not look too chunky. Palazzos look great with slim shoes.
Maxis with white treads: white sport shoes are summer staple for all. If you are going with a full length dress or skirt, theses white sport shoes will look ideal.
Denims with classy kicks and cut- off: cut- off shorts look great with sneakers as they show much of the legs. It will take your look to another level.
A slip dress of 90's with low tops: don't just save the slip dresses for fancy parties and night outs. Pair them up with sneakers to get an instant cool day time look. Low tops are the most flattering options when it comes to get paired with sneakers.