In contrast to the popular notion that sharp knives can be dangerous, the blunt knives cause more accidents in the kitchen. A sharp knife is not only effective, but it is also safe. Therefore, it is necessary to sharpen your knives on a regular basis. When deciding to buy a knife sharpener, you need to choose the one that is effective and scores high on the safety meter. Here we have listed some trendy knife sharpeners that will help you keep your knives good to go.
HDS TEK Knife Sharpener
HDS TEK knife sharpener comes with both coarse sharpening and fine sharpening systems. These systems aid in sharpening your knives quickly and effortlessly. The sharpener also includes a rubber grip to prevent accidents while sharpening knives. The grinding head is also detachable, meaning you can simply remove and replace it after it ceases to function properly.
Priority Chef Knife Sharpener
This knife sharpener can sharpen any dull knife instantly. All it takes is a few swipes of the knife on the sharpener to remove the blunt edges. The firm grip base makes it easier for you to hold on to the sharpener while running your knife onto it.
Smith's CCKS Knife Sharpener
CCKS knife sharpener is both lightweight and compact, making it easier for you to use and store it in the kitchen. Its unique shape helps you increase the efficiency of the knife sharpening process, while the non-slip rubbery feet provides a firm grip on any surface for increased stability and safety.
Presto 08800 Electric Knife Sharpener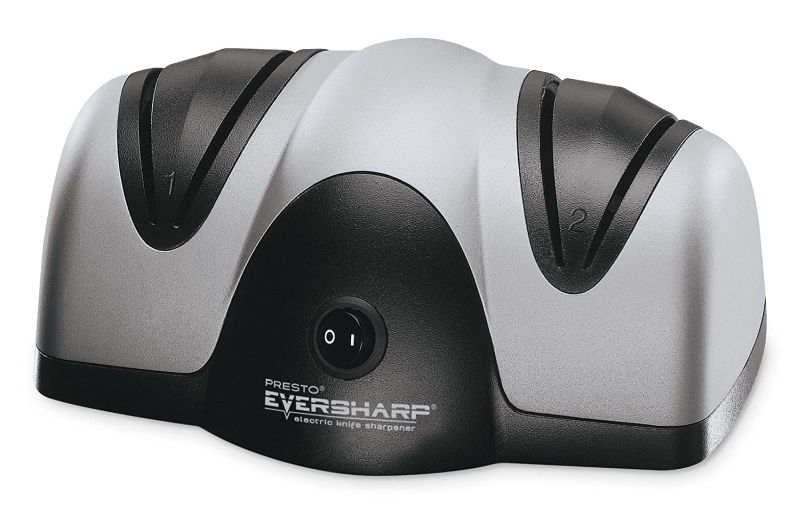 This knife sharpener takes away the grueling task of having to swipe the knife through the sharpener. Presto 08800 replaces the manual process with an electric sharpening system that requires minimal effort from your end. It also features a two stage sharpening system for added comfort, while the precision blade offers accurate results.
AccuSharp 001 Knife Sharpener
AccuSharp 001 features a diamond tungsten carbide, which increases the efficiency of sharpening your knives largely. It also comes with a safety handgrip for overall safety while handling the device.
Kitchen IQ 50009 Edge Grip Knife Sharpener
Kitchen IQ 50009 Edge Grip is one of the best knife sharpeners that come with a V grip bottom feature for added safety and stability. It comprises a soft grip handle for improved comfort, while the high quality metal increases its performance and durability significantly.
Knife sharpeners are necessary in every kitchen these days. Make sure to choose a sharpener that is safe to use, effective in sharpening your knives and durable enough to last for a long time without any damage.