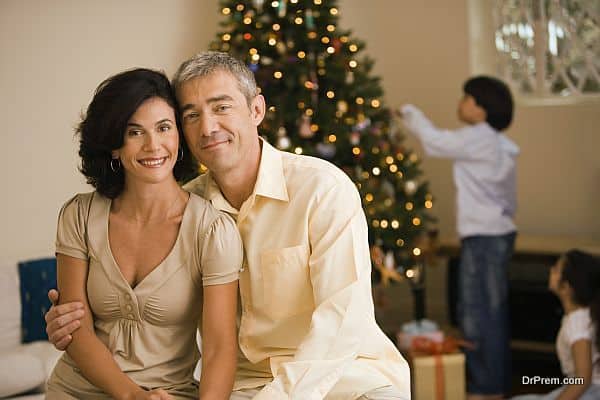 With Christmas just around the corner, people are already doing all the shopping! Check out these amazing Christmas decoration ideas for your home this holiday season.
Top ideas to decorate your home for Christmas
The tree- The Christmas tree is the most significant of all Christmas decorations and people give it the most importance and focus. So, give the tree its right due. Instead of decorating round and round the tree, focus on sections and then work on each of them. Antique decorative pieces make a good statement, hang them where people can see them as not all parts of the tree will be visible if you place it against a corner. However, make sure the whole tree is lit with decorative lights and ornaments.
Your front door- You can go traditional with a single wreath on your front door with red and green colors or you can add two more wreaths and place them vertically on your door, just decorating the entire door. Try out two-piece wreaths or hang the wreath from a fat red ribbon in case you want to avoid hammer and nails.
The mantel – The mantel and the fireplace is going to be the focal point so jazz that mantel up with a solid color and accents to make a statement. Glitter looks good and is in fact essential for decoration ideas in holidays, so use as much of it as possible. One good way not to go overboard is to stick to one kind of glitter, if you are using golden, stick to that, if you are using silver, stick to that. Do not mix them. Add them to your greens and reds on a garland which will make a great display.
Table Décor – You can use your table to dazzle up things without much effort. Put your favorite ornaments on the table which go with the rest of the decorations. Mix pine cones , fruits, etc for an earthly addition. You can also wrap up your table like a gift in huge colorful ribbons with metallic accents. Also, add flowers and candles . White tulips will be a good choice for this purpose. You can also dress the chairs complementing the rest of the décor in your house.
Candles and Lanterns – If you are using candles as a centerpiece , make sure they are in beautiful candle stand that go with the rest of the decorations. It only requires a little extra effort. Get creative with lanterns and cylinders. They can be also used as decorative pieces by filling them with berries and eucalyptus or even decorative ornaments. Place them outside or inside.