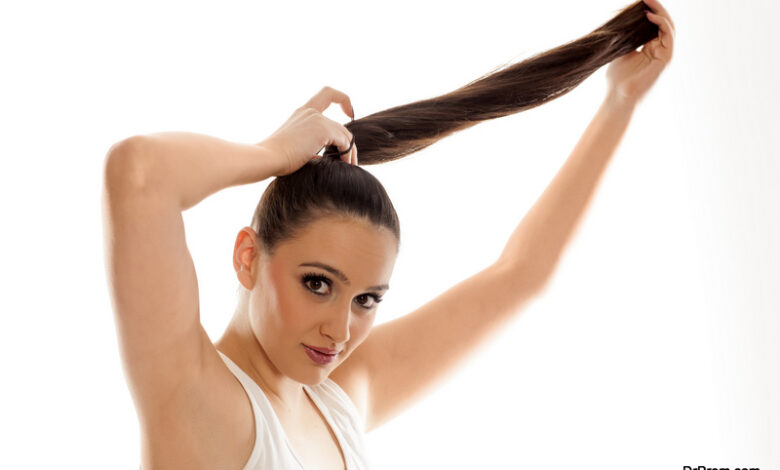 Ponytail is a last resort hairdo for many when they fail to achieve the desired look. If you also belong to this bandwagon, a most probable reason for this thinking of yours would be your ignorance. You do not realize how versatile a ponytail hairdo is and how it can accentuate your style. To make you realize this, we have brought a rundown on the wide assortment of ways you can style your ponytail.
Try out these styles
Gone are the days when ponytails used to be boring, today there are ample of styles that you can use to update your ponytail to keep aside the monotony.
Messy Ponytail Hairstyle
Ideal for women with curly hair, a messy ponytail looks extremely chic. You can curl your curls a bit more to for an ideal messy ponytail, gather all your curls in a rubber band and add accessories or flowers to it if you want.
Bumped up ponytail
Women with not so thick hair usually refrain from ponytails because a tied back look does not go well on their face. No worries, as the bumped up ponytail, as you can see Kim Kardashian sporting in the picture is what you must try. You have to take the top section of your hair starting from one temple to another and tie it in a clip.
Now take the rest of your hair and tie them in a medium or a high ponytail. In the end unclip the top section of your hair, apply a volumizing spray and tease with a brush. Fasten hair on the ponytail with another elastic band, and you are ready to carry your bumped ponytail in style.
The Sleek Ponytail
Straight shiny hair already looks so gorgeous and tying them in a sleek ponytail like this one accentuates their beauty. You can apply some hair softening serum if required and then brush your hair back. Gather your hair together to make a low ponytail leaving one-inch section of both the sides of your head.
Now take one section and wrap it around the band you have used to make a ponytail, and do the same with the other section, securing both with bobby pins. It looks elegant and sophisticated altogether.
A ponytail with braids
Incorporating braids into a ponytail gives a super chic look. For this just separate your hair into three sections and make a braid like you would normally do. You have freedom to make a braid on either or both the sides and then wrap it around the ponytail. You can simply add your braid end to your ponytail and tie it with an elastic band.
Simple low ponytail
You are not in a mood to invest quite a time on your hairdo and yet want to look stylish, try out this super easy and gorgeous ponytail style. You have to separate your hair in three sections, a strong center parting and the crown at the back. The crown gives this simple hairstyle a classic look.
Tousled ponytail
A tousled ponytail is what many celebs like, as they find it to be a red-carpet ready hairdo. Tease your hair lightly with a brush, gather your hair and fasten them into a medium height ponytail. To tousle the crown, you have to split the pony into two sections and retighten it. Cover the elastic by wrapping a section of your hair around it.
Ponytails can be as simple as a gym staple or hairdo women prefer to save themselves from the scorching heat outside, and as stylish and happening as a style statement you can see so many celebs sporting.