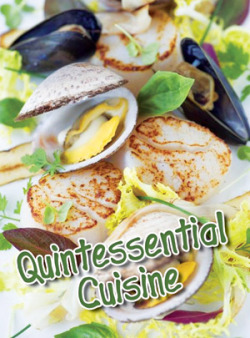 Two tasty recipes from a leading chef that have been formulated with good health in mind
Quintessential Cuisine
Fortunately, staying in tip-top condition isn't necessarily all about subjecting yourself to vigorous workout regimes, as a healthy diet can go a long way in helping to maintain your fitness. And if the recipe ideas for such meals come from a top chef renowned for creating delectable dishes from nutritiously balanced ingredients, you can relax in the knowledge that you are satisfying your taste buds while at the same time providing your body with high-quality fuel to power your way through the day. Here, Albert van Rheede, Executive Chef and cookbook author, gives two healthy recipes, with explanations on how the ingredients work to keep you in shape:
Recipe 1:
Boiled Lobster with Spicy Avocado Crème and Grilled Mango
Ingredients:
– 1 fresh lobster (500 grammes), 1 avocado, ½ mango (thinly sliced)
– ½ red pepper sliced, mix of lettuce for salad, chervil
– 5 drops of Tabasco, salt and pepper
– Court bouillon (chopped leaks, onion, carrot, celery in boiling water)
Preparation:
– Boil the lobster for seven minutes in the court bouillon
– Mash the avocado with Tabasco, salt and pepper
– Add the thinly sliced red pepper
– Grill the mango for short time
– Dress the salad on a large flat plate
– Cut the lobster body and claws in half and take out the meat
– Place the lobster meat on the salad and garnish with avocado crème
– Place the grilled mango around the lobster and finish with a touch of chervil
The avocado is a fruit of the Persea americana, a green tree that can reach 20 metres in height and its name is derived from the Aztec word "ahuacatl". The fruit is endemic in Central and South America and has been grown for over 10,000 years. There are three main varieties of avocado; the Mexican, Guatemalan and West Indies types. The avocados commonly found in stores are Hass avocados, which can be recognised by their rough skin and brownish-green colour. Avocados are best consumed when they are just ripe. You can test this at the supermarket by gently squeezing the fruit — they will yield gently to finger pressure when ripe and it is at this stage that they are best for consumption. If left any longer, they will start to turn black. Drops of lemon juice or vinegar can slow this process down, but only for a little while. The avocado is commonly known to be one of the healthiest fruits, as they contain lots of vitamin E. They also contain large amounts of oleic acid, the same healthy fat found in olive oil that helps to guard against heart and vascular disease. Avocados also contain lecithin, known to be beneficial for brain function and the nerve and muscle systems. Athletes can gain benefits from eating the fruit, as after a workout, the minerals contained within them, such as potassium, calcium and magnesium, ensure that acids in the body are neutralised. Avocados are rich in lutein, which helps to prevent cataracts and also contain beta-sitosterol, which helps to lower blood cholesterol levels and reduces the hormonal changes that can cause prostate cancer.
Recipe 2:
Seafood Herbs Melange and Asparagus:
Ingredients:
– Eight stems of asparagus
– Seafood mix of mussels, scallops, crab, lobster, or any mix you like
– Herbs for the salad mix (chives, basil, tarragon, dill, chervil, parsley
– Olive oil, salt and pepper
– Vinaigrette (olive oil and half portion of balsamic vinegar)
Preparation:
– Slice asparagus into half lengthways
– Fry asparagus for a short time in olive oil and a pinch of salt and pepper
– In another pan, fry the seafood mix in olive oil
– Add a pinch of salt and pepper
– Steam the seafood after frying for two minutes
– Pluck the herbs by hand and make a nice salad bouquet
– Dress the salad in the middle of a plate
– Top it with the asparagus and seafood mix
– Finish with the vinaigrette
Consumption of fish and seafood in general has consistently proven to be healthy for the heart, by lowering blood pressure, reducing the incidence of atrial fibrillation (a cardiac rhythm disturbance) and decreasing the risk of cancer. Eating seafood also increases the intake of vitamin D and leads to a faster metabolism and quicker reaction times, especially in the brain and eyes. The consumption of fatty/oily fish, such as tuna or salmon, is recommended by health experts because of the rich source of omega-3 fatty acids found within them. Lean white fish, such as cod and plaice, are commonly prepared by frying and have less cardiac benefits. Cooking and poaching fish will result in greater health benefits than frying them, as unhealthy free radicals can be released both in the fish and the frying oil. Barbequed and deep fried fish can be quite unhealthy. In fact the shellfish used in this recipe, such as the mussels and scallops, along with the crustaceans, including the lobster, crab and shrimp, are rich in vitamin B12, protein and minerals. The low-calorie asparagus in this recipe can help in normalising blood pressure levels, lower blood cholesterol, reduce the incidence of varicose veins and promote good skin. The herbs that are used also have health benefits. The chervil helps to cleanse the blood and the fragrant basil has anti-bacterial and anti-inflammatory properties.
Author Details:
Albert van Rheede,
Executive Chef and Author of Spa and Wellness Cuisine & Dutch cookbook Kuren and Koken
Currently employed at the Scandic Sanadome Hotel, Netherlands.
Quintessential Cuisine comes courtesy of hospitalityinhealth.com (HIH)