Dr Prem's Trip to Neusoft Medical, China – Impressions on the sophisticated medical equipment and technology business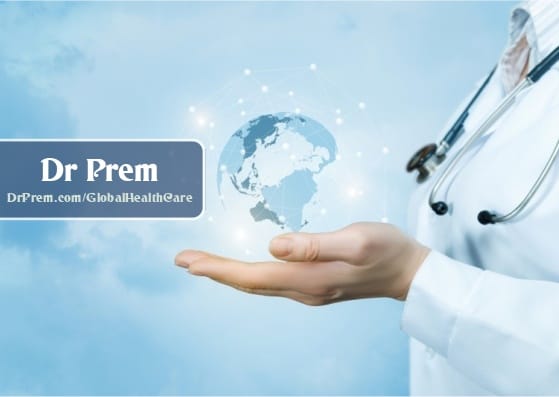 <![CDATA[Recently I was invited to visit Neusoft Medical. Founded in 1998, the China based Neusoft Medical Systems Co. Ltd. is a leading manufacturer of sophisticated medical equipment and deliverer of services.
Dr Prem Jagyasi with Shakil Khan, Iqbal Hassan and Representative from Nuesoft China
Image Source : NeuSoft.Com
The Nuesoft Park in Dalian is quite impressive. The massive business park is home to Nuesoft museums, where the prolific history of the company is on display.
As a major player in the tech space, Nuesoft has partnered with several well-known brands like Sony, Microsoft and several others. Many fortune companies utilize technology provided by Nuesoft.
I was informed that Neusoft Medical is a wholly owned subsidiary of Neusoft Corporation, the largest IT solutions and services providers in China. Software development is the core competency of the company and this has enabled the company to manufacture a wide range of medical machinery like CT, MRI, X-Ray, Ultrasound, Radiotherapy, PET, Software Series and HVG.
Neusoft at the forefront of technological development
Image Source : NeuSoft.Com
What I learnt is that Neuesoft's core strength is in software and technology development. They have been able to create world-competent infrastructure for the development of technologies that are in tune with the latest in medical stream. Even before the setting up of Neusoft Medical, the parent company developed the first homemade CT in China, in 1997.
Today, the company can boast of world competent technology in CT scanners, MRI systems and other imaging machines for medical use. Neusoft Medical is the support organization for National Digital Imaging Research Centre, and an uncontested market leader in medical equipment and services, with a marked global presence.
I had an opportunity to visit the medical factory setting Located in Shenyang of Northeast China, where I saw awesome Product line under making. The wide portfolio of Medical Equipment offered by the company includes CT, MRI, X-ray, Ultrasound, PET (Positron Emission Tomography), Linear Accelerator, and Biochemistry Analyzer.
Image Source : NeuSoft.Com
The company makes its CT products employing advanced technology and new generation software platforms to make fast and accurate diagnosis. The various products in this line are NeuViz Twin Dual-Slice CT Scanner System, NeuViz Dual Dual-Slice CT Scanner System, NeuViz 16 Classic 16-Slice CT Scanner System, NeuViz 16 16-Slice CT Scanner System, NeuViz 64 64-Slice CT Scanner System, and NeuViz 64 In/En  64-Slice CT Scanner System. These products serve diverse technological needs of the client hospitals and other health care centers. Here let us have a look at a few of them-
NeuViz Dual Dual-Slice CT Scanner System features sub-second, sub-millimeter acquisition system adapted specially for economical day-to-day clinical routine.
NeuViz 16 Classic 16-Slice CT Scanner System offers powerful scanning capacity, high resolution image quality with low dose and full range of clinical applications at an affordable price. It's the best choice in 16-slice CT.
NeuViz 64 64-Slice CT Scanner System's design is focused on minimizing patient x-ray dose, but provides increased coverage, better image quality and faster exams.
NeuViz 64 In/En  64-Slice CT Scanner System is the flagship product that features patient-oriented technology with the latest in the field for the radiologists to deliver a new experience to them both.
To keep up with the technological change, the company has envisioned NeuViz 128 128-Slice CT Scanner System that aims at delivering increased value by reducing operating costs and improving work flow through the intelligent use of advanced clinical technology.

Magnetic Resonance Imaging
Image Source : NeuSoft.Com
The company's diverse range of MRIs include BW MRI Workstation, NAM-P023A, NSM-P035, Superstar 0.35T, NSM-S15 (Sparkler 1.5T)-Superconductive MRI System, and NSM-S15P (NeuVantage 1.5T)-Superconductive MRI System. Here let us have a look at a few of them-
NAM-P023A combines Philips' advanced technology with Neusoft Permanent Open Magnet.The machinery ensures excellent image quality and shortens scanning time.
NSM-P035MRI system has higher affordability of imaging and higher productivity. This efficiency and effectiveness enables more nations around the globe to give their populations access to modern care.
In Superstar 0.35T, technology from Philips is fused with Neusoft Permanent Open Magnet.The Multi-Channel RF system and strong gradient configurations ensure advanced imaging capabilities, supporting a wide range of clinical applications.
NSM-S15 (Sparkler 1.5T)-Superconductive MRI System is one of the more technologically advanced MRIs made by the company. Neusoft describes it as "Comfortable, Ideal, Fast, and Worry-free."It is simple, practical, and affordable and delivers performance and application, making it one of the most trusted and affordable MIRs.
NSM-S15P (NeuVantage 1.5T)-Superconductive MRI System is described by the company as "High, fast, eco, user-friendly, and powerful." It uses the latest innovative technology based on deep understanding of requirements of radiologists. The MRI allows a comfortable patient experience and fast working with powerful clinical application and a highly advanced software technology platform.

Image Source : NeuSoft.Com
The X-Rays of the company exploit the latest in technology to give a cutting edge to its products. It provides an array of products in this line, which includes the DXRVision, DXRVision (HD), NeuStar DR, NeuPioneer DR,and NeuCareMammo DR. In the X-Ray equipment, the company focuses on precise diagnosis and providing better healthcare to its customers. These products are a combination of excellent technology, streamlined design and high intelligence.
Image Source : NeuSoft.Com
The company offers the following list of Ultrasound equipment-
N7 Color Doppler Diagnostic Ultrasound System
N7 Color Doppler Diagnostic Ultrasound System
Phoenix Color Doppler Diagnostic Ultrasound System
These equipments are designed to deliver high quality images for a patient's Ultrasound examination and facilitate the departmental workflow. Phoenix Color Doppler Diagnostic Ultrasound System provides Ultrasound facility to the clients for high-class clinical performance to effectively handle the daily patient load and the diagnostic sophistication to confidently perform advanced clinical evaluations.
Image Source : NeuSoft.Com
The NMSR600 Linear Accelerator and RTPS or Radiotherapy Treatment Planning System (NSS-3D-RTPS-OP) provides the latest in radiotherapy.
NMSR600 Linear Accelerator was launched in 2010 in China as the company expanded its innovation to the field of tumor treatment. This state of the art machine uses full-process digital control and industry-leading high-precision technology. The machine imbibes some of the finest and technologically advanced components purchased from around the globe ensure smooth and stable system operation.
RTPS NSS-3D-RTPS-OP is a clinical treatment plan software system developed by Neusoft Medical, and based on best-practice tumor treatment systems at major medical institutions.The software includes virtual fluoroscopy, virtual simulation, dose calculation and plan evaluation function.
The software enables a series of functions like Dicom C-STORE SCP, ImportTool, Patient Management, UserManagement, Physical, ViewPage, DoseKernel, ImageKernel, and Backup&Restore.
Image Source : NeuSoft.Com
Neusoft Medical systems' TruesightPET is one of the finest medical PET scanners in the market with pioneering cardiac technologies. The Truesight PET is built on a versatile platform that accommodates today's clinical and technological requirements, together with provisions for tomorrow's new scientific advancements. The technological innovation chiseled towards perfection enables precise monitoring of the patient under a comfortable environment and ensures successful results for doctors and a better outcome for patients.
Image Source : NeuSoft.Com
The company excels in a range of softwarethat makes it give a cutting edge in the field of manufacturing medical equipment. The company's range of excellent software includes BW Mammography Workstation, BW MRI Workstation, BW X-Ray Workstation, and BW CT Workstation. These softwaremake the works of Mammography, MRI, X-Ray and CT scanning both easy and highly efficient to get the best results.

Image Source : NeuSoft.Com
The company has also developed highly powerful and efficient generators for radiography. They are easy to operate and easy to maintain. They generators have CE certification, and conform to EMC standard and EU RoHS.
Services
Image Source : NeuSoft.Com
Apart from this range of products, the company provides quality services to assure the fullest satisfaction of customers. While the service quality control guarantees fullest customer satisfaction, the excellent logistic system accelerates the company's ability to provide service to the customers quickly and efficiently.
Dr Prem with Nuesoft Team China
The company has a strong team of 350 highly trained professionals with as many as 50 engineers who cater exclusively to international markets. In line with the commitment of the company towards excellence and customer satisfaction, the company has devised a 3D Services model. The company provides free technical support through GRSS, fax, email, and telephone, free Unlimited On-site service and maintenance and free defected spare parts replacing and repair to all its clients.
Global footprints
Neusoft Medical has expanded its leadership with the establishment of international subsidiaries in the United States of America, United Arab Emirates, Peru, and Vietnam. The company's presence continues to grow , with more than 1,000 staff internationally and collaborations across the globe.
I am glad I made a trip to Neusoft and I was able to understand the corporate vision and mission of this global conglomerate. With its thrust in cooperation, trust and innovation, the company is offering standards for a global healthcare market and endeavoring to affordable healthcare to everyone. The company aims at improving the wellness of people around the world, and I was happy to witness some of their developments.]]>