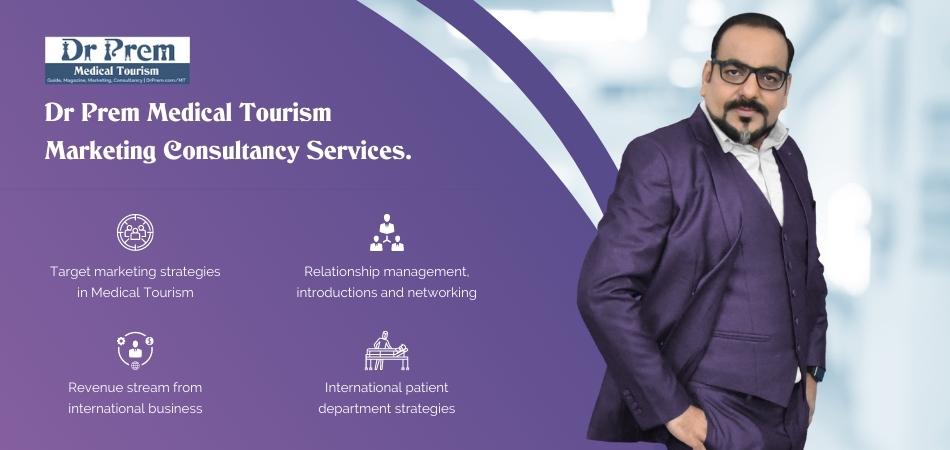 A convenient blood glucose management system on the go is what diabetes patients always look forward to.  When it comes to patient empowerment, self-tracking ability of health parameters becomes important. This keeps the patient aware of his/her updated health status. Let us have a look at different blood glucose management devices.
Diabetes is one of the illnesses that require constant monitoring. People who suffer from this condition have a constant struggle in managing the risks and symptoms of diabetes on a daily basis. They have to ensure that they lead a healthy life by following a good exercise regime as well as maintain a healthy diet based on the type of diabetes they are diagnosed with.
Living with this condition on its own is a big challenge and responsibility. Constant monitoring is needed to ensure that the glucose levels are maintained.  Since a person has to pay attention to the smallest details they have to take preventive and precautionary measures to manage their condition. We all know that diabetes is a condition which requires a lot of care and you need to keep a close eye on the vital stats and readings.
The good and bad of Dario blood glucose management system: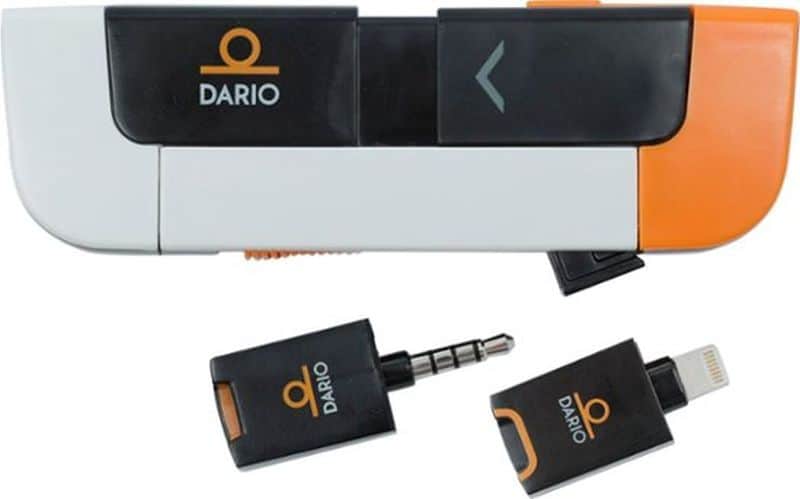 ·         The Good:
The sleek 4-inch pocket-friendly all-inclusive iPhone-compatible Dario Smart Meter helps in monitoring your blood glucose level. The Dario app tracks other vital parameters related to blood sugar which are important as well. You can track carbohydrate intake, required insulin doses, calorie intake and record high and low blood sugar levels providing an HbA1c estimate of your blood glucose readings.
·         The Average:
Though Dario's all-inclusive features are very user friendly, but the strip cartridge needs a bit modification.  Users should find it convenient to pull the strips out without any hassle. Too small size at times adds to inconvenience in handling. Moreover, the pre-set blood glucose range does not show readings below 80 that often confuse the users regarding the actual reading.
·         The Bad:
Dario operation being solely iPhone/smart phone dependent may cause difficulty if your mobile charge gets drained. You need to ensure your mobile is charged enough while using the Dario blood glucose monitor. Moreover, handling the phone while the lancet is pricking your finger may make things clumsy.
Above all, the Dario app cannot be integrated with other device based data cloud compelling manual log in every time to check other data. Today, tech-savvy users would like to have everything integrated in one platform. Being a new entrant to the market, the product is not covered by most insurance providers.
About product, manufacturer, release date, and updates
The little lip gloss sized iPhone compatible Blood Glucose meter Dario Smartmeter is innovated by the Israel based Labstyle Innovations. It has hit the market in March'16 bringing in cheers for the diabetics looking for a high-end all-inclusive blood glucose management system.
Type 2 Diabetes Active users saw an appreciable reduction in average high blood glucose levels. Easy blood sugar tracking caused a significant reduction in hyperglycemia, a common diabetes complication.
Specifications of the Dario Blood Glucose Management System
The sleek 4 inch sized portable Dario glucose meter comes with a small lancet device, a cartridge holder containing strips and an attachment to fix with your smartphone. This device does not require additional batteries as it will work in sync with your iPhone/smartphone. Test strips are available in plans of 50s, 100s and 200s per month.
Things that make the product worth buying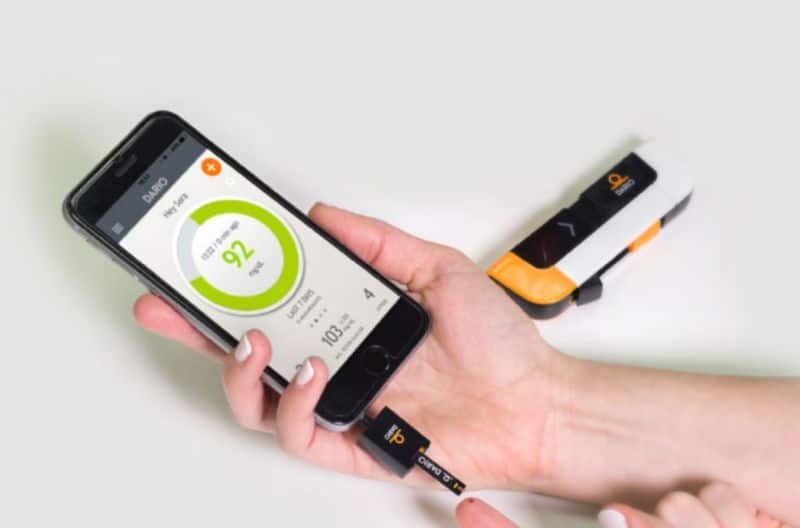 -Portability is a big plus point for this blood glucose monitor.  Its ability to sync with the iPhone/smartphone giving high-accuracy readings is other unique feature that makes this product a cut above others.
-Almost a painless blood testing method. The small lancet swiftly picks minimum blood from your finger, and the result shows up in your iPhone monitor within 6 seconds.
-The user friendliness of the apps with a good display enables easy navigation.
-Maintains a record of your blood tests for a week or a month projecting your average BG level within a certain period.
– Keeps you abreast of the required daily blood tests that would help you provide due records to your health insurer.
-The apps log in enables you to add your carb intake, calorie burnt, requirement of insulin doses and your workouts.
-Reasonably priced.
– Dario blood glucose management system helps you with different types of membership plans where you can get personalized diabetes management programs along with regular blood sugar tracking.
How user-friendly this product is actually?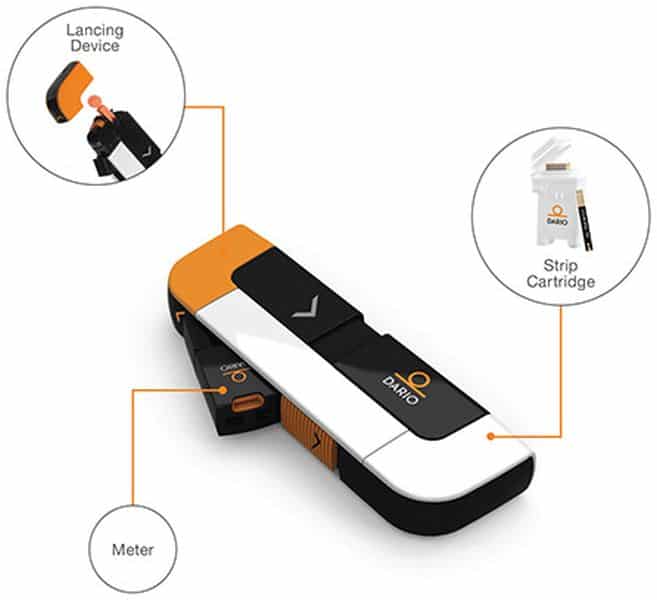 Dario Smartmeter is great for the geeks. Those not accustomed to iPhone-dependent BG meters may take a little time to get acquainted in synchronizing the apps with the phone. Else it is a great device to use as per needs.
Contour Next, Contour meter, Accu-chek Meter, One Touch Select and Dr.Morepen Test are common names of BG meters. Compared to these, Dario offers a smarter blood glucose management system where the results can be tracked, monitored and shared as required.
Frankly speaking, Dario BG meter with its iPhone integrating features has been able to draw admiration of its users. But it also needs modification of the strip cartridge and better data integration with other cloud devices.
Verdict
Dario BG meter has hit the market with smart diabetes management features that allows the user to track the blood glucose levels more efficiently by storing the data through Dario apps in iPhone/smartphones.
Accu-chek active blood glucose meter
Accu-chek DIY health products need no formal introduction as they are quite popular in the healthcare market. Accu-chek is a trusted name and active blood glucose meter is yet another useful health diagnose product by the manufacturer. This product has many good features to look out for such as it is an accurate device.
Accu-chek active blood glucose meter is excellent for people suffering from diabetes as they can quickly check their blood sugar at home and keep it in check. It is a fast and reliable device easily available in the market. Apart from being fast and user-friendly, this device is also pain-free and diagnoses blood sugar in just a matter of seconds.
Manage Diabetes with the help of these devices
While devices are extremely helpful in tracking blood sugar levels, the patient also has to be careful that s/he does not end up getting hurt since that can take a long time to heal. There are also chances that it may result in further complications or problems.  Keeping this factor in mind, there are certain devices that have been designed to help patients deal with this condition.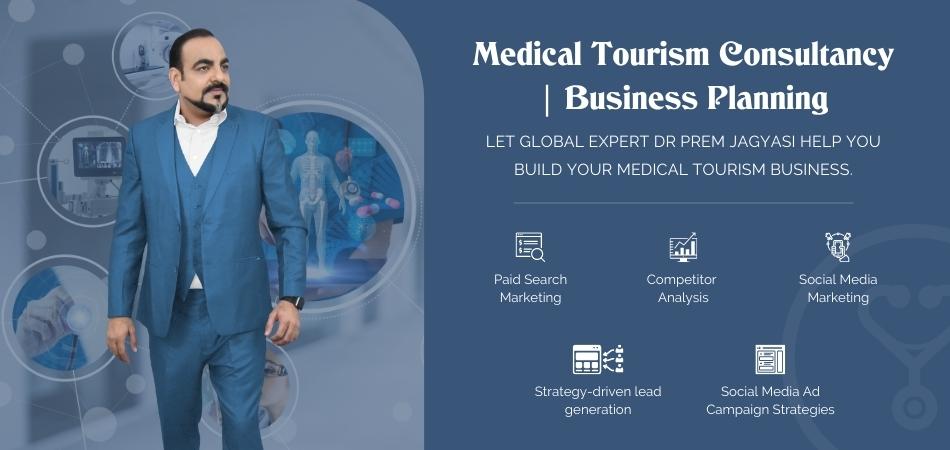 The need for specialized apps and devices for managing diabetes
The apps are designed to help the patient keep a track of their readings. Along with that, you also have certain devices that are specially designed for diabetics.  These apps and devices store the readings for a particular time frame and allow you to access it whenever you want. You can also share the information whenever you want.
Devices that monitor the Glucose levels continuously
You need to understand the patterns of the blood sugar for effective monitoring.  There are devices that are designed to help you in this front. These devices have tiny sensors that are generally put under the belly skin. The process through which these devices are inserted are a little painful and do not take much time. The readings or data is sent via the wireless transmitter which is placed on belt that is worn.
Medicine management with Insulin pumps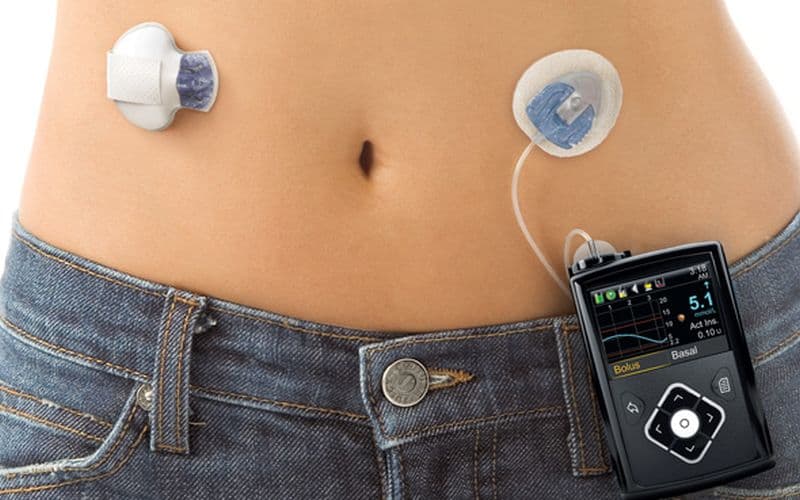 The insulin pumps are special devices that are used for diabetes management. They deliver consistent and reliable information about the insulin doses and levels in the body.  These pumps also help patients by making it easy for them to manage their medication. The healthcare giver or professional will use a catheter to insert the dose into the patient's body. To prevent the movement of the device during the procedure, a tape will be used to keep the device in place.
A special wireless cuff with a blood pressure monitoring facility
Another device for diabetes management is the wireless cuff which also measures the blood pressure. To transmit the data, it uses the Bluetooth technology. The cuff also comes with a spcial companion app that is compatible with iPhones. After completing the installation process of the app, you will be guided on how you can use the app in order to send the readings that are generated for reference purposes.
Specialized Apps for Diabetes
There are different companion apps that are specially designed for diabetics. These apps allow you to feed in the necessary information and readings taken. These apps give you information on your daily nutrition, physical activity time, daily logs, and monthly calendars. There are various programs which also provide you the necessary guidance on the kind of food you can eat along with the necessary nutritional information.
Fitness Clips are the new style accessory
Another way to manage diabetes is through a clip which can be put on the clothing or wrist which can be used to measure the physical activity of the day. There are motion sensors which keep a track of your calories, steps taken for the day, sleep pattern etc .The best thing about these chips is that the fact that they are portable, easy to use and gives you the most accurate readings. The wireless feature in the device us used to pass on information. These chips come in various shapes, sizes, colors, designs and styles.
Smart wearable eyewear
When we talk about technological advancements Google is one name that is on the lead. Now they have come up with the Google Glass which is a hand free wearable eyewear.  The company has also come up with the Smart contact lens which contains a tiny chip that monitors the levels of the glucose through the tears and sends the information wireless.  The material used for the contact lens has a miniature sensor which helps in monitoring the glucose levels as it is placed between the layers of the lens.
How would the future of diabetic care look like?
Revolutionizing future diabetic care becomes imperative when one out of eleven people is coping with this disease all over the world on a daily basis. By 2040, it would be 1 out of 10. Recent estimates from WHO declare 422 million diabetic patients across the globe. This number is on the rise causing a huge financial burden on treatment costs which is likely to touch $802 billion by 2040.
Continuous Glucose Monitoring and patient empowerment to dominate the future diabetic care:
The future of diabetes management would be focused on Continuous Glucose Monitoring (CGM) through innovative technological devices providing real-time feedback and is proven to be extremely helpful in day-to-day diabetes management.
Artificial pancreas, non-invasive procedures, glucose monitoring sensors, wearables, inhalable insulin and apps would enable patients a trouble-free blood glucose monitoring alerting them about their required medications and lifestyle modifications.
Patient empowerment would also form an integral part of diabetes management enabling patients to opt for the suitable technology. Diabetics will form highly motivated communities continuously sharing their experience in different forums and digital platforms.  Their strong move showing willingness to adopt artificial pancreas even before FDA approval bears the testimony of patient empowerment.
Let us discuss few innovative technological disruptors set to revolutionize the future diabetes care.
Digital contact lens:
Image Source : thedrum.com
Google and Novartis in a joint collaboration are working on the development of Digital contact lens patented in 2014 which would not only help the users gather info from the digital world but will also help in measuring blood sugar levels from the tears.
Embedded with a tiny ultra-slim microchip and tinier antenna, the contact lens will send the blood glucose measurement to the user's smartphone integrated via an app.
Gamification:
This would offer a sort of gaming experience while monitoring blood glucose breaking the monotony of the normal procedures. The Austrian company MySugr has released several applications adding a gaming experience to the conventional diabetes management apps. The engaging gaming experience offered by My Sugr Junior app specially designed for diabetic children helps them in effective diabetes management at an early age.
Databetes – helping in patient empowerment:
The founder Doug Canter himself developed this art of data creation long before wearables invaded the market. He accumulated every data related to blood glucose readings, insulin doses taken, meals, sporting activities and workout sessions of one full year.
Going through the past data, patients can analyze their condition aiding in better diabetes management. Following the data, they can provide support to each other through social media platforms and promote best practices.
Artificial pancreas:
Image Source : gannett-cdn.com
The artificial pancreas, a replica of the healthy organ enables the diabetics to live a much comfortable life. Devised by the engineers of Boston University, this bionic pancreas has a continuous blood sugar monitoring system and has the ability to decide on subcutaneous insulin delivery backed by a computer algorithm.
Prick-less blood glucose monitor:
Considering the rising preference of non-invasive treatment methods, sensor dependent blood glucose monitors would dominate the market. Using the flash technology, it gives an accurate blood sugar measurement with the help of a sensor worn by the user on the upper arm. Abbott's FreeStyleLibre wireless monitor would prevent diabetics from frequent needle pricks for blood glucose monitoring.
Digital tattoos:
Image Source : cdn.technologyreview.com
The innovative skin patches can also relieve diabetes patients from the pain and discomfort of needle pricks. Developed by Dae-Hyeong Kim, assistant professor at Seoul National University and researchers, these patches can sense the excess blood glucose through sweat. The micro-needles penetrating the skin gets heated automatically administering the drug intake.
Food scanners:
Regulated diet is important for diabetics but most are not aware of what they should eat. For example, the sugar content in fruits can impact the blood sugar levels heavily. A hand-held food scanner developed by Canadian TellSpec alerts the diabetics about the macro and micronutrients of the food contents enabling them to pick them the right ones. Scio and Nema gluten sensor are other food scanners gaining fast popularity in the market.