Dario Blood Glucose Management System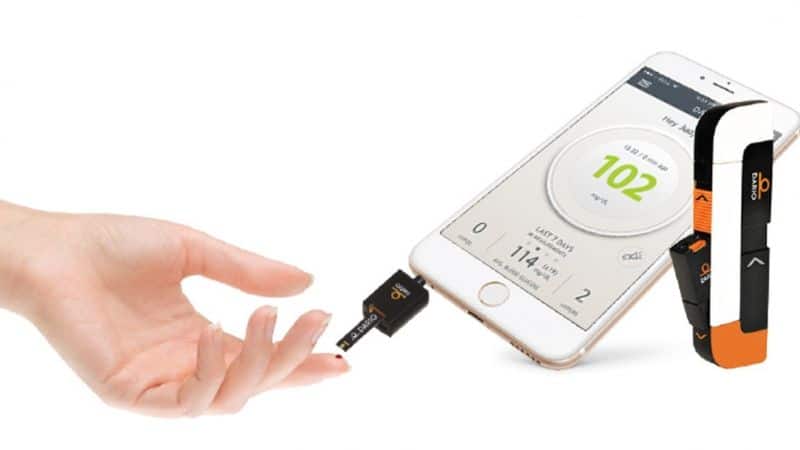 A convenient blood glucose management system on the go is what diabetes patients always look forward to.  When it comes to patient empowerment, self-tracking ability of health parameters becomes important. This keeps the patient aware of his/her updated health status.
The Dario Blood Glucose monitor comes with a host of promising features by offering a hassle free blood sugar tracking. Can it give the desired level of convenience and accuracy to the consumers? Let us have a fast check.
The good and bad of Dario blood glucose management system: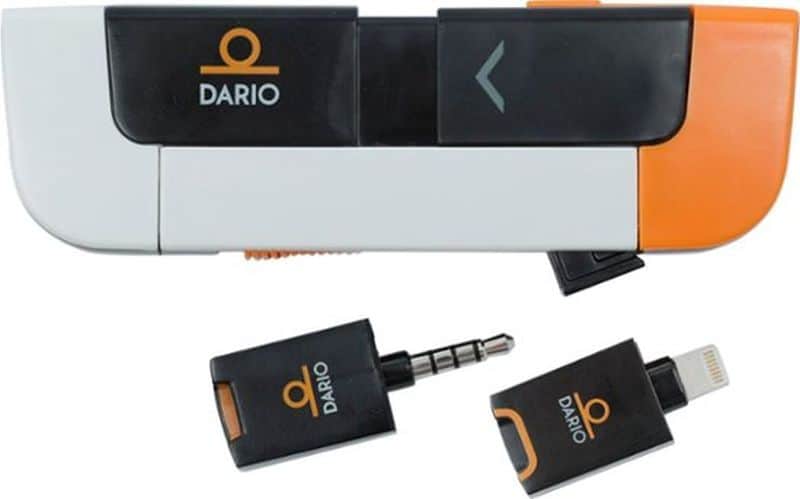 ·         The Good:
The sleek 4-inch pocket-friendly all-inclusive iPhone-compatible Dario Smart Meter helps in monitoring your blood glucose level. The Dario app tracks other vital parameters related to blood sugar which are important as well. You can track carbohydrate intake, required insulin doses, calorie intake and record high and low blood sugar levels providing an HbA1c estimate of your blood glucose readings.
·         The Average:
Though Dario's all-inclusive features are very user friendly, but the strip cartridge needs a bit modification.  Users should find it convenient to pull the strips out without any hassle. Too small size at times adds to inconvenience in handling. Moreover, the pre-set blood glucose range does not show readings below 80 that often confuse the users regarding the actual reading.
·         The Bad:
Dario operation being solely iPhone/smart phone dependent may cause difficulty if your mobile charge gets drained. You need to ensure your mobile is charged enough while using the Dario blood glucose monitor. Moreover, handling the phone while the lancet is pricking your finger may make things clumsy.
Above all, the Dario app cannot be integrated with other device based data cloud compelling manual log in every time to check other data. Today, tech-savvy users would like to have everything integrated in one platform. Being a new entrant to the market, the product is not covered by most insurance providers.
About product, manufacturer, release date, and updates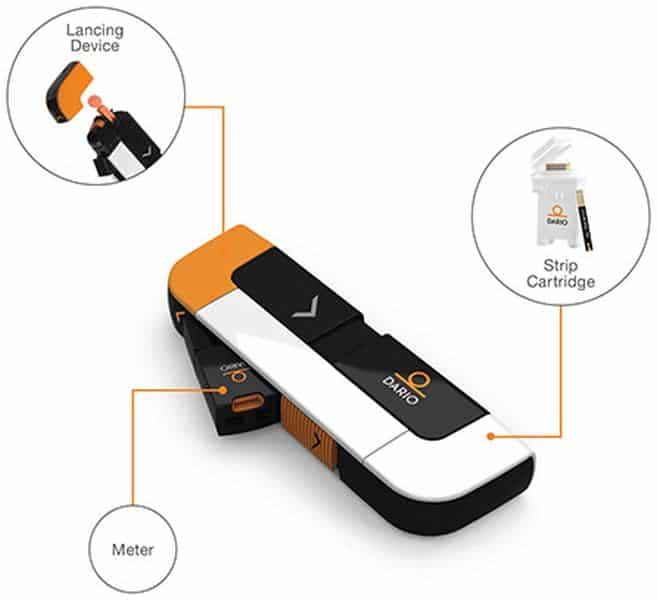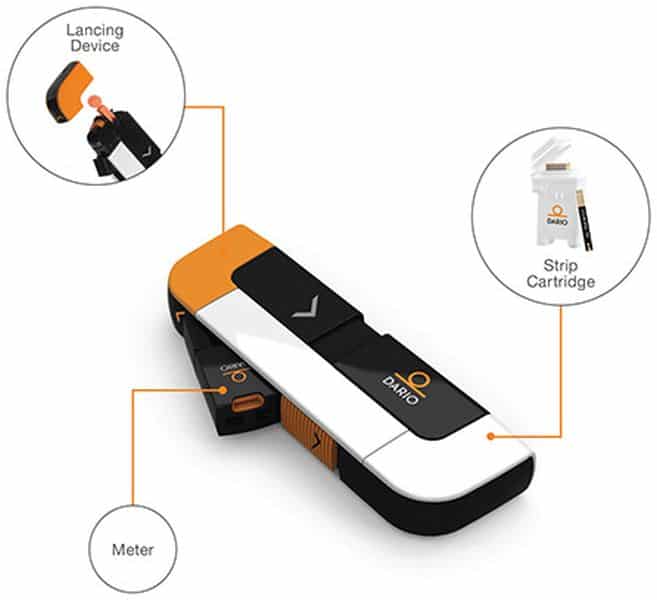 The little lip gloss sized iPhone compatible Blood Glucose meter Dario Smartmeter is innovated by the Israel based Labstyle Innovations. It has hit the market in March'16 bringing in cheers for the diabetics looking for a high-end all-inclusive blood glucose management system.
Type 2 Diabetes Active users saw an appreciable reduction in average high blood glucose levels. Easy blood sugar tracking caused a significant reduction in hyperglycemia, a common diabetes complication.
Specifications of the Dario Blood Glucose Management System
The sleek 4 inch sized portable Dario glucose meter comes with a small lancet device, a cartridge holder containing strips and an attachment to fix with your smartphone. This device does not require additional batteries as it will work in sync with your iPhone/smartphone. Test strips are available in plans of 50s, 100s and 200s per month.
Things that make the product worth buying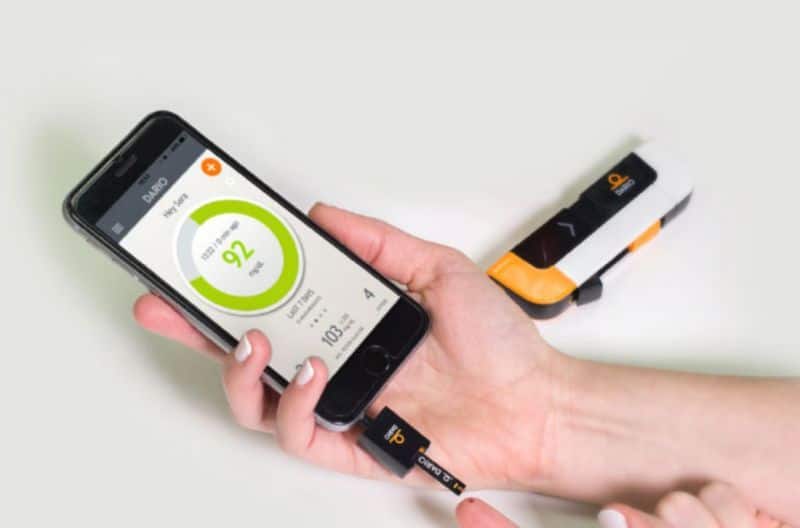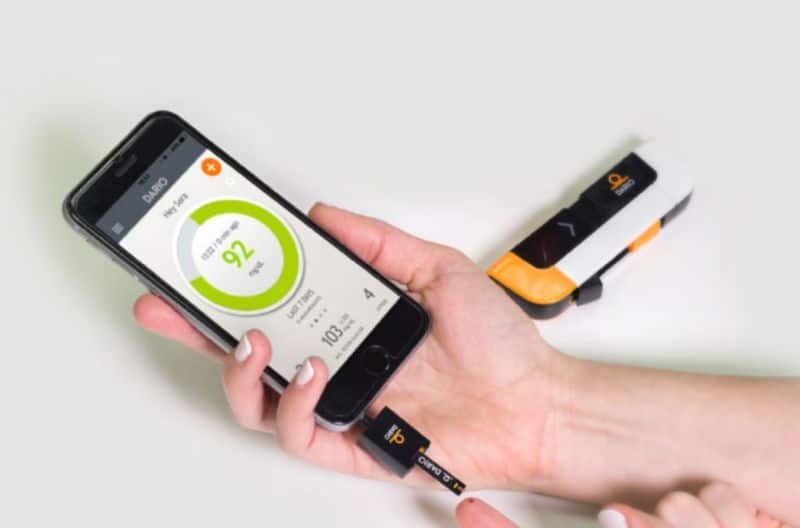 -Portability is a big plus point for this blood glucose monitor.  Its ability to sync with the iPhone/smartphone giving high-accuracy readings is other unique feature that makes this product a cut above others.
-Almost a painless blood testing method. The small lancet swiftly picks minimum blood from your finger, and the result shows up in your iPhone monitor within 6 seconds.
-The user friendliness of the apps with a good display enables easy navigation.
-Maintains a record of your blood tests for a week or a month projecting your average BG level within a certain period.
– Keeps you abreast of the required daily blood tests that would help you provide due records to your health insurer.
-The apps log in enables you to add your carb intake, calorie burnt, requirement of insulin doses and your workouts.
-Reasonably priced.
– Dario blood glucose management system helps you with different types of membership plans where you can get personalized diabetes management programs along with regular blood sugar tracking.
How user-friendly this product is actually?
Dario Smartmeter is great for the geeks. Those not accustomed to iPhone-dependent BG meters may take a little time to get acquainted in synchronizing the apps with the phone. Else it is a great device to use as per needs.
Contour Next, Contour meter, Accu-chek Meter, One Touch Select and Dr.Morepen Test are common names of BG meters. Compared to these, Dario offers a smarter blood glucose management system where the results can be tracked, monitored and shared as required.
Frankly speaking, Dario BG meter with its iPhone integrating features has been able to draw admiration of its users. But it also needs modification of the strip cartridge and better data integration with other cloud devices.
Verdict
Dario BG meter has hit the market with smart diabetes management features that allows the user to track the blood glucose levels more efficiently by storing the data through Dario apps in iPhone/smartphones.