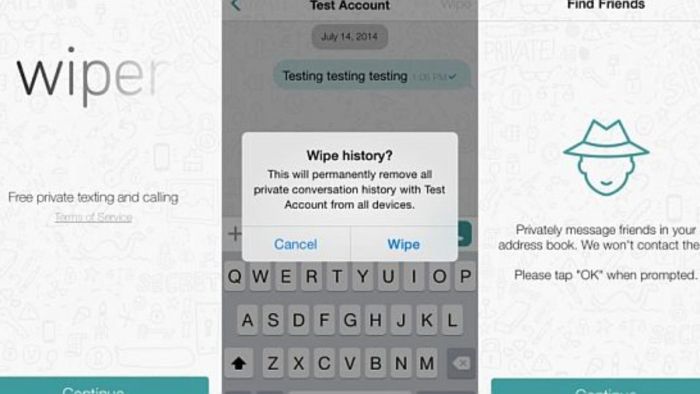 Wiper has recently launched its private messaging app that can erase all your conversations without leaving any proof of them anywhere. This app is designed for those who love simplicity and privacy.
Appearance

The Wiper app has a simple, nice and tidy appearance. For security purposes, this app has features to delete your images and text not only from your own phone, but also from your friend's phone and the servers of the company. It has features similar to some other popular messaging apps. While you can do two-way messaging, it also allows you to make free phone calls via VoIP. You can tap a simple button twice to delete any conversation permanently. An animated eraser will wipe it all. Without any flashy looks and options, Wiper can be considered as a simple yet classy app.
Performance

This new and secure app can be termed more meaningful with its clean performance and design. It not only allows you to exchange text, images and videos, but also lets you see when a friend is typing or calling you. The messages you send on this app have end-to-end encryption in order to provide high security. Even your calls are encrypted and cannot be logged in a call log. Due to images having DRM protection, one cannot even take screenshots on this app. To add to it, contacts can only be added if they exist in a user's phone address book. The company provides security on this app using its proprietary technology for wiping off messages and temporary copies of them.
Ease of use

The Wiper app is very simple to use. It has a minimal design that makes it more appealing and easier to use for private messaging purposes. If you do not want your conversations to stick around for a long time, then this app again gives you simple tapping options for deleting these conversations.
Usefulness

In comparison to some competitive apps, the Wiper app offers extra security and privacy to a user. It is a great app for people who like it all simple and safe. Thus, it is a must-try app if you are looking for some solid privacy while doing private chats with friends. The Wiper app also allows you to decide the length of your conversation with a friend. However, that also brings you at the mercy of your friends. They can also wipe your chat records as and when they want.
Quality

It is a great app for users requiring extra privacy and security in their conversations. This high-quality app definitely gives tough competition to similar regular messaging apps.