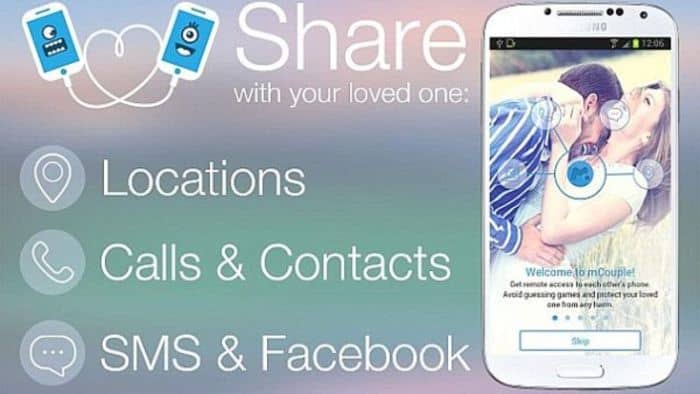 Developed by mSpy in London, the mCouple app is a newly launched option that can help you track your partner's activities or actions on his/her smartphone. However, it is up to you to decide whether reading their private messages or tracking their whereabouts is healthy for your relationship or not.
Performance

mCouple is an efficient app that has the ability to track your partner's changing locations, contacts, calls, messages and Facebook posts. When you take permission to track each other's phones, this app can be downloaded to gain full access to your partner's device. Using it without the consent of your partner is considered as privacy invasion, as well as illegal. This app uses GPS technology to keep a check on a person's location. It can even let you record your partner's voice conversations. The mCouple app additionally lets you access their stored videos and images. Thus, it works greatly on all its functions.
Quality

The mCouple app is efficient and smooth to use. It is a quality app if used in the right manner and for appropriate purposes. It is great for couples who wish to be closer in their relationships and are okay to reveal their smartphone and virtual lives in front of their partners.
Ease of use

This new app for couples is easy to use while requiring the other person's permission to access their details. The simple app lets you know where your partner is at a specific point in time. It makes it quick and easy to keep a check on your partner's private messages and calls.
Usefulness

The app is most useful for couples who have experienced cheating by their partners and want to keep a constant check on their affairs. Some individuals may also want to give full access to their Smartphones so they would not cheat on their partners again. However, relationship experts are not much in favor of downloading this app because this may not be the solution to the problem of having multiple affairs. What can be solved through a private conversation may not be solved by tracking a private conversation. Thus, it is up to users to decide about the degree of privacy required in their relationships. This app is only a medium to track issues.
Reputation

Since mSpy has already launched similar tracking apps for parents and bosses, this new app could be a reliable option for couples.