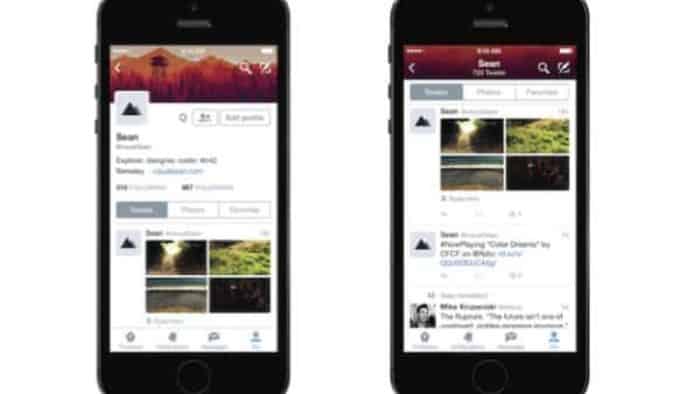 Twitter has recently released its updated app for iPhones that is friendly to the new iOS 8 platform. While it carries several updates, the major one causing trouble to users is the location of drafts and lists. Let us review what is right and wrong with this updated app.
Appearance

The updated Twitter app for iOS 8 has a simpler appearance. Twitter has made it easier to learn more about other users by making slight modifications to the way profiles are presented. The design is fresh with a good focus on people's bios, photos and tweets. You just need to swipe once to learn more about people. However, you may have problems finding your Drafts and Lists folders.
There are two ways you can now access your Drafts – by holding down the compose icon in the top right corner, or by finding it in the main compose menu under the quill icon located in the bottom right corner. The Lists folder has now changed to a Lists tab under the Settings menu on your profile page. Here, you may access all the lists you are a member of or you have subscribed. To see the same for another user, you may go to his/her Settings menu to find their Lists tab.
Performance

The updated app will help you to take benefits of iOS 8. You will now be able to interact directly with all push notifications reaching you. Thus, you will be able to do a direct retweet, favorite or follow from a notification itself.
Ease of use

The recent update to the Twitter app for iOS 8 has made it easier to find features like tweets, photos and favorites. However, it has hidden some previously prominent features under sub-menus and icons. This has created problems for some users who are not able to locate where their Drafts and Lists folders are.
Quality

The quality of the updated Twitter app has gone up to some extent. While its performance has improved, it still lacks on some design features. Overall, it is a decent app to use on the new iOS platform.
Usefulness

The latest updates have definitely added to the usefulness of this app. Users will now find it easier to gain more information about people and things. It will also be useful for those who have moved on to iOS 8 on their iPhones.