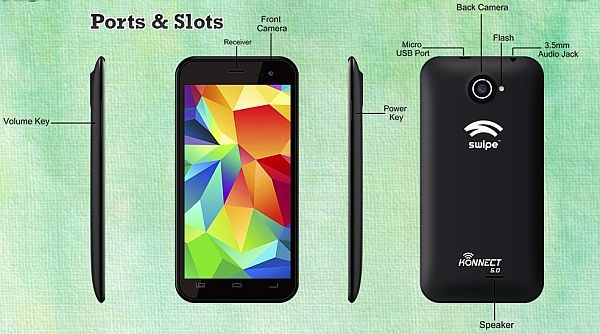 Swipe's Konnect series has seen the launch of its latest lightweight Smartphone, Konnect 5.0. This 5-inch Smartphone phablet is being projected as a budget Android device.
Performance

Swipe Konnect 5.0 runs on a 1.3 GHz quad-core processor. It has 1 GB RAM and the Android 4.2.2 (Jelly Bean) operating system. The OS can be upgraded to Android 4.4 (KitKat). This device has an in-built memory of 8 GB that users can expand up to 32 GB. With its mentioned specifications, we may call it an above-average performer. This device also provides you great connectivity through various modes, including 3G, GPS, Bluetooth 4.0 and Wi-Fi 802.11 b/g/n.
Appearance

Claimed to be the world's lightest phablet, Swipe Konnect 5.0 merely weighs 135 grams. Available in black and white colors, this device comes in a slim form. This sleek gadget looks cool and handy with a matte finish. It has a qHD IPS display that looks satisfactory. The display works on the One Glass Solution (OGS) technology. This dual SIM-enabled device comes with a 1950 mAh polymer-ion battery. Swipe Konnect 5.0 includes two cameras. Its 8 MP main camera is accompanied by LED flash, while its front camera is of 3.2 MP. Thus, taking good-quality pictures is not at all a problem with this phablet. Unlike various other Smartphones, Swipe Konnect 5.0 provides you the option of FM radio. Thus, music is always on the go.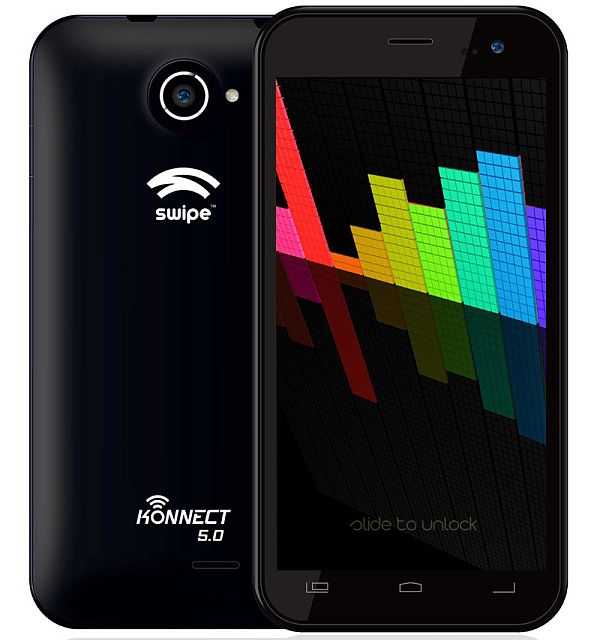 Ease of use

Many people keep searching for a lightweight Smartphone. For such buyers, Swipe Konnect 5.0 is a good choice at its current price. Its lightweight design makes it very easy to handle. You may even slide this slim device inside your pocket without bearing any extra weight. The matte finish also makes its grip easier so the device does not keep slipping out of your hands.
Value for money
Swipe Konnect 5.0 is launched in India at a price of $152 (INR 8,999). Along with the device, you also get a free flip cover, screen guard and premium business navigator that is worth $25 (INR 1,499). Thus, the device surely seems to be a value-for-money offer.
Reputation

Swipe has been slowly cementing its image as a smart phablet manufacturer. It has been spending well on developing innovative devices, especially under the Konnect series. Thus, it is worth taking a risk to give a try to its new launch.