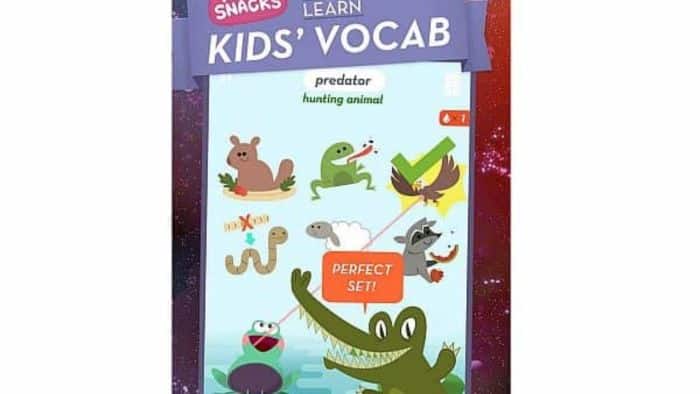 Mindsnacks has designed an app called Kids' Vocab, which can come handy to many parents who are looking for a tool to help their children practice essential vocabulary. The app has been designed to target children who are aged between 7 and 11 or who have been enrolled in grades four to seven. Check out more about this interesting app here.
Usefulness
Kids' Vocab, as the name suggests, focuses on improving the vocabulary of children through different types of word lessons and fun games. Unlike other similar apps, this app lists several related words in bunches. The words are then given a context using related images, definitions, sentence usages, and pronunciation audio clips. Thus, several modes can help your kids in the faster learning of new vocabulary. This app also provides fast-paced games that can make kids practice what they learnt through the lessons.
However, you may find some games stressful for certain kids. Not all kids may be interested in rapid fire-type games with a timer on. On a positive note, this can make your kids work more efficiently under pressure. Another advantage of Kids' Vocab is the way it offers detailed feedback about the progress of your kid. This can actually motivate children so they may improve upon their previous scores. Kids' Vocab can also be useful for teachers who want to help kids practice vocab and wish to compare their scores.
Value for money

Kids' Vocab costs you $1.99, and it seems worth paying for an app that can expand your child's vocabulary in an effective manner. However, consider all its pros and cons before deciding if it is fit for your kid's personality.
Appearance

This app looks quite appealing for kids, as they want to learn in a fun way. The user interface is clear, organized, fun,and exciting. Several features and options in this app are provided in a bright and colorful manner. Since the app has been designed in conversation with educational experts, it presents lessons and games in an organized manner. Thus, learning in kids may be deep-rooted by such type of a reinforcing design.
The app has nine interesting gamesin total. In addition, it features 25 vocab lessons to teach around 350 different words and phrases. In the format of this app, there are lessons presented first and then the games follow to reinforce learning from the lessons. Thus, everything looks structured and seamless.
However, some users may not like the way words popping-up fast on their screens and their games running with loud background music. Thankfully, there is an option to mute thebackground music if you wish to reduce some pressure on your kid's mind. Still, the overall design of this app is productivity oriented.
Performance

The Kids' Vocab app can be highly compatible with your iPhone, iPad or iPod Touch. It runs smoothly and without any technical snags. As its algorithm works according to the learning ability of each kid, you will find this app very effective for almost every child of appropriate age. If you allow its push notifications, then you can also make use of its feature that lets the kid learn a word a day. Overall, the app performs efficiently when it engages children by adopting an organized learning approach.
Ease of use

Kids' Vocab – Mindsnacks is a simple app that can be used very easily by kids. There are clearly written instructions to proceed with vocab lessons and games. Most of the options can be accessed on the single tap of a button. It is also quick and easy to access the data on a user's earned points, high scores, correct answers, and troubling words. The app additionally shows a bar graph to tell about a user's mastery level.
Kids' Vocab is a visually appealing app that is designed efficiently to reinforce vocab pickup in kids. Kids' Vocab can be very useful for children who love to play fast-paced games and learn during the process.