Introduction
Microsoft's latest innovation in PC, dubbed Surface Studio, is selling much better than what the experts projected. Interestingly, the latest Microsoft entry is giving a fair competition to Apple's all-in-one PC. Surface Studio has been well received from critics for its innovation and styling. The all-in-one PC is available to grab in 3 variants with price ranging from $2,999 to $4,199. Here's what the pioneering device has to offer.
Surface Studio Highlights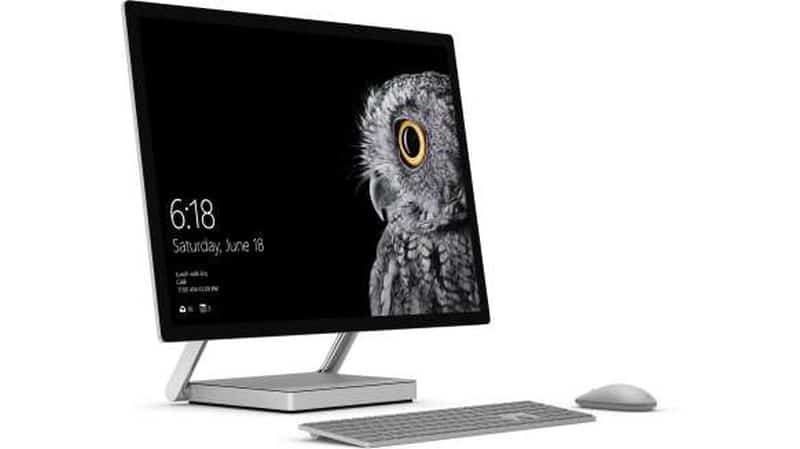 Surface Studio combines 13.5mn pixels to put up a beautiful display projected at 192 PPI density. Some of the best features brought to the table by Surface Studio are listed below.
Display
With its 28-inch PixelSense display and 4500×3000 resolution, Surface Studio presents visual details in 3:2 aspect ratio. The whole screen is less than 13mm thick and it uses zero-gravity hinge. You can easily adjust the screen to various angles by using a single finger touch.
The display features TrueScale option which allows Surface Studio to represent products on an actual scale on its screen. One inch on your screen will be one inch in reality. TrueColor feat of the all-in-one PC allows you to see everything in life like colours.
Storage
Surface Studio comes with a 1 or 2TB hybrid drive. It makes use of both HD and SD storages.
Processing
The new Microsoft all-in-one PC comes with 8GB/16GB/32GB  RAM coupled with an NVIDIA GPU graphic card for superior graphics performance.
Other Feats
To ease up the drawing process in Surface Studio, Microsoft introduces a gadget dubbed Surface Dial. The input device comes free with Surface Studio pre-orders, while others can purchase it separately for $99. Powered by 2 AAA batteries, Surface Dial can also be used with other devices that run Windows 10 and that have a Bluetooth support.
Support for Surface Pen is present in the latest all-in-one PC. Also, it is able to capture the voice of user from across the room because of its 'linear mic array' feat.
The all-in-one PC comes with 4 USB 3.0 ports, an Ethernet port, SD and a Mini DisplayPort. Drive, ports and speakers are all contained in the base of the device that appears as a short square-shaped box.
The Stats
According to Taiwanese supply chain makers, Microsoft ordered a shipment of 30,000 units for the first quarter of 2017. This is twice of what the experts believed that Microsoft will need in the very first quarter of 2017.
The Guesstimate
If every Surface Studio purchase brings about $3,400 to Microsoft, then 30,000 sums for a total of around $100mn. At this rate, if Microsoft succeeds in selling 100k Surface Studio units in the complete year, then it'll bag around $0.3bn.
Vs. Apple All-in-one PCs
Apple, the second biggest all-in-one PC vendor in the world, vends around 3.5-4mn all-in-one PCs across the globe. While Microsoft orchestrated a majestic launch for Surface Studio, Apple was relentlessly criticized for its less than average MacBook Pro launch.
The Verdict
After having a deep look into all the facts about the all-in-one PC biz, one can draw several conclusions. Some of them are as follows.
Even if Surface Studio sells well, it'll be nowhere near the cash mark set by Apple's all-in-one PCs. When compared Microsoft's 100k sells a year to 3.5-4mn Apple all-in-one PC sells, we get a device ratio of 1:35-40.
Although Surface Studio would sell nowhere nearly as good as Apple, it can still diminish Apple's market by suggesting design innovations to other all-in-one PC vendors.
In contrast to Apple all-in-one PCs, Microsoft's Surface Studio is a high-end product. It is not aimed at general masses.
Summary
Microsoft's high-end Surface Studio is definitely an Apple competitor in the all-in-one PC niche. With stupendous display feats, it really outweighs the display quality every visual device that was ever made.