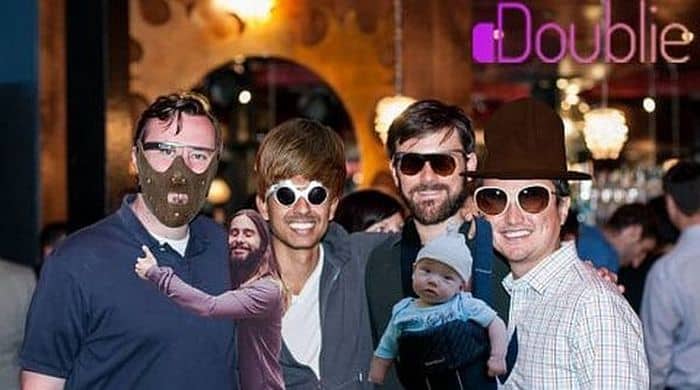 Limit, Inc has come up with a fresh flavor for your selfies. It has launched an app called Doublie, which offers newer ways of creating and sharing your selfies with your friends.
Appearance

If you are crazy about taking and sharing selfies on social platforms, then you now have an easier way to do that with the Doublie app. It is a wonderful app when it comes to its appearance and features. You receive a cool interface and an overlay picture gallery that keeps expanding while you scroll for readymade overlays.
Did you ever think that a celebrity could come to you so you could have a selfie with them? If that was just in your imagination, then your imagination can now become reality with this app. Doublie offers various overlays of celebrity and pop culture that can simply be inserted into your selfies stored on your smartphone. This gives you an amazing selfie with your favorite celebrity.
Performance

The Doublie app works great on iOS 7 and later. You can download it on your Apple devices, including iPad, iPhone, and iPod Touch. It is optimized for the iPhone 5. This app has a loud user interface that is simple to navigate. Doublie is highly interactive and does not limit your options to be snapped with your favorite celebrities in multiple ways. It not only generates memes for you, but also for sharing on social media platforms like Facebook, Twitter and Instagram.
Ease of use

Doublie is an easy-to-use app that offers an ever-expanding gallery. Users are free to spin it and add filters to this gallery so they may come up with the desired results for snapping purposes. The app also makes it quite simple to edit Doublies created by users. The brightness and contrast of snaps can be easily altered from the screen itself.
Usefulness
This new app is fun to use. It is a great way to photoshop the pictures of your loved celebs and to add these to your selfies perfectly. You are not just creating a doublie, but are creating humor for your friends with this app. Your memes can easily be shared on various social platforms.
Quality

Doublie is a great, high-quality app that offers its users unlimited ways to explore their creativity while generating some special selfies for them. With an easy interface and marvelous gallery, this app additionally provides effective performance.