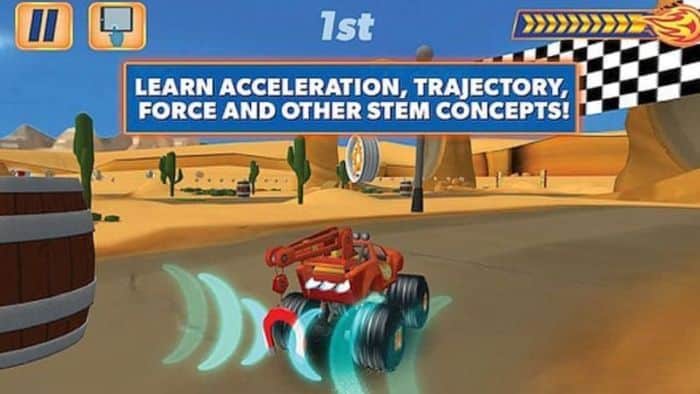 You would have guessed this app from its name that has been based on the popular television show on Nick Jr. called Blaze and the Monster Machines. The app is designed for kids who love to play with Monster Truck Blaze and AJ, the driver of this truck. Read on to know more about this play app that has recently been launched by Nickelodeon.
Usefulness

The Blaze and the Monster Machines app is designed for the playful purposes of children of ages 4-6. With some dynamic content, the app lets kids enjoy creating their own race tracks for their favorite truck. The app can be more fun for kids who are fans of the Nick TV show. It is also great for children who have interest in cars, vehicles, and racing.
The major thing is the learning that children receive from this app. It gives them short lessons on different subjects, such as science, mathematics, and engineering and technology. After the lesson, its learning needs to be incorporated by kids in the related racing game. Through various features and hurdles presented on a track, kids are trained to take quicker decisions and to overcome difficulties. This also helps in sharpening their minds. Thus, the app is quite useful for everyday brain workout.
Value for money

Blaze and the Monster Machines can be available at a price ranging between $4 and $7. Considering its overall effectiveness and benefits, the app is completely worth buying for your little kids.
Appearance

While the user interface of this app is quite appealing, you may find its graphics somewhat pixilated. Thus, it does not give a very realistic appearance of racetracks and other objects in the game. Children can race on the already provided 45 tracks or can design and develop their own tracks. There are three location options provided for racing. Every option includes a set of 15 racetracks to play on.
If your kid wants to design a path, it can be done nicely with the induction of multiple curves and special features like power-ups, hubcaps, loops, soapy tires, tire chains, jumps, and hazards. The app offers several Crusher-based contraptions and environmental obstacles to choose from. It also gives swipe and tilt controls to children as driving options. The app also keeps motivating children during the game by awarding medals for top three positions. All the objects and features provided in this app seem to be quite entertaining and interesting for little kids.
Performance

The app performs wonderfully by developing the critical thinking skills of children and teaching them to explore a variety of scientific principles like adhesion, acceleration, and force. From a technical perspective too, the app is high on performance. It runs smoothly on most of the mobile devices, but requires the minimum operating system as Android 2.3.3. However, a few users might find it problematic to download it in the first attempt. Still, it would just take you around 5-10 minutes to download this app and it is ready to race efficiently on your screen.
Ease of use

This app is designed to have racing games that go on becoming more complex with increasing levels. The concepts used to design these games also go on becoming harder to understand. Thus, it is best if you make your kid start using the app from easiest courses. The whole thing then becomes much more meaningful and learning-oriented. The app is otherwise not at all problematic or difficult to use. It is very simple to learn the controls and options as children begin using it.
Blaze and the Monster Machines is a very beneficial app for young kids who need to be taught the basic concepts of science or mathematics, as well as the general skills of problem solving and decision-making. This high-performance gaming app is a good value addition to the devices of kids who are fans of the Blaze and the Monster Machines show.