Why own a boat when you have a car? Or why own a car when you have a boat? Wondering what this is all about? Well, we're talking about a car which is a boat as well, in other words, an amphibious vehicle. There are some amazing amphibious vehicles which can freely roam over high seas as well as land, at just the touch of a button. Take a look at these fascinating amphibious vehicles guaranteed to take your breath away.
6 super futuristic amphibious vehicle concepts
Stryda 600C Catamaran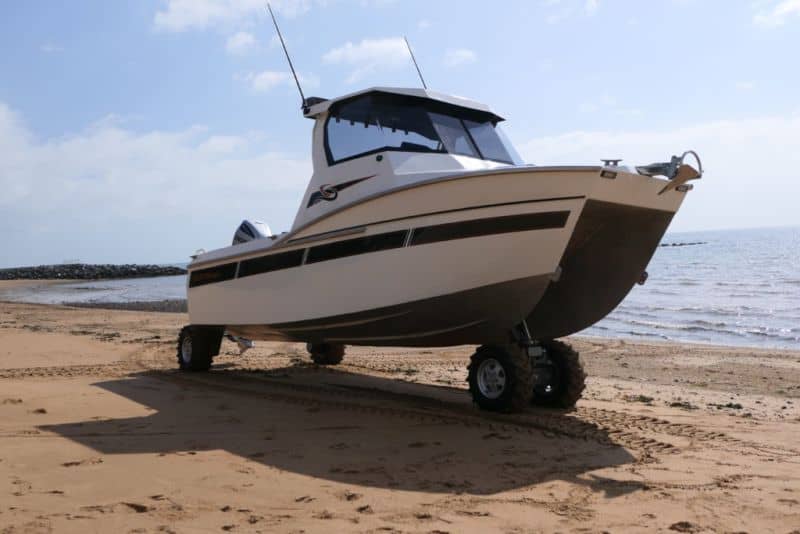 The Stryda is a craft with dual advantage. It is an amphibious vehicle which has a unique design concept, setting it apart from other crafts.
It has a single outboard, which results in the boat having an enviably high speed, due to the less drag in water. The Outboard power has options starting from 225HP to 350HP in order to deliver the sought for performance, and to suit the budgets of different buyers. The Stryda has a foil in between demi hulls, a great idea to improve the economy for high cruising speed, while minimizing the fuel consumption.
When you drive or sail on the Stryda, you would be delighted as it is a quiet ride, and extremely comfortable. It has an in-built 4×4 front-rear wheel system. The craft is highly durable too, as it has been made from marine grade steel. There will be no unsightly rust on the Stryda, as the exterior has been coated with hard-anodized TUFF-KOTE.
This amphibious vehicle can reach areas which are inaccessible because of tidal issues, as it has military grade strength to tackle strong tides. If you love sailing and driving (and have deep pockets!), the Stryda would be perfect for you. No need to tie it overnight – just drive up from the sea and drive on home!
Avenger 8×8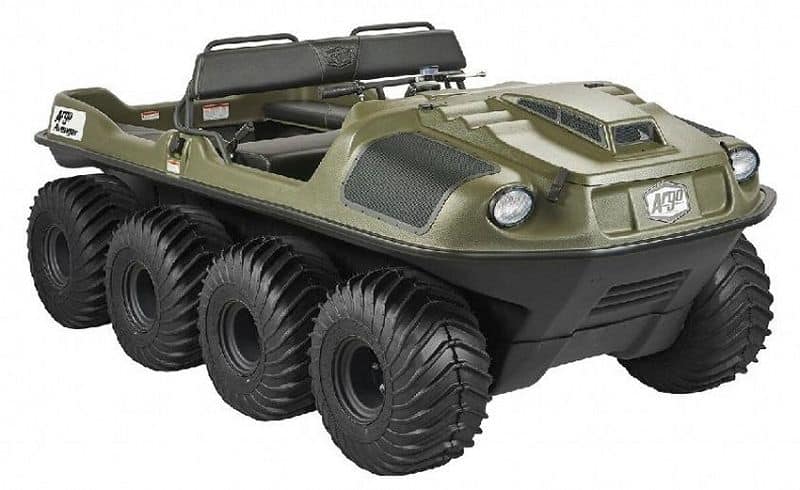 Image Source : argoadventure.com
It has a liquid cooled Kohler Aegis LH 775 engine, an electric engine, and other specifications to die for. 1,110 lb load capacity on land and 960 lb over water means it can transport up to 6 people on land and 4 people on water. You can plan for land and water adventures with the Avenger 8×8 with your friends. This awesome XTV has a towing capacity of 1,800 lb too.
Dutton Surf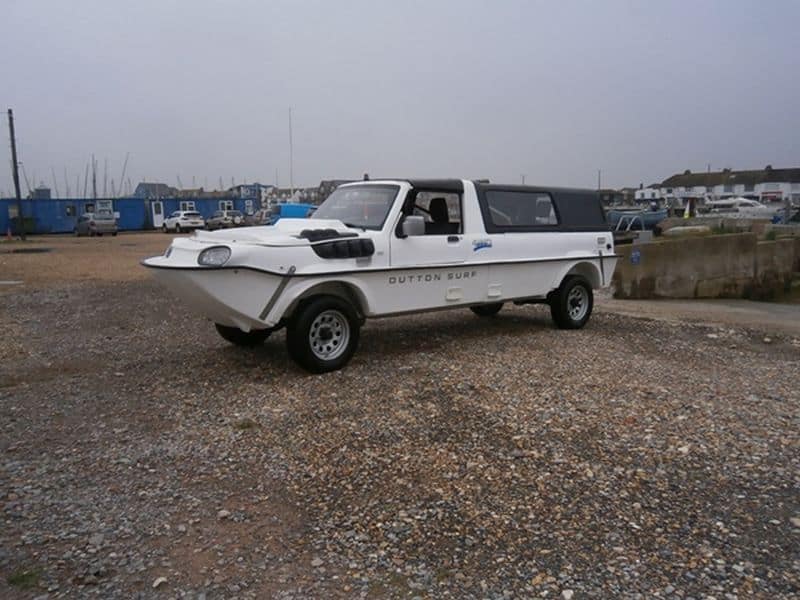 The Dutton Surf is another amphibious vehicle, which will have you fascinated with its amazing design concept. Just like the other amphibious vehicles on this list, the Dutton Surf will also provide you the opportunity to drive right into the seas when you feel like it. Designed by Tim Dutton, based in the village of Littlehampton near the river Arun, the Dutton can be driven out into the sea by visitors for test cruise or drive.
Priced at 22,000 pounds, the Dutton has been selling to a niche market. He sells about 12 cars on an average per year. The look of this particular amphibious vehicle is quite intriguing and eye-catching, as it looks like a cross between an adorable rubber duck and a smooth sports car. Quite a few of these cars have been sold to the military, and also to sailors, who like to drive out to their yachts on it.
Even if you may not be able to buy it, you might go and have a look at this incredible car and/or boat!
The Libelule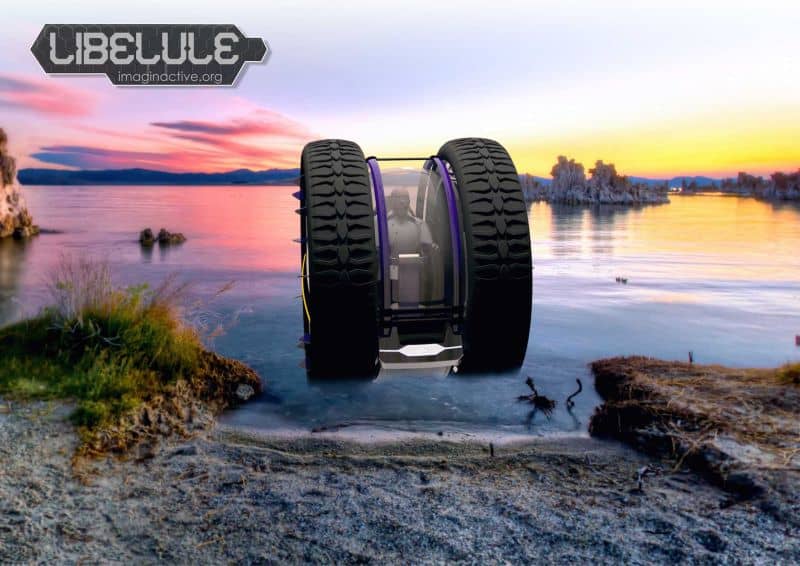 Designer Charles Bombardier, who has facilitated the site Imaginactive,  a non-profit to inspire the future generations to imagine the 'future of mobility', has designed the car-boat-submarine Libelule. The design is fantastic, in which a huge wheel sandwiching a metal and glass sphere helps the vehicle roll on dry land. Inside the sphere, there are a number of paddles, which help it to navigate the ocean.
The Libelule is not just a car and boat, it is a submarine too. If you want to submerge the vehicle, you will have to fill up the cockpit. So, for a ride in the Libelule, you should bring your scuba gear and waterproof phone. The Libelule's instrumentation in the cockpit is waterproof as well, as it has to work underwater as perfectly as it does on terra firma.
Sealegs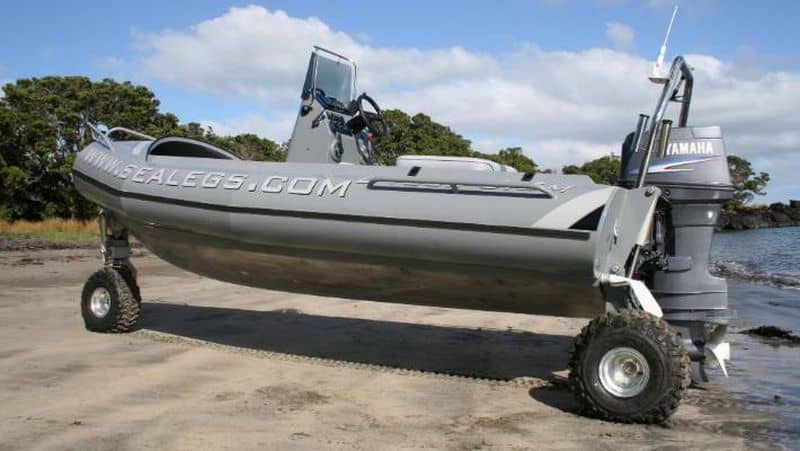 Image Source : resources.stuff.co.nz
This is the world's fastest amphibious vehicle, at it hits record breaking speed of 100 kph, and even more than that. The 6.1m long craft has the honor of being the fastest ATV when it sped to cover 500m in just 18 seconds in Sydney. It had earlier smashed Richard Bronson's previous record, which he set in 2005, for the fastest crossing of the English Channel in an amphibious vehicle, and the Australian honor has made it the world's fastest once again.
The record was achieved with Will Burrell, the renowned Australian Director at the wheel. He later told reporters that the world record just showed how the Sealegs boats are practical and innovative, both on and off water.
These amphibious boats have found many admirers all over the world, as they can exit and enter water with the help of a button. The boats, manufactured in New Zealand, have found buyers who love its user-friendly aspects. It is being used for emergency services, and for people who have limited mobility. It's a favorite of waterfront homeowners, holiday resorts, retirees and the Italian Fire Brigade.
The Sealegs is proof that these multifunctional vehicles, apart from providing the fun quotient, can be quite useful, and could even save lives of endangered people in inaccessible areas.
WaterCar Panther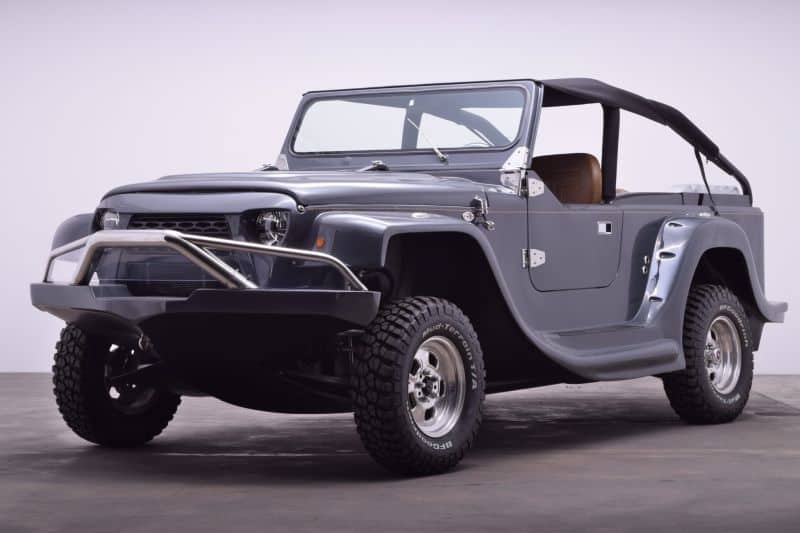 Image Source : gtplanet.net
The WaterCar Panther's name is self-explanatory, as you may have guessed. It traverses smoothly over sea and land. It resembles the Jeep Wrangler, but the design is quite innovative and new. The fantastic vehicle can raise the wheels up to propel itself through water at the switch of the button. The engine is a VTEC Honda V6 engine, powering the vehicle in water and sea. The top speed is 45 mph in water. It costs around 172,000 dollars, which is fine if you have the moolah and really want to own this incredible vehicle!