Smartphone is today the biggest utility device – a device that none of us can do without. The handsets are smart not just because they can let you make receive calls, messages or update Facebook status, but simple because of all sorts of ingenious things that smartphones allow you to do. In addition to taking notes, clicking DSLR quality images and shopping, the smartphones also let you control a whole range of devices installed at home.
While we wait for robotic maids and home helps, a future that is almost upon us, we have here compiled a list of the finest smart home gadgets, which can be controlled using a smartphone – ease of use guaranteed.
Nest Thermostat
Changing the way we use programmable thermostats for good, Nest is a clean and stylish self-learning thermostat that is worth shelling money for. The Nest thermostat is intelligent and self-taught; that means you do not have to program it every time. Interestingly, you only need to adjust the temperature on the Nest; thereafter the thermostat learns your preferences and generates schedules based on daily use.
To let you control it using a smartphone, Nest connect to the internet over Wi-Fi and allows you to control and monitor the thermostat from a distance. It can automatically turn off heating to conserve energy on detecting no one around; this feature helps homeowners save on their energy bills.
WeMo Light Switch
WeMo Light Switch from Belkin does not look very different from other smartphone controlled lights you may be using until you move out of the house. While most lights have a limited range,
WeMo Light Switch once installed in the home allows connected smartphone to control it from practically anywhere is the world. Just one condition – your phone should be connected to Wi-Fi. Belkin has an app to let you take care of what aspect of lighting you want to control. The app is available for free, and allows you to schedule the light on and turn out time.
Parrot Flower Power Smart Plant Sensor
Now as the name suggests, the Parrot Flower Power is a smart sensor which is your plant's personal botanist. The sensor needs to be installed close to the plant, and using a mobile phone and dedicated app the Parrot Flower Power can closely monitor the plants real-time conditions required by the plant to nourish and flourish properly.
The sensor measures moisture in soil, light, temperature and fertilizer content. Being connected to a smartphone, the Parrot Flower Power Smart Plant Sensor sends alerts the caretaker via an alert on the phone as and when the conditions become unfavorable for the plant.
Lockitron
I for one have returned home from halfway to work often times just to check if I had locked the door properly before leaving. I think there will be many like me – because this happens to almost everyone. Now to change the way we lock our homes, Lockitronsmartphone controlled locking solution has been introduced.
The smart lock – Lockitron allows keyless entry into home and ensures you can lock and unlock it automatically using the smartphone. The smart lock can also be configured to offer time-connected access privileges to guests when they approaching the door. On expiry of the time frame, the access privilege will be automatically lost.
iDoorCam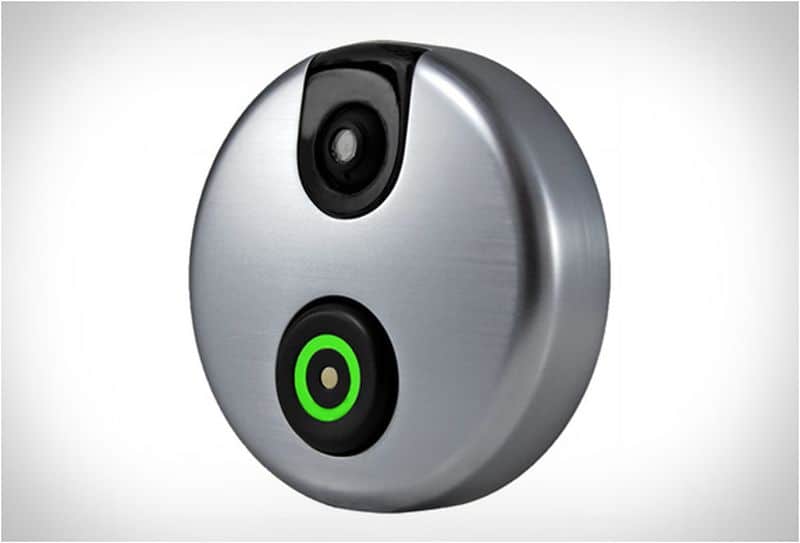 Do you have unexpected guests at home, who bang at your door at oddest of times? Here's a solution in iDoorCam. A doorbell-style high-tech device which notifies you on the smartphone when there is someone at your door even if you're away from home. iDoorCam makes it easy for you to monitor who comes in and goes out or even keep track of unwanted visitors.
As technology is progressing, smartphone controlled devices are rolling out by the day. Thanks to connected devices, home security and even utility of many things in the house has become a whole lot simplified.