The smart home age is loaded with home automation and all sorts of smart devices that thrive to make people's life easy. After seeing a wide assortment of intelligent devices, now it is time for you to know of some intelligent light bulbs. Here is a list of some of the light bulbs that are intelligent devices as well:
Boost
It is more than likely that you have a room or rooms in your house that do not have a good enough Wi-Fi signal. Well, you could install another router to deal with the problem, or have Boost do it for you. The bulb acts as a wireless signal extender, boosting WiFi signal for the room it services. As far as the other features of this bulb are concerned, they are similar to many other app-controlled bulbs.
Snap
The best area to hang a security camera in a room is its ceiling. Creators of the Snap smart bulb considered this fact and came up with a bulb that has a built-in camera. You hang it just like an ordinary bulb on the ceiling, and its camera captures everything that you can see in your Smartphone.
Belkin Wemo LED Lighting Starter Set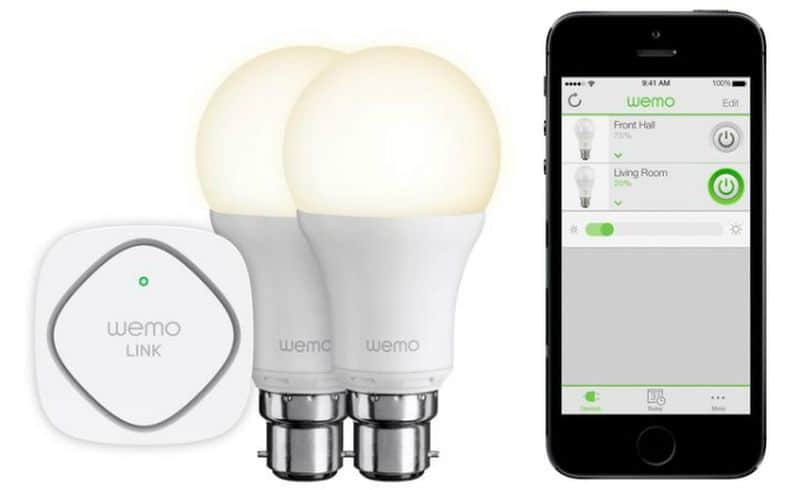 The smart Belkin Wemo set consists of two bulbs, each rated at 800 lumens. They are not as bright as old incandescent bulbs but they do a pretty good job. You get an opportunity to choose from two varieties – Edison Screw and Bayonet, and the Wemo link enables the bulbs to connect with your Wi-Fi router. Using an easy to use app, you can set their brightness, sleep and dimming period.
Philips Hue
You get three bulbs in a kit; fix them in different rooms or in the same room as per your convenience. As comfort and energy efficiency is important, these screw-fit light bulbs allow us to control them using a Smartphone app. No matter how far you are from your home, you can still operate these bulbs, as in change their color or brightness. You can set a particular time, as to when you want the bulbs to turn on or off automatically. Bringing this kit home will make your home energy efficient and beautiful, as the bulbs fill up room décor with colorful light.
Olixar Light Beats Bluetooth Speaker Bulb
A combination of a light bulb and a Bluetooth speaker, this is certainly one of the most innovative and cool gadgets. Its beauty lies in the fact that you need not plug in the speaker to some power outlet, or assign a particular space to it in the room. You turn on the bulb and the speaker turns on as well. Connect your phone to the speaker via Bluetooth, and enjoy playing your favorite tracks. However, one limitation of this gadget is that you will have to use both the bulb and the speaker simultaneously.
Elgato Avea
You can control this smart bulb with your iPad or iPhone, and you can control a number of them with a single iDevice. You can have different mood lighting for a different room with it. Apart from the mood lighting, Avea functions as an alarm and as an energy-rating device as well.
Some super smart light kits and bulbs motivate people to get rid of the old incandescent bulbs. Their benefits are many, so it is hard to resist them.