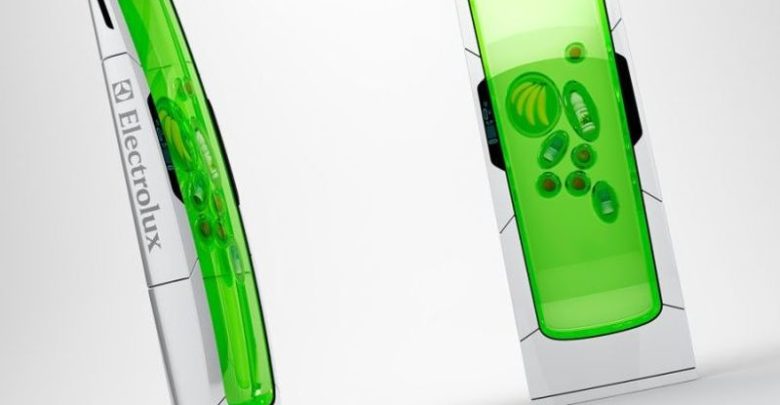 Space and time constraints have made it necessary that we opt for technologically enhanced and smart kitchen appliances. Refrigerators are an important part of your kitchen. Technology has started experimenting with this essential kitchen appliance. This article will provide information about six modern high-tech refrigerator concepts, which can do a lot more than just cooling your drinks and dishes.
Axon Concept Refrigerator: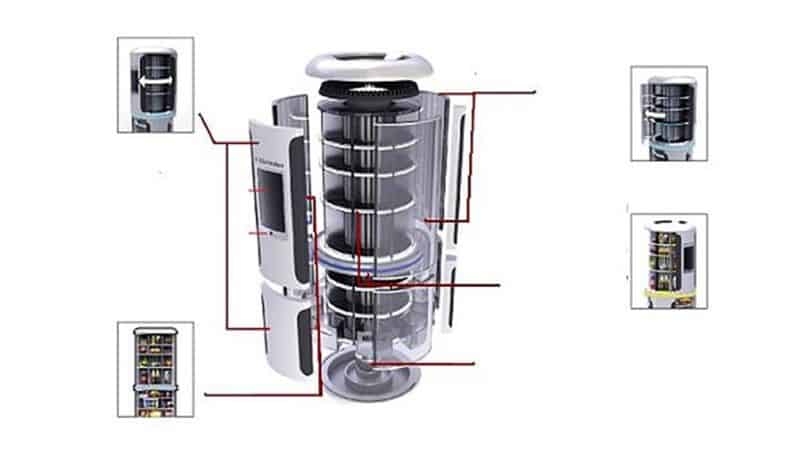 The cylindrical Axon Concept Refrigerator by Electrolux focuses on saving space and helping users in every possible way. It gives you information about the available storage space. The touchscreen makes using this unique concept refrigerator both interesting and easy. The makers have kept in mind the needs of both the left-handed and right-handed users. The glass walls of this refrigerator can turn white and stop people from peeking when not in use. During use it becomes transparent. It has a camera and scanner inside that helps in measuring space and provides information to you.
Modern Nord Fridge Design: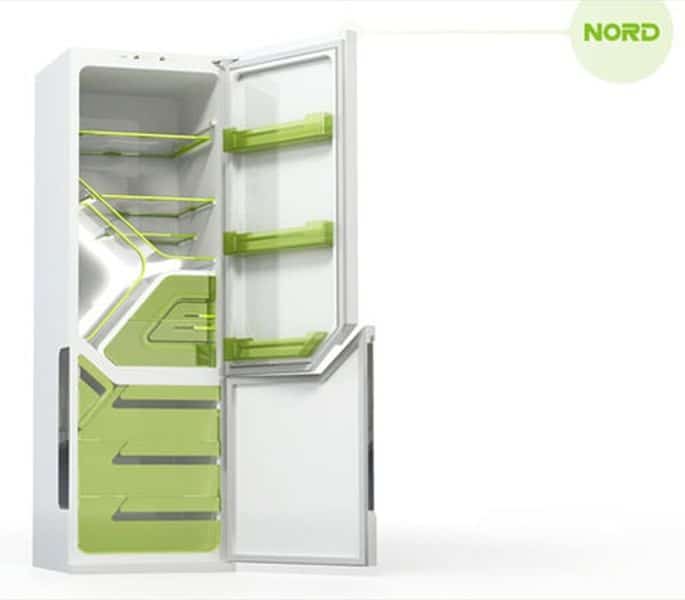 Olga Kalugina has designed the Nord Fridge that has specified spaces for different items. The inclined triangle shelf has been specially made for bottles. The movable shelves help you adjust the space within the refrigerator. You can control the amount of available space inside this refrigerator. The trays have a rotating system that moves your stored pots and jars according to need. The Fresh cases can be used to keep cooked dishes in ovenproof utensils.
See Through Refrigerator: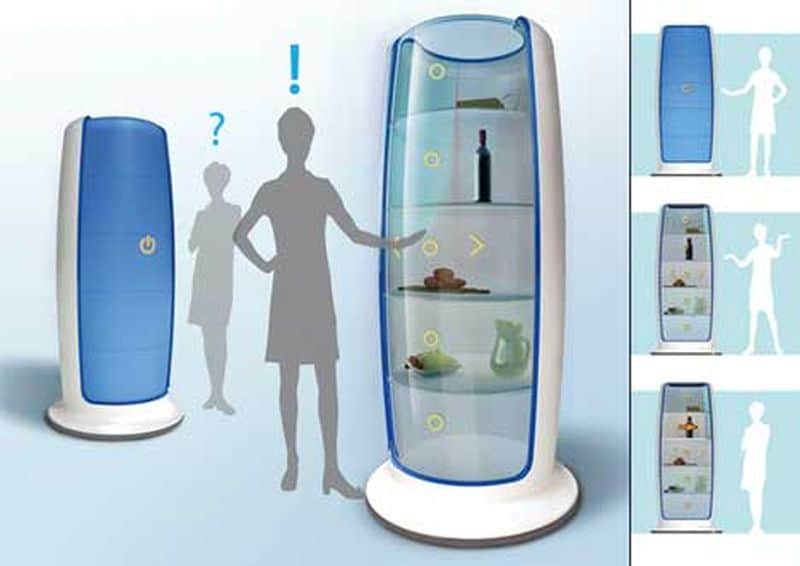 Designed by Yoonjung Kim and Jongrok Lee, the see-through refrigerator is a creative home appliance for future generations. Every time when you open the refrigerator door to check out the available foods a lot of energy is wasted. When you touch the glass panel of the "See Through Refrigerator," you will be able to check out the food and available cooking ingredients inside.
Futuristic Teleport Refrigerator: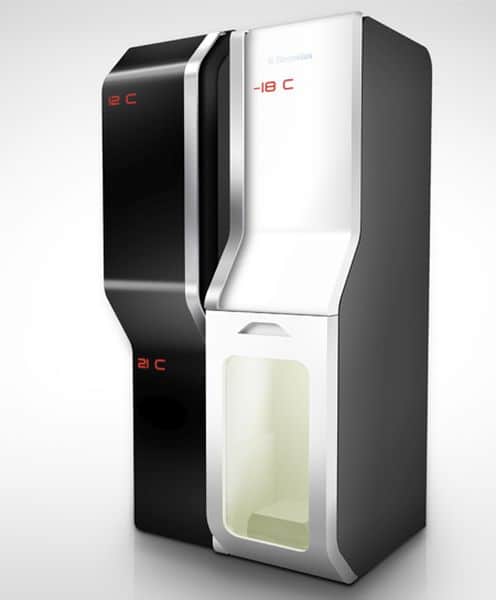 Dulyawat Wongnawa has designed this ultra-modern and futuristic refrigerator for Electrolux. This refrigerator is capable of teleporting necessary grocery, vegetables, and meat from supermarkets and firms. You have to place an order through phone call or mail and the things will appear inside the refrigerator. This is truly the most amazing high-tech refrigerator concept.
Non-Electric Bio Robot Refrigerator: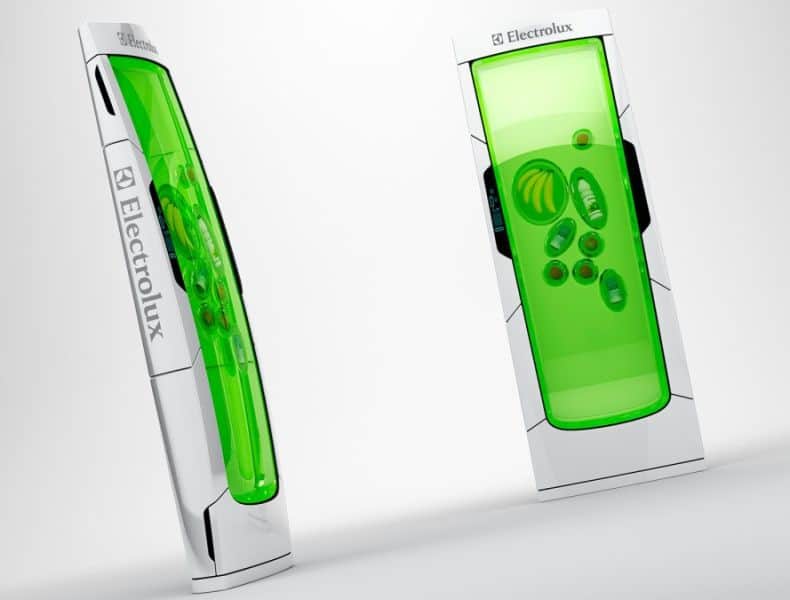 Yuriy Dmitriev is a renowned industrial designer who has created the Non-Electric Bio Robot Refrigerator to save energy. It does not have any processor that runs on electric power. It has a special sort of biopolymer gel for preserving foods.
Concept Refrigerator for healthy meals: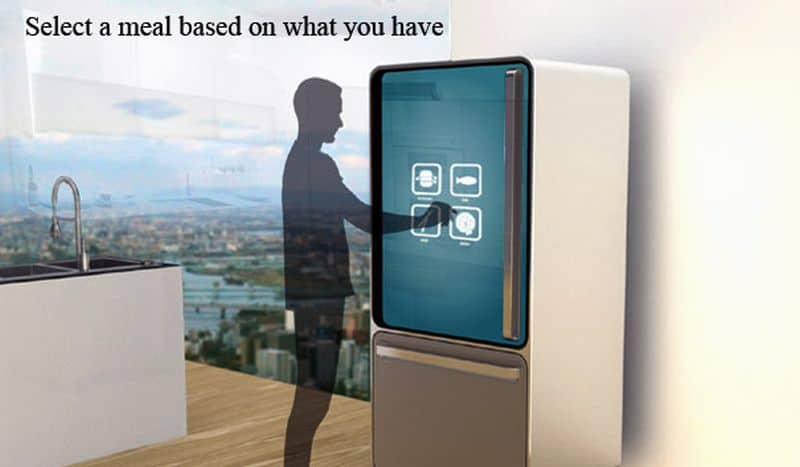 People who don't often cook homely meals should try this concept refrigerator which Ashley Legg designed. The door of the refrigerator is also a user interface, which has touch sensors and electrochromic window. You can find out recipes and get menus by putting cooking ingredients inside the fridge.
Summary:
High-tech refrigerator concepts demonstrate how far we have come since the dawn of civilization. These futuristic refrigerators can revolutionize your kitchen.
Besides these amazing high-tech refrigerator concepts, here are 7 smart refrigerators for smart homes. Check out the list below.
7 exclusive refrigerators for smart homes
Refrigerators are like important assets for your beautiful kitchens. One cannot live without refrigerators. Going by the number of styles and design elements that are incorporated into a refrigerator, people are indeed willing to invest in stylish, futuristic and functional designs. Take a look at these exclusive refrigeration mechanisms and choose the one that catches your fancy.
1. LG LMX25984ST Four-Door French Door Refrigerator
This four-door refrigerator created by LG almost looks as spacious as a walk-in wardrobe. The ice and water dispenser is 13 inches tall and the French doors open wide enough for you to place things as you please. Features like humidity-controlled crispers and one-touch opening and closing system, this is one of the best selling refrigerators in the market.
2. Whirlpool Gold French Door Refrigerator GX2FHDXVY
This refrigerator with a French door is very energy efficient and suits a small family. It is comparatively cheap and comes with a host of features including an ice maker. With an easy to organize system and power saving capacity, it is easily the favorite of a middle-income family.
3. Frigidaire FPHC2398LF Side by Side Refrigerator
Though it looks much more humble than some of the other ones with high-tech refrigerator features, this refrigerator wins hands down for its stainless steel body which minimizes fingerprints. It has a seven touch dispenser and a temperature control that is located externally. All these make it low maintenance and highly efficient fridge suitable for the busy housewife.
4. Bosch Linea Series B22CS50SNS Side by Side Refrigerator
Yet another premium product from Bosch, this refrigerator has cool options like a "super cool" and "super freeze" which will come of help when you are in a whirlpool schedule. With a double door design and easy clean surface, this refrigerator has a great design and all-around performance that makes it very endearing to the consumer.
5. Dacor Epicure EF36LNFSS 19.8 CuFt Counter Depth Bottom Freezer Refrigerator
The towering fridge is one of the most popular of refrigerators among consumers of all types. When it comes to style, durability, features, and capacity, this fridge is right at the top of the list. Dacor fridges have fixed pricing and hence you need not worry about looking for smaller dealers who can give you a better rate.
6. LG French Door Refrigerator LFC23760ST
The stainless steel body is a huge relief for many women who spend very little time cleaning a wiping off dirt from the fridge doors. The stainless steel body offers a non-fingerprint surface. With a stylish design with French doors and a freezer door at the bottom, the LG French Door Refrigerator LFC23760ST is very affordable and loaded with wonderful features that will make you fall for it at the first glance.
7. Viking VCFF136SS French Door Refrigerator
French doors seem to be the norm of the day. Here's another refrigerator that has managed to catch the fancy of consumers. The Viking VCFF136SS French Door Refrigerator is an all-around favorite with consumers as well as retailers. Comes for about $3500 and a hot favorite with people looking for affordable solutions.