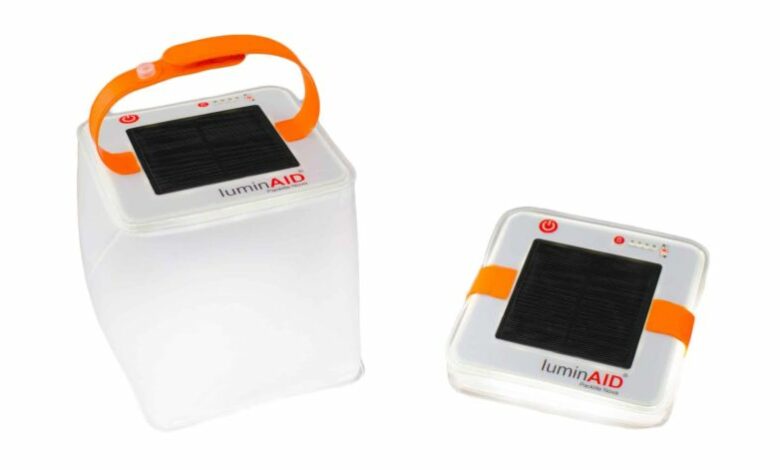 You are an eco-conscious person, so obviously you like doing everything that is environmentally friendly. You love using solar light and you have that big solar panel installed on your roof. So far so good, but what about using the non-solar lighting options when you are away from your home.
You cannot carry bulky solar panels along to ensure you can consume solar powered lights. You require portable solar lights to serve the purpose and fortunately, you have some options to consider. Here we have brought a list of some very efficient solar powered portable lights that you can carry along on your camping trip, use it in emergencies, or simply use it in times of power outage.
LuminAID
Equipped with four lighting options – high, medium, flashing and low, the LuminAID PackLite 16 is a superb portable light that harnesses solar energy. You can fold it to convert it into a flat small package that weighs just 2.9 ounces. Before using it, you have to inflate it, keep it in the sun for seven to ten hours, and there you have a solar powered light that will serve you for good thirty hours.
Solar Puff
Designer Alice Min Soo Chun inspired by origami designed Solar Puff. It is a beautiful design that gives its users an opportunity to use a gorgeous design and a renewable light source. Alice designed it especially for people who use kerosene lamps, which leave a negative impact on the environment and on the people who use them.
Such people can use Solar Puff and contribute their bit to save environment and to ensure their good health. You can pack Solar Puff flat and it weighs 2.3 ounces. The body is made of recyclable PET, the battery gets charged after eight hours in the sun. One charge serves for twelve hours, and the low, high, and flashing settings enable you to have a customized usage.
Collapsible and Portable Solar Powered Lamp
You can say this solar powered lamp is truly a thing you can consider portable. It's easy and light design enables the user to carry it along anywhere and everywhere one feels. The collapsible design makes this solar lamp easy to carry and easy to charge.
Brainchild of a Swedish designer Jesper Jonsson, this lamp is especially designed to make outdoor activities more interesting and possible for people. Hang it with the help of straps attached to it with magnets. They allow you to hang it in any way you want. In the daytime it will charge, and at night, it will illuminate the surroundings for you.
Lightcap 300
Packing for a camping trip, you want to make sure you carry along everything that could make your camping comfortable. However, weight is a major issue, as it is not feasible to carry a heavy camping bag. This solar powered light has been designed to make your camping bag light.
It is an amalgamation of a water bottle and a light, which is lightweight. There is a small solar panel installed on the outside of Lightcap300 lid. On the inside, there are four white LEDs, which serve as a torch when charged.
You can keep the entire bottle or just the lid in the sun for charging. Once fully charged, the water bottle and light duo is all set to serve you with an eight-hour illumination. It has a capacity of holding one-liter fluid, and the built-in loop enables you to hang it around comfortably.
Solar powered portable lights are environmentally friendly products that enable people to reduce their carbon footprint. They serve as great help in disaster situations when power outages take place, and people are forced to spend nights out in the dark.