The smart home market keeps renewing its available stock of home automation technologies and keep coming up with the better and the more efficient ones. Smart home kits is one such technology that is making quite a difference in homes worldwide but as they are available in plenty, you must be feeling confusion as to which kit you should pick and which one to leave. To ease your bewilderment, we have brought for you all a list of some of the best home automation kits, you can consider as a choice while selecting one for your home.
SmartThings Smart Home Starter Kit
This kit comes equipped with everything you require to make your home a smart and a safe home. It includes three easy to use devices and a hub. The three devices allow you to receive notifications on your Smartphone when events occur. With this kit, you can bring home the security of an expensive home security system but at an affordable rate, you can be in touch with your loved ones and pets at your home as you get notifications about their whereabouts on your Smartphone.
If doors and windows open unexpectedly, you immediately get alert on your cell phone, you are in the habit of misplacing keys at home but this super smart kit tells you exactly where you had kept keys the last time, and you get notifications regarding movements happening in your home when you are away.
Besides these super helpful features there is one reason that is making this kit so famous, i.e. the fact that you do not need any wiring or professional installation to set this kit, rather just about anybody can do it with the help of broadband internet connection.
Belkin WeMo LED Lighting Starter Set
If it is only the smart lighting feature that your smart home is missing then Belkin Wemo LED Starter Kit. It comes with two WeMo smart light bulbs and the WeMo link. The free WeMo app enables you to control WeMo bulbs, as in you can turn them on, switch them off, dim or brighten them, or you can set up a custom schedule that this smart kit will understand, remember, and perform every day.
You can install up to 50 WeMo bulbs in your home, controlled by the WeMo link. This kit seems ideal for showrooms and offices with such a big number of light bulbs it supports.
littleBits Smart Home Kit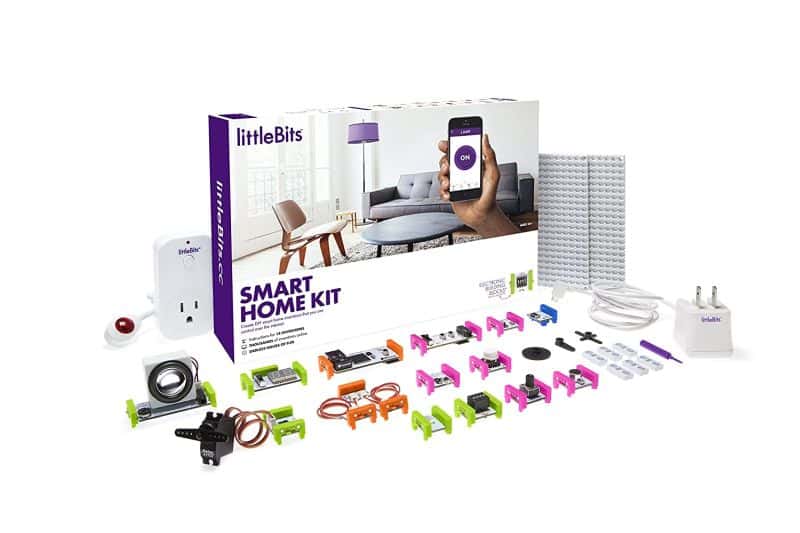 The smart home kit from littleBits that had come up with hardware few years ago – the Lego-like electronics is now representing its smart home kit. It is a kit that comes with 14 bits you can put to use and turn your dumb home into a smart home. The kit includes cloudBit that enables you to connect everything to internet, MP3 player, an IR transmitter, and a temperature sensor. The kit comes with every instruction you need to consider while creating your own smart thermostat using this kit's bits.
Wink Relay and GE Link LED Light Bundle
Equipped with Wink Relay Station and enough GE Link smart bulbs that are ideal for the entire room, the Wink Relay and GE Link LED Light Bundle is a perfect lighting solution for your home. The relay panel you hang on the wall and use it to control smart bulbs, and other smart home products compatible with the Wink. No Smartphone required, as this touchstone serves as a controller to control smart LED lights and other products.
DIY smart home kits are eco-friendly technologies you can use to transform your home into a smart home with quite an ease.