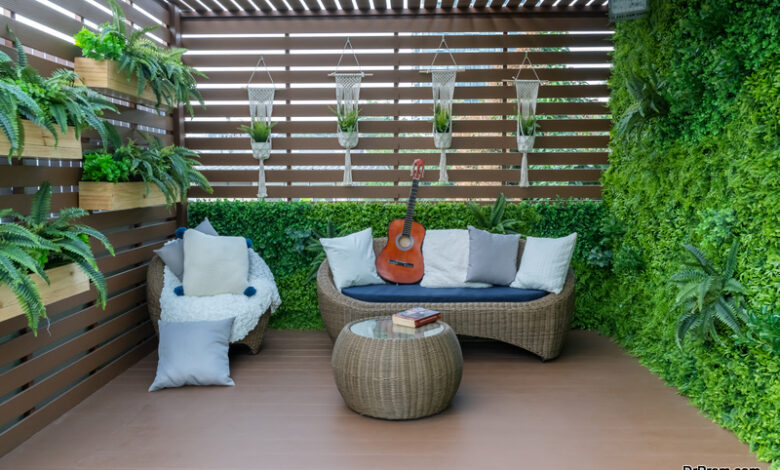 Terrace garden in recent years has become kind of style statement for houses in urban areas and is something that adds to the green quotient of a home. Many people like to have a terrace garden but they just do not know where and how to start. No worries, the following terrace garden guide can help you create your own terrace garden with ease:
Getting started
If you are planning to get a terrace garden of your own then the first thing that should strike you is whether you have a suitable terrace or not, a structure that can withstand the weight of a terrace garden or not. If your home is built as per the rules and laws, then there shall not be any problem and you can enjoy having a big terrace garden with big pots and planters.
You can also go for a garden wherein the entire terrace is covered by soil but ensure you first make your terrace surface waterproof so that no leakage takes place.
Start with the easy ones
If you decide to do gardening all by yourself and you are a first time gardener then you must start easy. Start with a few pots and the plants and veggies that are easy to grow, as in that take lesser efforts right from their sowing to their growing up. For instance, plant tomatoes and chilies to start with, watch them grow fast, and then move on to other veggies that demand little more efforts of yours.
Right amount of nutrients
Nutrients decide the growth pattern of plants that you grow, so the right amount of nutrients is imperative for the normal growth of plants and veggies in your terrace garden. You should mix regular soil, vermicompost and compost coir peat in equal proportions and then sow seeds in it.
Tips to maintain your terrace garden
Maximize exposure to sun
You must plan the placement of all planters in a way that every planter gets enough of sunshine every day. Arrange plants according to their height so that the tall plants do not restrict the sun exposure of the shorter plants. If not all the planters are getting enough of sunshine at the same time then do the rotation.
Follow a strict plant care routine
A proper and a strict plant care routine is essential for you to follow if you wish to maintain a healthy and beautiful terrace garden. Take into consideration the nutrient and the water requirement of every planter you have in your garden and then take care of them accordingly.
Take proper care of their watering, nutrient requirement, rotation, and fertilization as and when required. Remove the faded leaves and the weeds quite often, or else they interfere with the proper development of a plant. If you have planted ornamental plants and small trees in your terrace garden then do not forget pruning them from time to time.
Do not overdo it
If you have a big terrace, then do not try to fill it all with plants, as it looks pathetic. Imagine a terrace garden so full with planters that there is hardly any space to even walk. Therefore, refrain from overdoing it. Place planters in an organized way so it does not look messy, and too much of population affects proper growth of plants.

The roof gardens or the terrace gardens are gaining traction in urban areas because of the lack of spaces like the porches or the patios. Terrace gardens do not only have decorative benefits but they also provide organic food to the owners and contribute in the temperature control at homes.