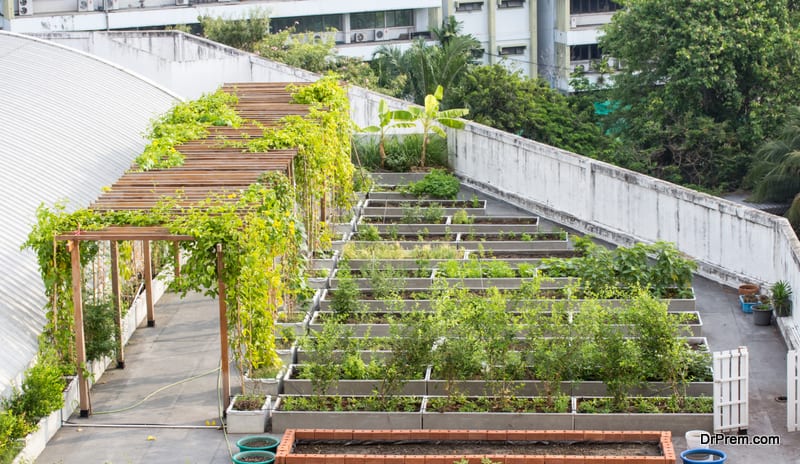 City living does not leave much scope for gardening. Unless you stay on the top floor or have access to the roof, where you may create a rooftop garden. Rooftop gardens are a beautiful addition to urban apartments, as you can design them to have ornamentals, shrubs, flowers, grasses and herbs. It can be your own chic urban retreat, where you can spend many relaxing hours in the midst of greenery. Here is a small guide to design your own rooftop garden:
Guide to designing your own rooftop garden
Permissions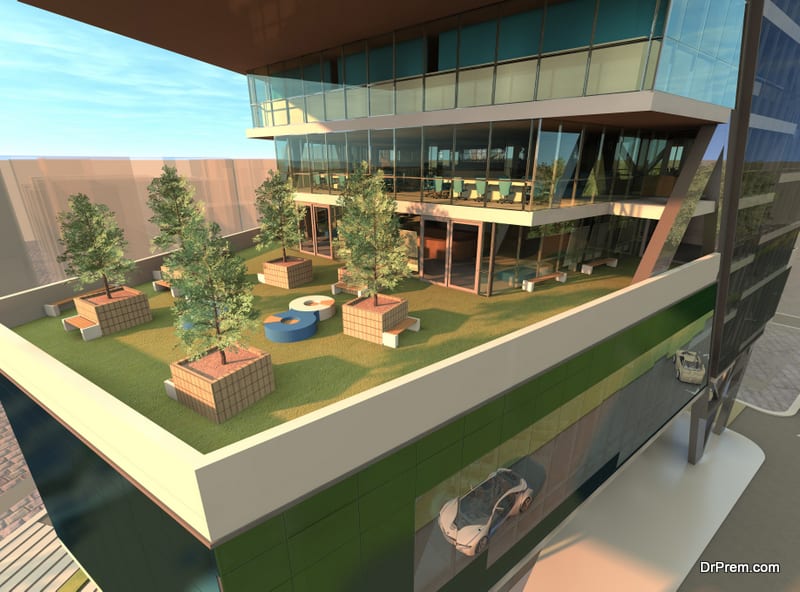 Before you start your DIY roof garden, you have to find out if rooftop gardens are permitted in your area, and if required, you must get the necessary permissions. The next step is to take the advice of a structural engineer who will calculate how much load your roof can bear. After that, you can choose your planters, water, paving, plants, furniture etc.
If you can't put much weight on your terrace/rooftop, opt for fiberglass or wooden planters which are lightweight and look pretty. There are stylish vertical garden stand you get which can be attached to the walls, and choose collapsible, light garden furniture so that you can sit and enjoy your beautiful rooftop garden.
Measure the entry/exit ways and safety considerations
The size of the doorways, stairwells and corridors will have to be measured when you are planning to design your own rooftop garden.  This is a necessary step as this will let you know the size of the planters, materials and plants which can be easily maneuvered up to the roof. If you're on a budget, keep in mind that hoists such as cranes are expensive propositions. Sometimes, many home/apartment owners have to take apart a trellis temporarily, so that the materials can reach the rooftop.
In your DIY roof garden, safety is crucial. You should not hang anything over the roof's edge or place pots on the ledges, unless they are secured firmly. All pergolas, wirework, trellis and shade sails have to be secured firmly too.
Types of rooftop gardens
You can design your own rooftop garden in three ways:
Intensive green rooftop garden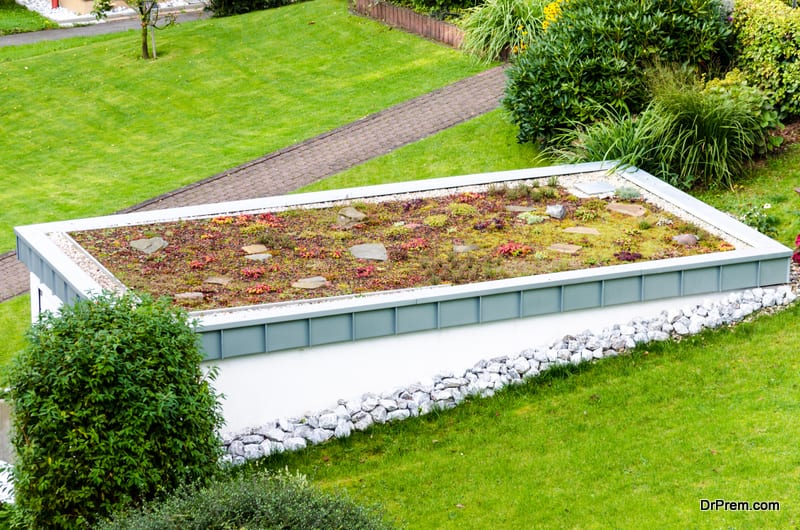 As the name suggests, if your rooftop can bear the load, then you can opt for this type of garden on the roof. The planting mediums are deeper (between 7-24 inches) and a lawn, trees, shrubs, perennials and flowers can be planted. This type of garden needs frequent maintenance. It's one of the best forms of rooftop gardens as you will create your own spot of abundant nature within the city. Walkways, benches and tables will make it more charming.
Extensive rooftop garden
In this type, the vegetation is 1.6 – 5 inches thick. The plants chosen are low maintenance and majorly, self-sustaining. A large sloping roof or flat roof which is not very accessible is ideal for extensive gardens.  Sedums, succulents, mosses and grass do well here as they don't need much watering and other care.
Hybrid rooftop garden
It's a combination of intensive and extensive rooftop gardens. Plants are grown in a depth of 5-7 inches. Ornamental grasses, perennials, shrubs, herbs and sedums are grown. It needs medium maintenance.
Wind direction
When you design your own rooftop garden, then you have factor in the wind direction. Solid windbreakers will block your view and cause stress on the fixings. Permeable trelliswork, horizontal cedar battens and perforated sailcloth are popular choices.
If you choose glass, then there should be some holes in it or a strong wind will bring it down forcefully. If you're wondering how to make windbreakers, it's best not to do this job on a DIY basis. To fix screenings, rope access companies or specialist builders should be called in.
Some varieties of tall shrubs offer 'living' screen protection. Phormium, Pittosporum, Olearia, Spotted Laurel are perfect screens.
Sunshades
Parasols which are securely anchored and shade sails are good choices for shade from the sun.
How to choose the right design scheme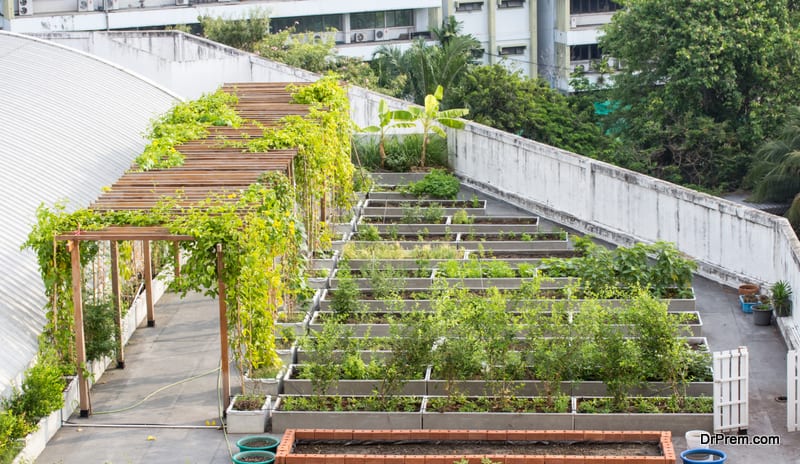 To design your own rooftop garden, you must take into note the view, and structural considerations. If there are unsightly eyesores such as gas towers or flyovers, you can screen them with tall plants or lightweight creeper screens. If there is a great view of the sea or mountains in the distance, make the most of the view. The design should blend in with the surrounding buildings.
Lighting
The right lighting will transform your rooftop garden into a soft and dreamy atmosphere. You can throw many parties in your rooftop garden. Wall embedded lights are the best permanent choice as heavy winds cannot rip them off. Attach fairy light strings to the wall in good weather.
Waterproof membranes
Most terrace gardens are covered by fireproof and waterproof membranes. On top of this is a heavy pond liner, with cuts in between to ensure drainage. Use pebbles/rock layers to avoid any blockage from vegetation gathering around the edge of your roof.
So, how to make the 'soil'? On top of the pond liner, you have to add a 70-200 mm thick substrate layer. This layer is a mix of 70% inorganic and 30% organic material.
The last is the layer of seed mix, plant cuttings, plug plants and pre-vegetated roof blankets and mats.
Construction tips for a frame – build one from rot proofed wood or some lightweight metal, approx 100 mm. Nail the corners with 'L' brackets which will hold the soil in place and allow rainwater to be drained out. 
Flooring options
Terracotta and stone paving works for smaller roofs, but of course, your personal preference also matters. The structural engineer will give you the construction tips too, which will decide the flooring. Decking is a lightweight choice and looks great. Red cedar and Balau or Ipe hardwood decking is durable and looks beautiful.
Choosing the plants
You can plant some of the plants in the soil you have prepared on the roof. Some portion of the roof can have soil to grow the plants on, and some can be filled with plants in beautiful planters. Unless you have ample shade, you ought to choose plants which can survive well in the sun. Or create shade filled areas with bigger plants and shrubs.
Have fun when you design your own rooftop garden. Fill it with evergreens, dwarf fan palms, day lilies and other tough perennials. You will be able to rejuvenate your spirit in the peace and calm of your lovely rooftop garden.