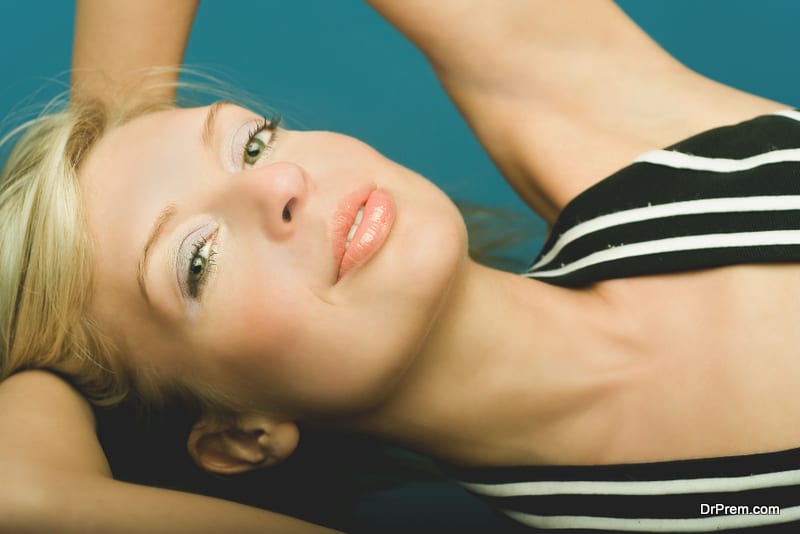 The modern day lifestyle is so very hectic that somewhere you need the space to cool off and enjoy the off days. There are few better ways to de-stress than a nice and relaxing pool party. There however is a slight problem that is faced by many while attending pool parties. The makeup at a pool party is tricky business and you cannot just choose your normal party makeup for this occasion. So here are some pool party makeup tips which you can use to be the showstopper at the party.
Some pool party makeup tips to look your best
Do not miss out on sunscreen:
The sun does us a world of good and we survive for its very existence. However it isn't the best friend for your skin. If you have a pool party during the daytime it is a must that you apply enough sunscreen. A pool party usually implies that the clothing is not covering much of your body which is going to be exposed to sunlight. From unwanted tanning to sunburns there can be significant damage to your skin if you allow that much of exposure to sunlight. So make sure you are carrying a good quality sunscreen above the strength of SPF 25 and one that is waterproof and suitable for your skin.
Use South beach spray: To look good at poolside, your hair must cooperate but there are days when you simply cannot avoid bad hair conditions. For such days or for any normal day in your pool party, we recommend that you use this product on your hair. You will end up with textured and smooth hair that will blow around like you just came back from some ocean trip. All you need to do is spray this on damp hair and then scrunch it well with the help of your hands.
Body bronzer can be applied:
If you are scratching your head for some pool party makeup tips, you must learn of this easy makeup hack. Body bronzers can be easily applied enhancing the beauty of your legs. The way they easily dry out very fast make them rank among the really good waterproof summer beauty hacks. BFR's Total glow body bronzer is just the right product to make you stand out in the crowd at a pool party.
Use waterproof eyeliner: There are too many eyeliners available in the markets but not many of them are waterproof. In case you are heading to a pool party, there is good chance you would have to wear makeup while swimming or simply chilling in the waters. Eye liner that easily gets wiped out in the water will be a disaster for your look at the pool party. So use a product such as BFR's 24/7 I-Line waterproof gel eyeliners which will be your dependable companion even when you hit the waters and will make your beautiful eyes look even better.
Pay attention to your lips: If you think that an ordinary lip product would be enough to make you look beautiful at a pool party you are mistaken. Just as you had to pay a lot of attention to the sunscreen being used, this too would require significant attention. BFR come across to your rescue with a fine line of lip products many of which are loaded with the goodness of aloe vera and other essential elements. They not only will protect your lips from the sun and waters but their wide range of subtle and bold colors will offer you a lot of choice in picking the one best suited to you.
Pay attention to nails:
Pool party makeup tips will always have a significant portion allotted to the nails. There is a thing about the pool parties and bright and beautiful nails. There are too many options for you in this domain. Nowadays you can even choose from a variety of nail art. You are only limited by your imagination when it comes to picking a look that will give you bright and vibrant looking nails to sport at the pool party. Be the trend setter then and be creative how you paint your nails.
Base makeup should be strong: This is not that essential when it comes to makeup in general but as a part of pool party makeup tips this is absolutely invaluable. Without a solid base for your makeup you are only working in vain. The first splash of water will erase all traces of makeup. So create a firm foundation before you do the rest of your makeup procedure. After you have used the sunscreen which we mentioned already as a compulsory part of the makeup, pick a nice moisturizer that your skin is suited to. Only after you have thoroughly applied these, you can concentrate on the rest of your makeup as now you have made sure that all of it would stay and not just get washed away.
Cheek makeup:
For a normal party you often tend to add a lot of colors to your cheeks. As a part of pool party makeup tips however, we would not recommend this. It is not much in trend to have colorful cheeks at a pool party. However, if you must there is a way out. You can give your cheeks a sun kissed bronze shade with the help of your body bronzer. This will help you blend into the pool party crowd and yet you would have the exceptional bit about your makeup that would leave everyone stunned.
Final words
It is no easy task to wear makeup while swimming, but how can you attend a party without the right makeup? So follow these waterproof summer beauty hacks and you can be assured that your party look is sorted. Look good feel good and party hard with these guidelines and you may thank us later.