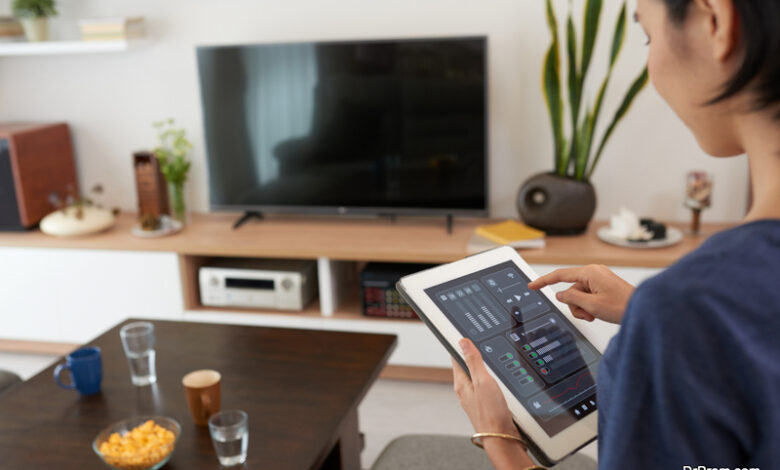 Imagine yourself walking in your home, going from one room to the other without turning on or off the lights. You are getting ready for your office in a rush, as you step out the air conditioner and the lights automatically goes off, when you reach office you realize you that you forgot to switch off the exhaust fan in your kitchen but you are not worried, as the automated check takes care of appliances on its own.
What a blissful life, isn't it? You can have such life in reality provided you decide to turn your dumb home into a smart home. Following are some home automation products you can bring home to transform it into a smart home, which is much more convenient and safe.
Smart Dishwasher
Dishwashers take away a major burden of doing the dishes and the smart dishwashers you get today are even more efficient. They are smart because they come with an extra rack that can hold a utensil of any shape, has a built-in water softener, and a touch-screen panel display outside. The touch screen panel gives you a full update regarding number of cycles a particular load of utensils require and the maintenance status of the machine.
Smart Locks
The smart locks available on the market provide more safety to your homes and are fun and easy to use. Some of the locks are based on keyless technology, which means you do not require any key to lock or unlock, rather an app on your Smartphone. Entry to your home is under your control, as people can only enter if you send them the virtual key on their Smartphone.
Smart Refrigerator
Gone are the days when refrigerator only used to serve one purpose, i.e. to keep food cold and fresh for some time. With time refrigerators have gone under so much of transformation that they have started to perform a number of functions altogether. The smart refrigerators with a touch-screen panel connect you to the web through a Wi-Fi connection and you can access a number of things, such as recipes, weather, temperature, or whatever you feel like. Yet another feature that makes smart refrigerators so special is their ability to send you a signal whenever it runs low on some food.
Home automation systems
Home automation systems make your home smart, make you happy, save energy, and help you save money. Systems that control lighting, thermostat, and irrigation in your garden save energy. Lights go off automatically when there is no one in the room, the sprinkler system in your garden turns off when enough of water has been given to the plants, and the HVAC system maintain just right room temperature. Home automation systems help cutting down energy consumption at your home, thus, bringing down your utility bills.
Smart TVs
We watch television to relax and smart TVs of today understand this thing really well. Not only you can watch television channels on it but also multifarious other things like your social networking account, music albums, movies, and all this you can control with your voice.
Smart lamps
Some lamps people hang outside are no ordinary lamps but smart lamps that have spy camera and an intercom in it. The camera keeps recording all the activities taking place around your home and you can see clearly, who is knocking at your door.

Transforming your dumb home into a smart home can be one of the best decisions you take in your life. It enhances your lifestyle and saves money.