Not many of us have the budget to afford home automation on a grand scale. However, that doesn't necessarily mean we need to leave behind the luxuries of an automated home. Over the years, the introduction of several open source home automation solutions have made it easier for home owners to automate their homes in a more customized and cost effective manner. Here are 6 such open source solutions for home automation you can try out in your home as well.
OpenMotics
OpenMotics is a widely acclaimed open source home automation software and hardware system that offers a number of automated options pertaining to switching lights, power measurements and heating and cooling. Both the open source software and hardware can be downloaded and adjusted to create your own customized software or hardware. The OpenMotics Gateway also features an API that works well with other systems too when it comes to executing various actions.
OpenHAB
OpenHAB is an open source software home automation solution that comes with an interface capable of connecting with, controlling and task scheduling more than 150 smart home products. The software is easy to use and extremely flexible on several operating systems including Linux, OS X and Windows. All one needs to do is download the software onto a laptop and choose to run the same setup or tweak it a bit to customize it according to individual preferences.
Domoticz
This open source home automation system allows users to configure, connect with, monitor and control a range of devices including switches, lights, meters, pulse counters and thermostats, etc. The software can run on several operating systems and can easily adapt to mobile devices as well as desktops. All you need to successfully execute is a scalable HTML5 web front-end. The sensors and other hardware are supported via an Ethernet or serial gateway.
Calaos
Calaos is a free, open source home automation software project that makes home automation as easy as a walk in the park. The Linux based software project comes with some pretty impressive features that aid in home automation, including affordable hardware, pre-configured Linux images, compatibility with Android and iOS apps, touchscreen interface and HTML5 Web app along with a remote configuration tool. Setting up the Calaos server for your home and the associated hardware is also an easy task following which you can control all these devices via the touchscreen interface.
Home Assistant
This open source home automation platform runs on Python 3 and enables you to track as well as control all the devices in your home via automated control. Taking less than a minute for installation, Home Assistant will automatically track and control all the devices in your home via a mobile friendly interface. The platform also stores data locally, meaning you need not worry about sensitive information landing up in the cloud and being hacked into later on.
Freedomotic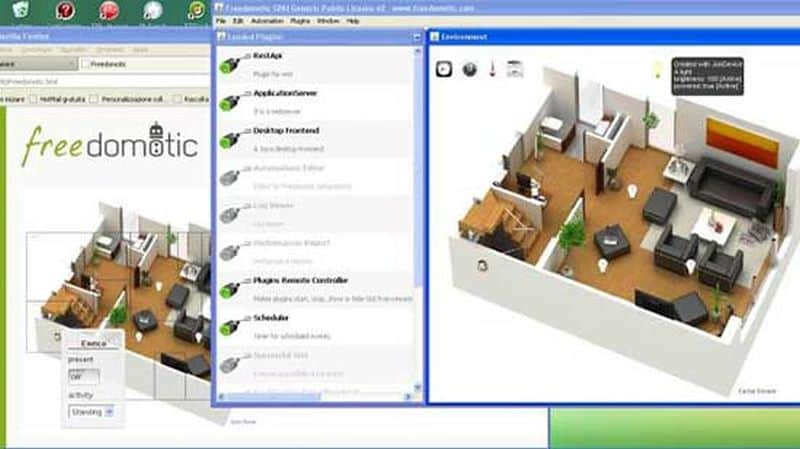 Freedomotic is an open source building automation framework that is allows you to build as well as manage smart spaces easily. The framework can work well with established automation protocols as well as DIY automation solutions. Acting like any other home automation sensor or actuator, Freedomotic comes with several other impressive features, including cross platform compatibility, scalability, modular, extensibility, cross language API support, hardware agnostic, semantic rich, event based, history aware and support for multiple front ends.
Smart home automation systems can turn out to be quite expensive to install and maintain. However, homeowners can choose to create their own home automation systems using open source solutions that provide them with the necessary software as well as hardware to automate a range of devices in their home.