Yahoo is going to make your complex world of Smartphone much simpler with its new launcher app called Aviate. It is an intelligent home screen app revamped by Yahoo and is now available with several fresh features and a new look.
Performance

The Yahoo Aviate app is designed to simplify your Android Smartphone through an intelligent home screen. It works throughout the day and provides relevant information as and when you desire. In fact, it is smart enough to judge when and what information to give you. For example, Aviate may show you news apps in the morning, work-related apps when in office, music apps while driving, weather apps while going out, and much more. Further, it not only shows you useful apps, but also displays relevant content through those apps. The Yahoo Aviate app can currently be used on Android 4.0 and above devices, but can soon be expected to be compatible with other home screens.
Appearance
This revamped app has a simple and tidy look that further offers a great layout of apps on your phone. This highly organized app has the ability to make your Smartphone smart in true sense. The cool appearance of this app can attract users to use this interface more often.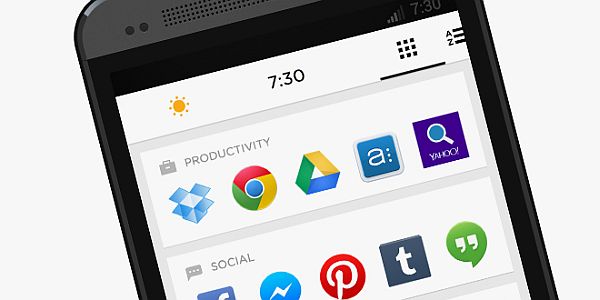 Usefulness
This app seems to be quite useful as compared to its beta version. While its beta version aimed at finding relevant apps per user needs and schedule, the revamped Aviate app can also find some of the best content available within a given context, whether it is from within Yahoo sources or from other reliable sources. For example, if it shows you news apps, then it also gives you content snippets from the specific apps it shows. Thus, it becomes more useful for you to check credible news sources and go to them to access news in a more organized manner. Basically, this app lets you judge a book by its cover only.
Ease of Use

The app is so well integrated that there is no difficulty while using it. It has a simple design and style that keeps users organized through a day's schedule.
Reputation

With Yahoo's own reputation, users may also trust the credibility and reliability of content that this app would offer. With its various in-house tools and resources, Yahoo has made this app effective while linking users to those tools. For example, a one-touch access can bring you all entries on the Yahoo Calendar.