Smartphones and tablets are an integral part of our life. We cannot do without them as we communicate with their help, check our social media, use them as organizers and have our memories stored on them. Smartphones batteries need to be charged. While this can be done easily when we are home, what happens when you are on the go?  Out of the various kinds of car accessories, the car charger is one that should always be with your at all times.For those who are always on the move keeping your tablet or smartphone on is essential. There are chargers available from many manufacturers and almost all smartphones, from the most expensive to budget ones have a Type-C USB port. Check out this mobile car charger from Mivi and their Type iPhone cable, which is getting great reviews:
Mivi 3.1 Dual port smart charger for your car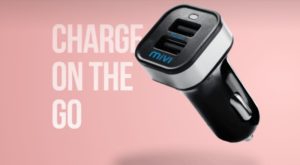 This car charger will charge not only your smartphone, from any company, but also your Tablet too. This makes it really convenient as you can charge your phone while you're driving, and your smartphone doesn't switch off in the middle of your busy day.
Smart features
This smart charger can detect your phone or tablet and vary the output according to the device which is connected to it. The output combined from 2 USB ports is 3.1A and the charger can work with Lightning, Type C and Micro USB cables. You have to buy the cables separately as they are not included with the charger. The Mivi car charger can work in any car, irrespective of model or make. Its charging speed is quite fast, which is what you need, but it gets a little slow if 2 devices are simultaneously connected to it. Mivi car charger also offers voltage and surge protection, is sturdily built and looks good too, which add to it many plus points.
The charger has a 1 year warranty and for the price of Rs 499, you get your money's worth.
Mivi USB Type C to Type A iPhone cable
The Type C cable for iPhones from Mivi is Apple certified and has an 8-pin chip. This chip is compatible with all the lightning devices such as iPhone 6 and 6s plus, 5S, SE, 5C and 5; iPad Air and Air 2, all versions of iPad mini, iPad gen4, iPod 5th and nano 7th Gen. The cable is really long, almost double the length of other cables, at 6 ft. It's made out of nylon and is braided, making it extra strong, but also super sleek. The 9mm aluminum casing allows you to plug in easily and the length of the cable ensures that you can charge your device from points which are distant too.
Your data can be transmitted fast and your iOS device can be rapidly charged due to the thick copper wire. The copper wires are AWG twisted which gives you the best signaling rate as well as anti-interference 5.
These two products from Mivi promises to keep your smart devices charged and ready for all your work. The iPhone cable and the charger have been manufactured using the most advanced technology and being reasonably priced, along with the warranty gives value for money.