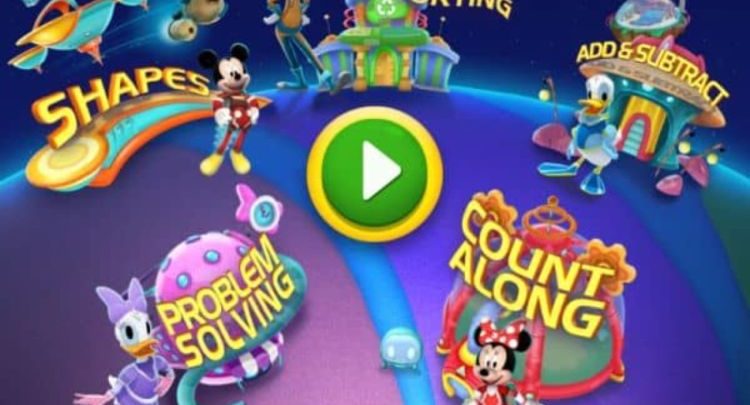 Disney Imagicademy has recently released a fresh version of its interactive learning app called Mickey's Magical Maths World. It is a fun app that makes mathematics enjoyable for young kids. Check out more about the app that is oriented toward imaginative adventures.
Appearance –
Disney has used the famous cartoon character of Mickey and his friends for designing its new app. Mickey's Magical Maths World app is an interactive educational tool that involves young kids in various adventures while making them learn the mathematical basics. The app includes features in the form of five adventurous worlds that make kids learn the skills of counting, shaping, facing number challenges, sorting, and adding and subtracting. These features are designed in a stylish and colorful way so it becomes quite engaging for children.
Performance —

Mickey's Magical Maths World app is compatible with all your Apple devices that run iOS 7.0 or later. The app has been optimized for iPad Air, iPad Air 2, iPad Mini Retina and the new iPad. It works wonderfully to provide a nice space adventure to children. While there is a wide range of learning apps in the market, Disney's app stands out because of its high performance and quality.
Ease of use —

This app is very simple and fun to use. In each interactive world, kids can easily get involved with games based on their favorite characters. Side by side, they can smoothly learn by solving a variety of mathematical problems.
Usefulness —

The app seems most suitable for kids aged between 3 and 8. Outside their school, young kids can gain mathematical skills of sorting, shape recognition, counting and logic through practicing varied activities in this app. Mickey's Magical Maths World app also provides some add-on activities that include Goofy's Silly Sorting, Mickey's Super Rocket Shapes, Donald's Number Launcher, Minnie's Robot Count-Along and Daisy's Bedtime Countdown. Children will definitely find these activities exciting and enjoyable. They may not learn shapes by building rockets, but may also practice forward/backward counting by training robots. The app offers a good variety of such games combined with math problems.
Value for money –

While the app is good value for money by being free for download and basic use, you may find it slightly expensive to pay for each add-on activity. There are many in-app purchases that may not be appreciated by every user of this app.