Appearance

ThinkPad 10 has a special design to be brought in use by business professionals. It is effective to bring in flexibility and connectivity in business. It has a ten-inch full HD display and a Gorilla glass screen. The body is made up of premium aluminum. ThinkPad 10 has Intel's quad-core Atom Z3795processor. The other features include up to 4GB RAM, a digitizer pen and 128GB storage. ThinkPad 10 does not have a slot for a pen because this time the diameter of the pen has been increased.Performance
Coming down to the performance factor of the all-new ThinkPad 10, all we can say is that it is an ideal enhancer of productivity and capability if used in a business. The four flexible modes of ThinkPad 10 make it extremely flexible. The four flexible modes – Stand, Tablet, Laptop and Desktop – give the users an opportunity to unleash the creativity inside them. It gives a seamless performance of both a mobile tablet and a desktop or a laptop suited to the office environment. The Quickshot Cover is adept in giving the best photo taking experiences.
Ease of use
The amazing design and sculpture of ThinkPad 10 makes it super easy to handle and use. It has a lightweight design. Users have an option to connect their ThinkPad 10 with ThinkPad Tablet Dock or USB3.0 docking station. Other options include an external display, mouse, Bluetooth keyboard or you can also attach the ThinkPad 10 Ultrabook full sized keyboard. All these options are especially designed to give users a trouble free transition from a mobile tablet to a device that suits perfectly to the practical office environment.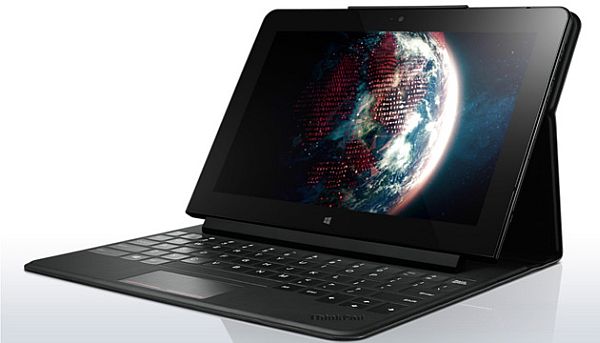 Value for money
Loaded with wide assortment of features and benefits, ThinkPad 10 starts at $599. If you want to buy accessories like the keyboard dock and others, then certainly the value will go up but more than the price, the utility and productivity of your tablet will go up. Without a doubt, ThinkPad 10 is indeed a true value for money.
Reputation

Lenovo is a name amongst the largest PC makers in the world, and serves around 160 countries worldwide. With its latest announcement of ThinkPad 10, Lenovo has proved that ThinkPad brands are not only about laptops. Lenovo has given its best to the Windows 8-powered ThinkPad 10. They have rolled out this extremely versatile device that is going to give unmatched productivity whether in the office usage or the general use.