After Siri and Google Now, you can now experience another cool virtual assistant app called Hound. Although this recently launched digital app by SoundHound looks like a good prospect, find out how it fares on usefulness, performance, and several other factors.
Usefulness
As you ask questions from any virtual assistantand seek answers through its searches, you can also use Hound to solve your queries. However, the difference lies in its faster response to your questions.
Hound also tackles your multiple demands at once and deals effectively with complicated searches. Further, it is quite helpful if you want to check the time, cost, and distance of your Uber ride. It can assist you better while scheduling a conference call in a foreign location. No other assistant can do it as of now.
In addition, you can always exclude some results while doing a search for restaurants and hotels. For instance, you can frame a complex question like searching for a restaurant that is Asian, not Chinese, and costs below a certain amount.Hound will give you the answers, considering each piece of your query.
You can fiddle with apps on your phone using Hound. For example, you can set an alarm or make a call, just as you do with other assistants. Thus, it is highly useful with all its capabilities.
Value for money

As the Hound app is freely available for all smartphones, it is always worth trying.
Appearance

On a single click on the app, you get a nice and clean interface of Hound. You only need to say, "OK Hound," and it is ready to take your question. It processes your voice query easily and provides a voice response and written information on the same.A good thing is that you also do not need to enable any history in this app. Hound additionally gives you some interesting features like that of games you can play. Overall, it appears interesting.
Performance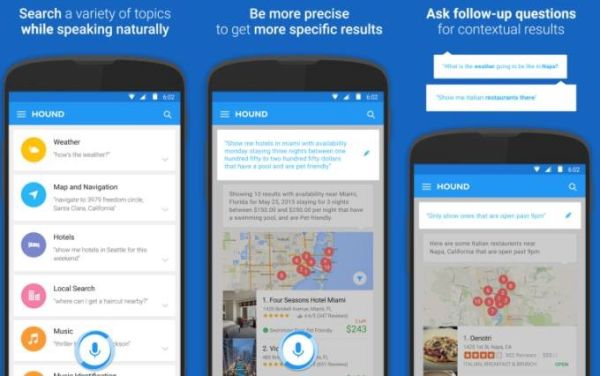 Hound performs really well due to its speech to recognition technology, which differs from what other virtual assistants are based on. It does not work on speech to text and then text to recognition technology, and thus, offers higher response speed than any other digital assistant.
Although it has some unique search capabilities, it offers almost similar details and accuracy as other assistants, when you conductinformation searchesrelated to sports, transport, directions, celebs, general knowledge, movies, personality, or weather.
Ease of use
It is very easy to use this digital assistant, as it recognizes your voice nicely, without any misinterpretation. In fact, it works as fine as Google Now does.