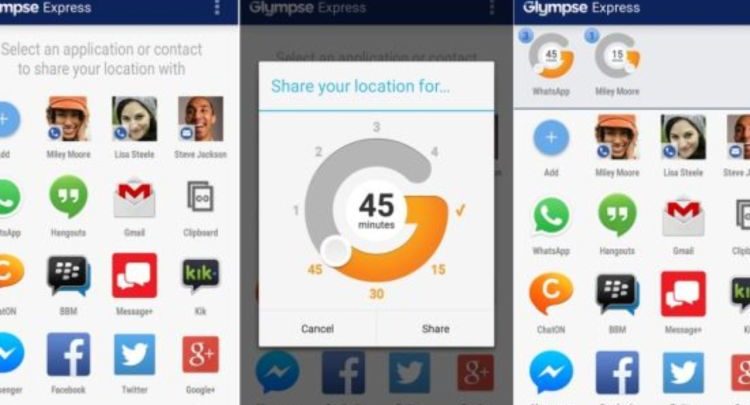 Do you wish to share your location with your friends or family members via a message or on a social app? Now, you can do this with the help of an app called Glympse Express, offered by Glympse. Check out more about its features, performance and usage.
Appearance –

Glympse Express is a location-sharing app that has a decent user interface. It is designed in a simple and organized manner. A live timer can be set to define the duration for which users may want to share their location. This timer automatically stops the temporary sharing of a user's location when the set time is over. When you wish to share your location with your friends or family, the app gives you a choice of several platforms. You can easily make your selection from open icons and choose the address book contacts with which you wish to share information.The app looks elegant in the way it is structured for use.
Performance —
Glympse Express can easily be used on all Android devices that run the Android version 2.3 and later. The app is capable of creating and sharing a link of your live location map for a temporary period set by you. Its timer and location-sharing features work quite effectively. This quick and efficient app allows a view of your location in real time.
Ease of use —
This app is very simple to use. You only need to set a timer for your desired length of time in order for this app to display a link to your location map on your preferred platform. It can all be done by a single tap on a button.
Usefulness —

Using Glympse Express, you can share your temporary location on various platforms, including Google Hangouts, Twitter, Facebook Messenger, WhatsApp, Tango, and Line. The app creates a location map link that can be viewed by all your contacts, irrespective of whether they use the same app or not. Viewers can simply tap on the link to check your current location on the map. Glympse Express pastes this link in an appropriate conversation on the selected platform. In addition, you do not need to be dependent on an app or social platform for sharing your location. You can also send it via an SMS or as an email to the intended recipient. This function helps you a lot when your recipient does not make use of connectivity apps.
Value for money –

The app offers full value for money, as it is offered to you for free.