It's a bird, it's a plane – it's your wall clock. If you ever thought how trendy, cool, absurd and amazing a wall clock can be, you better read this article which is about the 10 clocks that needs to be on your wall:
1. Spy clock
This is a timepiece with a big reflective mirror. Only a boorish personality will twitch their nose on reading about this clock. This clock can come especially in handy for school teachers, who often spend most of their times writing on blackboards and telling children lies like "I have eyes at my back too". With this thing they can actually survey the whole class without misspelling a thing.
2. Star trek clock
No writer can escape free by first devoting an article to the free thinkers and then not coming up with anything for children. As Oscar Wilde once said, "young people are the only mature ones to understand my work", this clock strikes right to the heart of the statement. Every number on the clock is starship from the world of star trek, for fans it is a dip of nostalgia, for beginners it is the perfect gift to start with.
3. Lunar eclipse clock
This design comprises of two adjoined black and white clocks placed adjacent to each other. So, if you are a fan of Twilight and a believer in vampires and werewolves, this is the thing to keep in your bedroom.
4. Cafe Espresso clock
The clock comprises of a white background, a small cup at the top from which melted cocoa is spreading throughout the clock. The perfect gift for a coffee lover or the perfect excuse to have one more go at cappuccino.
5. Currency wall clock
The clock is made on $1 Bill but ironically costs $19. The fact that the hands of the clock sought of covers the face of George Washington's face is going to annoy your elders even more.
6. Colors wall clock
The name might sound simple but this one is a complete stunner. The background is pure white and is modeled on a plate or disc. The best part is that this clock does not have any numbers, rather one, two and three are written in different colored words making a perfect circle.
7. Country shaped wall clock
Well surprises come dressed in all shapes and sizes even if it is a tiny country on the world map. Wonder what the shape of Italy or Germany is? Wonder no more, get a country shaped wall clock.
8. The Japanese shop
The background paper used in this wall clock is the traditional Japanese 'washi' paper. Rest of the design is simple and eye pleasing. This wall clock would be a huge surprise for people who love everything Japanese.
9. Emma Bridgewater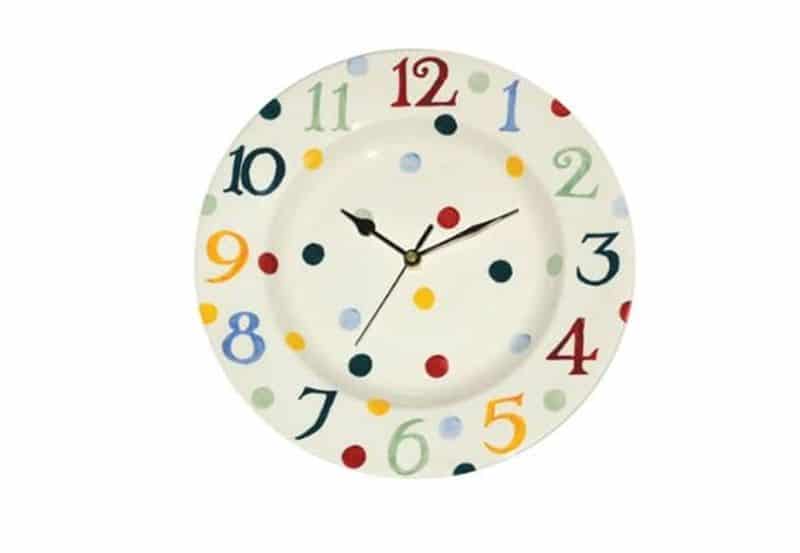 Book might be man's best friend, but fashion is indeed a female's best friend. In this clock, Time piece is made of ceramic and the rest of the wall clock is a tribute to the polka dot range of the retro era. It takes you right back to the air and frenzy of the 70's.
10. Heal's matrix
This looks like a gadget from some James bond movie but in reality it is a German not a British invention. This clock uses atomic signal from DCF88, the German clock radio and tells you time in five different time zones. So, the next time you feel like putting your spy cap on, do not forget to carry this piece of gadgetry around.