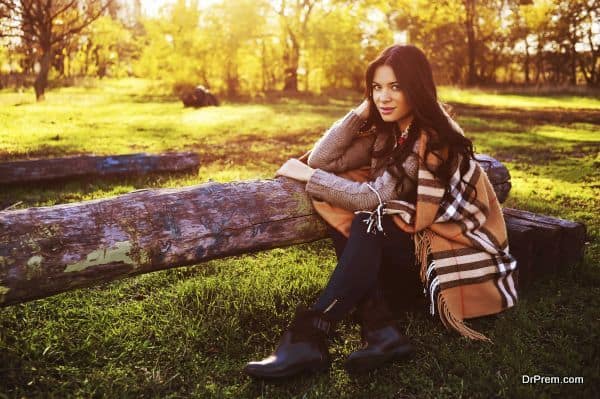 Winter is just around the block and its footsteps can be heard already. This is the season of partying and festivities. You will no doubt wear beautiful dresses, stockings and stilettos for the evenings but how do you plan to up your glam up your street style?
For example, when you are going to work, strolling down the roads with a friend, on day dates and coffee dates? Here in the following you will find some amazing ways to dress cozily yet stylishly for the winter months.
Capes and ponchos
A tailored trouser, tucked in turtle neck and a fringed cape can make you the center of attention wherever you go. Both capes and ponchos can easily enhance the glam quotient of your everyday look. You can opt for minimal embellishment or solid collared capes. The pullover ponchos also look very chic and elegant in winter.
Be bold enough for the beanie

When it comes to street style being bold is a necessity for standing out. But, in the winter months you also have to keep your comfort in mind. Wearing leg or head bared attires simply won't do.
Be bold to choose a cutesy beanie and wearing it with your work wear. Overcoats, slim fit trousers or tights and beanie is a nice combination. Make sure that the beanie stays back on your head so your face doesn't get covered.
Go for the preppy girl glam
Remember Blair from Gossip Girls? She totally owned the preppy girl look with over the knee high stocks. You too can go for the same look with an oversized jacket or well fitted blazer, thigh length skirt and high stocks. If you do not want to go over the top or fear the same, then stick to basic solid hues like black and navy. The right handbag can either make or break this look so be careful while choosing accessories.
Choose a surprising color
You have probably heard of Winter Blues and most likely also felt it sometimes. The winter months are known as festive season yet it can make you feel bleak at times. To lift the mood you should chuck the black, grey and white once a while and opt for pastel shades that you adore.
Instead of a black overcoat go for a baby pink one that does not scream on your face yet creates the perfect variance that distinguishes you from the crowd. Mint green or light blue can also be your color of choice.
Jazz up the jeans and cardigan look
If you want to opt for an easy to carry, non-fussy day look then opt for your favorite jeans. Roll up the legs of the jeans and create a cuff by also wearing a boot. Brown boots with blue denim looks quite chic. Also combine the grandpa cardigan with a light print with the jeans and simple white shirt to look absolutely gorgeous.
Create a balance with leggings
This winter invest in quality leggings and tights to wear with your winter clothing. The slim legs will help in creating a balance for the heavy cloths you wear on the top portion. You should also choose your accessories carefully in winter. Sleek accessories can give your look a new dimension and get you many admiring looks.
Pile up the thin knits
Layering always helps in keeping you warm and cozy. Instead of a bulky overcoat or cardigan you can choose several thin knits and layer them casually. A thin cardigan topped by a long wool shrug will look nice. Long boots and slim fit jeans complete this look. When you layer make sure the different elements of clothing belong to the same color family so that the look seems more organized and synchronized.
There are many ways you can look glamorous in winter. You just need to pair the winter wears carefully with the daily wear to look chic. Make a shopping list to get some key pieces that work well with other pieces you already have.