Setting the mood for house parties is no more a difficult scenario when you have a fully automated home. You can literally amp up the entertainment factor of your home by using smart gadgets and appliances with utmost ease and comfort. Here are some points that explain how easy setting up an entertainment haven at your home is.
The Thermostat Settings
Whether it is only you walking into your home after a tiring day out in the evening, or it is a group of your friends whom you have invited for a house party, your home has to have an ideal temperature. Your home should be relaxing and comfortable because the only you will love coming back to it and even your guests would love coming over.
You can set thermostat on your desired temperature limit remotely, and as soon as you enter, every time you get a fresh, cozy, or a cool atmosphere depending upon your requirement.
Set the lighting
The timer controlled lighting system that enables you to control lighting at your home even when you are inside or somewhere out. Lighting controls that home automations offers you play an integral role to set an entertainment haven in your home.
For instance, your house party demands low or flickering lights, just as the one you see in a disco, you can get the same lighting in your smart home, making your party even more happening. You can use this smart feature to make yourself enter not a pitch dark but an illuminated home.
Change channels or play music automatically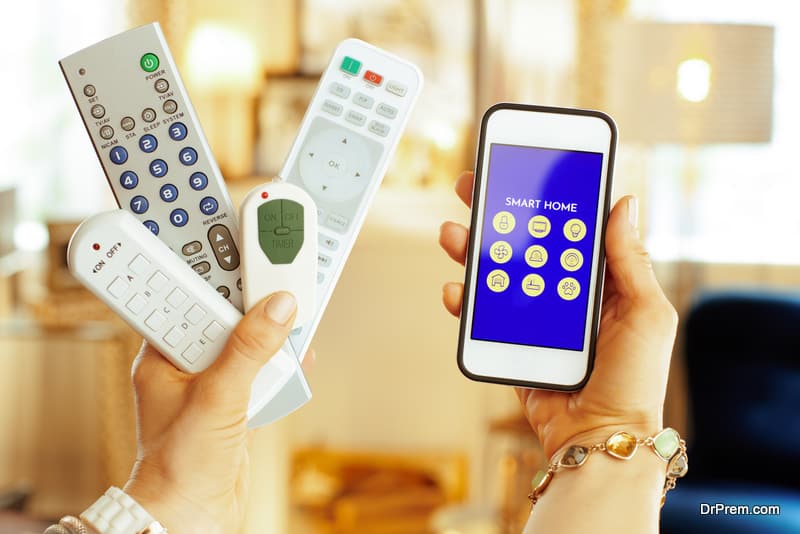 This feature works best to turn your home into an entertainment haven. Imagine you want to give your guests a grand welcome to your house party, and as soon as they step inside a song that relates to you all suddenly starts playing.
You have music playing in one room and when you enter another room; you have the music playing there also. You are working in kitchen and your kids demand a change of channel on television, without running up to the television, you can easily change channel with your Smartphone remotely.
Hot cup of coffee next morning
You were too busy entertaining your guests, ensuring everything goes well, obviously next morning you will be lazy and tired. So lazy that going to the kitchen and standing there for long waiting for coffee to brew and get ready.
However, if yours is a smart home then you will not have to experience this situation ever because you can easily have your own lay time in bed and then go to your kitchen and have coffee from the freshly brewed pot of coffee. This is all thanks to the automatic coffee brewer that you can control remotely, say from your bed and when it is ready, just go put it in your mug and enjoy your coffee.
RTI's Next-Generation T3x Universal Remote Control
Universal remote controls take away all the chaos of handling and operating so many remote controls of numerous smart gadgets in your home.
There are many universal remote controls available but one out of them that is becoming popular is the T3x Universal Remote Control by RTI. It is loaded with futuristic features that are easy to use. The 3.5 inch LCD touch screen, hard buttons, grip sensors, are some of the features that have made T3x a sought after product.
Having club like parties was never a reality in the past but today it is. The home automation technologies have made homes so smart that you can transform your home into an entertainment hub with the least efforts.