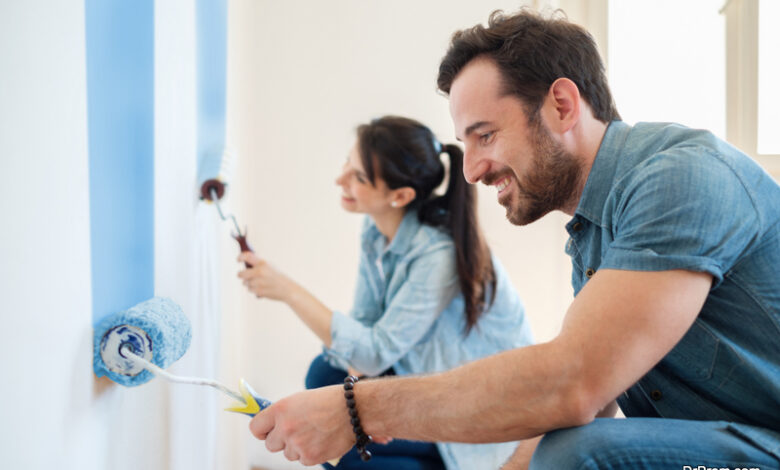 If you are an eco-conscious individual, then you would want to adopt green practices in all your endeavors. It is also important to keep the same in mind while you paint your beautiful home. While you can make your painting dreams alive as you wish, it would be a great favor to the environment if you do this task in an eco-friendly manner.
Many of the toxic paints and painting techniques can be harmful for the health of people and ecology. Check out here some green methods of using paints, reducing waste, and disposing stuff safely.
Paint types and their health impact
Before you choose paint for your walls, make sure to learn about the types of paints that are available. Paint is actually a major cause of polluting the indoor air and making you suffer from several diseases caused by this pollution. Over time, paint emits toxins because they have volatile organic compounds (VOC).
Thus, companies are now becoming conscious of manufacturing non-VOC paints that are safer for you and the environment. You should prefer to select these low- or zero-VOC paints and finishes that are not only cheaper, but also more durable. These paints also provide a smoother coverage and allow easy cleaning.
Additionally, you have a choice of VOC-absorbing paints that can absorb formaldehyde. While all these paints may still have low amounts of toxins, you can invest in buying natural paints that are completely safe. These are made of plant oils, water, resins, and essential oils. You can select out of water-based or oil-based natural paints according to your preferences.
Always ensure to check the label for contents before buying a non-toxic paint. It should also have natural pigments to introduce color instead of synthetic pigments that are unsafe. If it is cost-effective, then go for renowned brands offering natural paints.
Selection of green painting supplies
Apart from the paint itself, there are many other painting supplies where you have greener choices to make. When you select painting tools, pick up materials that are recycled to make those tools. In addition, go for natural primers and finishes of high quality.
This helps in preparing a great surface for you to paint on. Use a recycled wood ladder of right size. If you already have some supplies at home, then make use of them instead of buying fresh.
Painting and drying techniques
You can save on paint and other supplies if you are a little careful about your painting technique. See to it that you start painting at the corners of your ceiling. Make a 2-3 inch strip there using a proper brush that is apt for your task. From these points now, you will find it easier to paint toward the center of ceiling.
This saves you from making multiple coats. Further, let the paint dry between layers. You will find that it avoids peeling or flaking. Only when it dries completely, do the final coat.
Ways of green disposal
While it is better to buy the quantity of paint and supplies you would actually require, it is also important to dispose it safely if you have leftover paint. If you want to store it for some other use, then do it at a cool and dry location away from fire sources.
You can reuse the leftover paint for painting some other items. If you may not reuse it, then donate it at some place where it finds use. Otherwise, find a right disposal place away from the reach of kids and pets. You can also get it recycled at a local hazardous waste processing facility.
When you do a paint job in your home, always go for natural or zero-VOC paints that are non-toxic. Choose greener supplies and avoid dumping leftover paint. Recycle and go green.