The majority of homes come with corners that can hardly be used, and thus remain open and disconnected from the rest of the room decor. However, modern contemporary homes require you to utilize every little bit of space in your home in the most functional manner possible. As such, here are some fantastic ideas to employ the living room corner space and pull it into the room's central design and decor.
High back chairs
Have a high back chair that looks imposing everywhere else in the living room? Simply push it into the corner and you will be amazed at how well it fits into the space and highlights the same area.
Sectionals
A really easy way to utilize a corner space is to place a sectional sofa that covers this area appropriately. A sectional would be the best and most functional option if your living room is small and starts to look overcrowded with the inclusion of additional elements.
Corner shelves
Corner shelves are great ways to utilize unused corner space in the living room. Choose triangular shelves that fit the corner like a glove and give you more space in front. A pyramid style shelf that expands at the bottom and narrows down towards the top can also be a rather stylish addition to your living room corner space.
Windows
Sometimes the best way to make use of a corner space in the living room is to open it up with a window. This would be perfect for a room that offers stunning views of the surrounding areas. A sofa placed beneath the window can thus, act as the perfect conversation starter.
Message boards
This innovative idea would enable you utilize a living room corner space like never before. Simply install a black/white board in the corner and use it as a message board to leave important messages for your loved ones. A table placed beneath the board can hold the chalks and dusters.
Reading nooks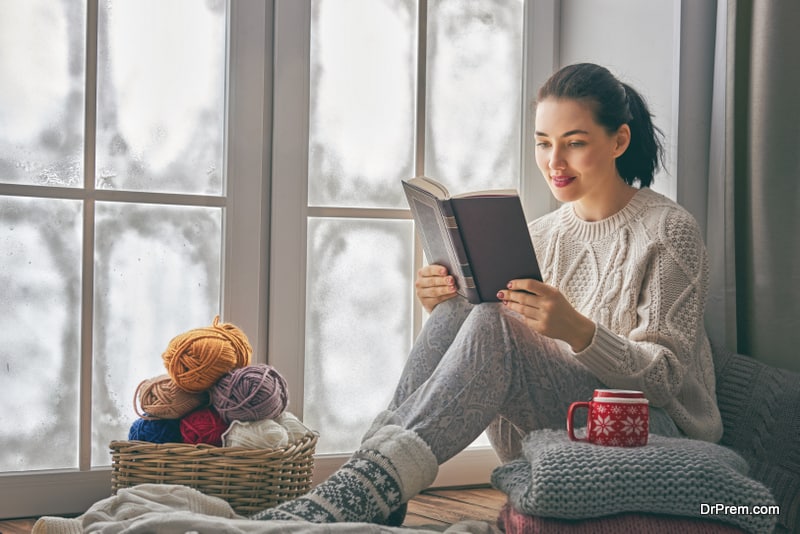 Living room corners can double as the perfect reading nooks to kick back your legs and enjoy a good book or two. A simple arrangement involving a comfortable chair, ottoman and side table is more than enough to achieve the same.
Fireplaces
Rather than dedicating an entire area of the living room for the fireplace, consider installing a freestanding fireplace in the living room corner. In addition to providing the warmth for your room, this would leave you with more living room space for other elements.
Gaming zones and play areas
If you have kids, then consider transforming the living room corner space into a gaming zone or play area for them. A game table and chairs can be pushed into the corner for a gaming nook. You can also set up a play area in the corner for the toddlers, thus giving them a dedicated space to play as you have an eye on them while doing your household chores.
Workplaces
If you work from home, you can transform a living room corner space into a functional workplace. A corner desk and a chair, along with a floating shelf can help you get the perfect workspace to work in peace.
Entertainment units
How about setting up the TV and entertainment unit in the corner space? In addition to making your room look more spacious, this would prevent everyone from crowding around on one side of the room to watch TV.
Lighting
Don't want to add any more furniture in the already crowded living room? Then simply place an artistic light in the corner. In addition to brightening up the room, this would help create a focal point of interest that makes the corner look like very much a part of the room instead of standing out.
Greenery
Every living room would need a little bit of greenery for natural brightness. One way to achieve that would be to place a potted plant in the living room corner space. The good thing about this is that you can replace the plants on a seasonal basis to change the vibe of the room periodically.
Have an unused living room corner space that keeps boggling your mind? Well, here are some nifty ways in which you can make use of this space in a decorative as well as functional manner.